This post may contain affiliate links. Please see my full disclosure policy for details.
Check out this week's mom style fashion find. It's our Spring Break Casual. This Friday Fashion is the perfect look for your upcoming spring break vacation or weekend getaway.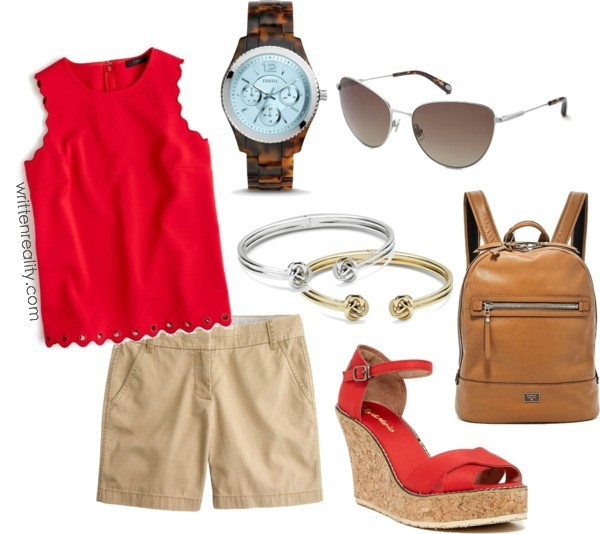 Mom Style Fashion Spring Break Casual
Who's ready for spring break? I am always ready for a break of some kind. I love family road trips and any kind of excuse for us to pack an overnight bag and hit the road to discover new things.
I decided this week I would choose all of my favorite casual pieces that I thought would be easy wear–just grab and go sort of wearable. I wanted an outfit idea that would be super comfortable, but also fashionable. That's why I chose these super cute wedges and this fun scalloped top in a bright red color. I love wearing wedges. I like the ease of the wear and how updated they take an outfit. So consider a pair of wedges to spruce up your outfits for spring. You really don't need too much to make an outfit look trendy. Just grab a pair of fun shoes like these, or a couple of fun accessories–or even a great bag.
If you're interested in any of these pieces, just click the links below. Or, simply use this pick of my favorites as inspiration to add a little spring to your wardrobe, too. Here's where to find these mom style fashion favorites for spring break casual:

What about you?
Ready for a spring getaway? What is your favorite fashion find this week? Share your ideas with us!
Check out some of these previous mom style fashion finds, too: