This post may contain affiliate links. Please see my full disclosure policy for details.
We're springing ahead with this fun in the sun ensemble. Check out this week's mom style fashion find featuring the beautiful color of coral for a beach essential favorite.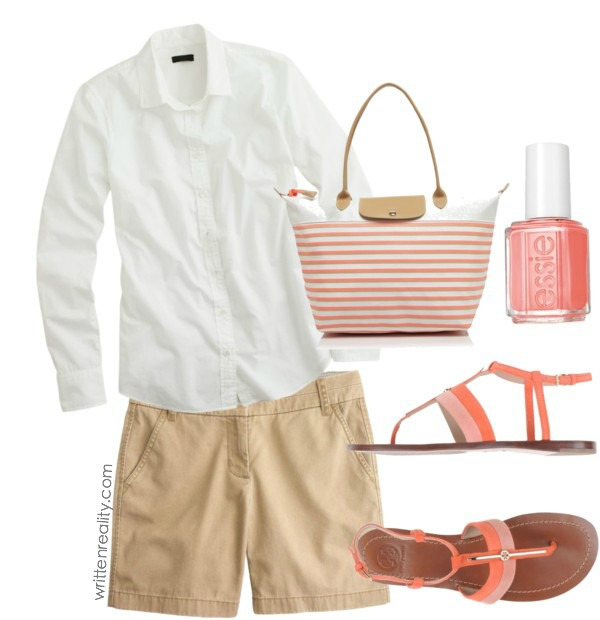 It warmed up a bit at our house this week with beautiful skies and springlike weather. So now I'm chomping at the bit for spring fashion. After a couple of days of warmer temperatures, I'm ready to say goodbye to bundling up weather so I can break out the sandals and fun shades of spring.
That's why I'm sharing this mom style fashion find this week. I'm calling it Coral Casual because it features this warm tone of coral that goes great with a pair of khaki shorts or denim. It's the perfect outfit idea if you're planning a day trip to the beach or readying yourself for spring break.
Here's where to find these mom style fashion favorites:
Mom Style Fashion featuring Coral Casual
7″ chino short in honey brown -I have several pairs of these chino shorts from J. Crew. They hold up nicely and are great for travel. Even better, they come in plenty of fun colors, too.
boyfriend shirt in classic white – because you can never go wrong with crisp, clean cotton.
Essie Corals Nail Color (this one is called peachside babe, but there's an entire coral collection so check out the other awesome shades, too)
What about you? What's your favorite colors of spring and summer?