This post may contain affiliate links. Please see my full disclosure policy for details.
It's Spring! Which means plenty of sunshine, gardening, and tasty treats. One of my favorite parts of the sunshine months is the berry selections at our local produce stand. I love to add fresh berries to just about everything and I usually save a few for later by freezing or making jam.
Last week, I shared my own Candied Cherry Bundt Cake with Almond Glaze. I had plenty of shares around the web and several friends who couldn't wait to sample. So this week I decided to share other recipe favorites of Berry Delicious Desserts.
Today, I've gathered some wonderful berry treats from my friends around the web. These gals are super creative and know how to whip up some fabulous fruity desserts. So take a little time to browse through the following recipes, add to your own favorites, and wave a hello by leaving a few comments on these sites who were willing to share.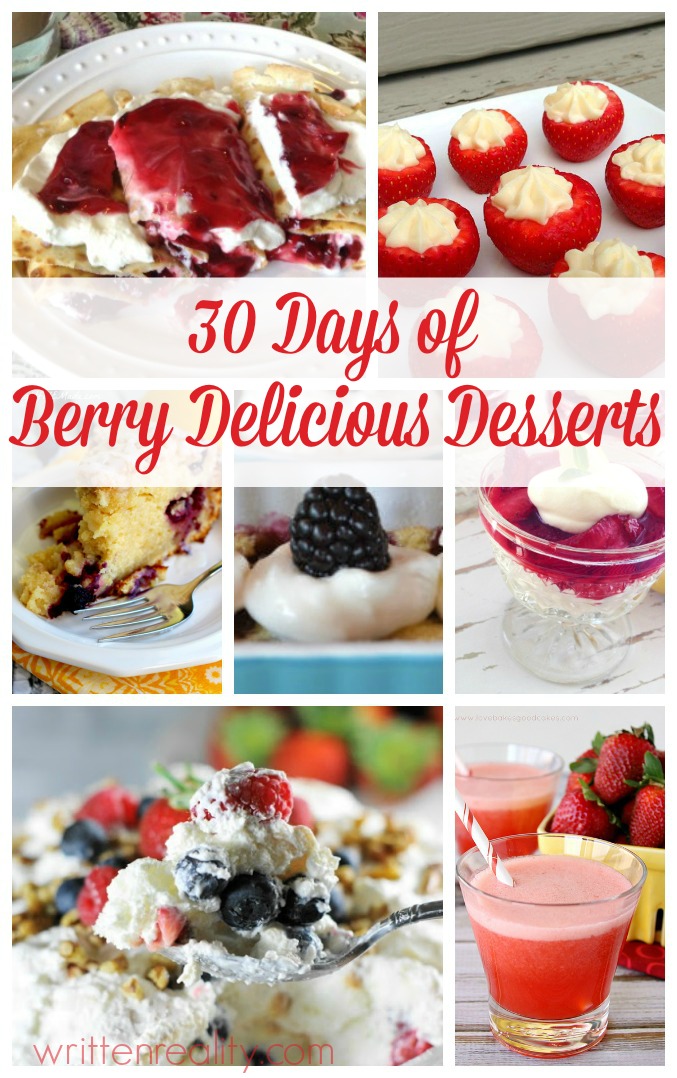 30 Days of Berry Delicious Desserts
 Strawberry Sweets
#1 Strawberry Lemon Delight from WannaBite.com –This Berry Delicious Dessert is delightful–It's a great choice to savor the sweet treats of spring and summer and a perfect choice to serve guests if you're looking to impress!
#2 Southern Strawberry-Coconut Punch Bowl Cake from TheKitchenIsMyPlaground.com –um, she had me at Southern and coconut with this one. Strawberries and Coconut? Oh yes, this Southern girl is there!
#3 Strawberry Rhubarb Cake from FoodDoneLight.com –Okay, this cake is beautiful! The pink glaze over the lightly brown cake makes this a great choice to impress your guests. Best of all, it's also on the lighter side with only 3 grams of fat per slice.
#4 Scrumptious Strawberry Cobbler from TheKitchenIsMyPlayground.com –Reading this post was as fun as the recipe–check out this A-MA-Zing discovery from a "cryptically scribbled down" treat.
#5 Cheesecake Stuffed Strawberries from StockPilingMoms.com— Simple idea that's gorgeous on a plate!
#6 Chocolate Strawberry Muffins from GatorMommyReviews.com –Chocolate and strawberries–enough said. Yum!
#7 White Chocolate Strawberry Trifle from SummerScraps.com–My family LOVES sweet condensed milk and angel food cake. Check out this Trifle that blends them both!
#8 Strawberry Agua Fresca from LoveBakesGoodCakes.com–Check out this refreshing treat. The pictures from the post alone with make your mouth water!
#9 Old Fashioned Strawberry Milkshake from FamilyFoodandTravel.com –What's the secret ingredient to Grandma's milkshake? Read this delicious post to find out!
#10 Strawberry Pineapple Butter from TheGrantLife.com –Posting about her personal journey from processed junk to real food, The Grant Life shares just how simple and tasty nutritious natural ingredients can be.
Blueberry Treats
I'm a big fan of blueberries. Not only are they listed among the Super Foods, but they're also easy to add to almost any baked good or dairy drink. I can eat these round plump treats by the handfuls–here are a few blueberry desserts that are calling my name:
#11 Lemon Blueberry Coffee Cake from DelightfulEMade.com— As a coffee lover, I know a thing or two about coffee cake. Lemon-blueberry is a great blend for such a treat!
#12 Blueberry Cobbler from AnnsEntitledLife.com— Looking for comfort? This cobbler had me at bake until brown and bubbly!
#13 Blueberry Crumble Muffins from MamaBee.net –Hop over to MamaBee to learn a great tip for baking with fresh berries and batter!
#14 Blueberry Upside Down Cake from FamilyFoodAndTravel.com — Flip this cake over for a Berry Delicious surprise!
#15 Blueberry French Toast Casserole from WannaBite.com — Nowadays, we find plenty of leftover, stale bread varieties with a little syrup on top, but this one is actually a French Toast Casserole made from scratch!
#16 Sugared Blueberry Cookies from SavingCentsWithSense.net — I don't think I've ever tried blueberry cookies before, so this one is a MUST-TRY for it's blend of almond, blueberries, and lemon flavors!
#17 Blueberry Cheesecake Milkshake from FantasticalSharing.com –I have GOT to try this beautiful blueberry treat. Can I call it a SuperFood shake when it's blended with cream cheese and vanilla ice cream?
Other Berry Favorites
#18 Angel Lush from SavingsLifestyle.com–Full of fresh fruit flavors, this Heavenly Treat can easily be modified to include your own very berries.
#19 Blackberry Clafoutis from FlourOnMyFace.com — The sweetener in this treat will surprise you!
#20 Raspberry Crepes from FramedFrosting.com –Hop over to Framed Frosting for this breakfast idea for Mother's Day. Gorgeous goodness on a plate!
#21 Raspberry Bars from SimplyDarrling.com –A Lemon Bar experiment results in a Sweet Surprise!
#22 Sweet Cherry Almond Cookie Bars from FlourOnMyFace.com –For my readers, you know this is one I'm loving–cherries and almond? How could you possibly go wrong!
#23 Sugared Doughnut Holes with Raspberry Compote and Caramel from SimplyBudgeted.com –Doughnut Holes drizzled in caramel. Need I say more?
Mixed Berries When You Can't Decide
Can't decide which berry you love the most? Here are a few Berry Delicious Desserts that will hit the spot for your love of berries craving:
#24 Triple Berry Punch Bowl Cake from TheKitchenIsMyPlayground.com–All I can say about this one is: Dig In! Check out this NO BAKE Bowl of Beautiful Berries–YUM!
#25 PB&J Thumbprint Cookies from IWantCrazyBlog.com–Who doesn't love some PB&J?
#26 Very Berry Greek Yogurt Cheesecake from SomeOfThisAndThat.com –Another beautiful treat on a plate, the ingredients for this Berry Delicious Dessert may surprise you. Check it out!
#27 Berry Milk from LoveBakesGoodCakes.com –You have GOT to stop by Love Bakes Good Cakes and see this tasty treat. The purple color alone makes me want to make it!
#28 Sour Cream Blueberry-Blackberry Muffins from FantasticalSharing.com –The mixed cup of berries makes this muffin an excellent choice for breakfast. If you like me and you're always on the lookout for better breakfast ideas, check out this one!
#29 4th of July Dessert from BakingBeauty.net –This beautiful cake combines fresh blueberries and strawberries to make one delicious presentation!
I'll finish this roundup of Berry Delicious Desserts with my own:
#30 Candied Cherry Bundt Cake with Almond Glaze [grab it here]–just in case you missed the post!
What about you?
Do you have a Berry Delicious Dessert to share? Place a link in the comments–there is always room for one more!
For more Recipe Ideas, Follow my Foodie Fun Pinterest Board!