This post may contain affiliate links. Please see my full disclosure policy for details.
With three hungry guys in our house, my kitchen is never closed!
That's why, as a mom on the go, I'm always trying out new cooking techniques and kitchen tools to make better of my time in the kitchen while still serving up hearty meals my family will enjoy.
Ever fall in love with a kitchen gadget?
I have–several. Through the years, I've discovered several 'tools of the trade' that either quicken the cooking routine or help me cook up my southern recipes in a way that no other kitchen gadgets can.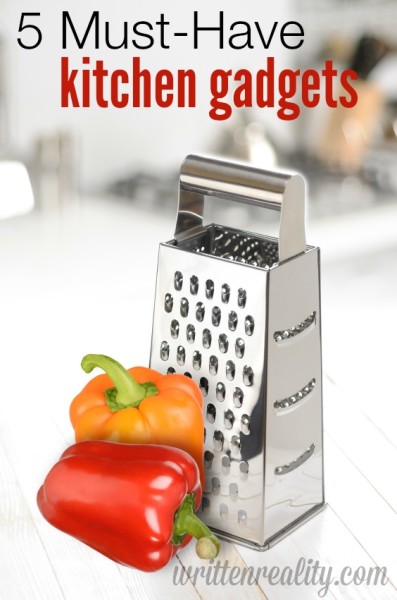 These are the 5 kitchen gadgets I just can't live without!
#1 Smooth Edge Can Opener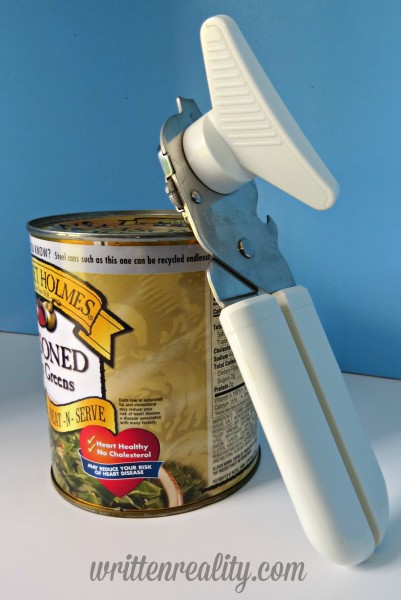 Growing up, we had one of those electric can openers that discriminated against certain cans. Unless the can was a particular size, it wouldn't fit. And I remember trying all sorts of angles and ways to try to fit the wide mouth cans against the opener to make it work.
I love the smooth edge can opener. I have had the Pampered Chef Version
for years, but I am sure there are other similar ones available. This opener opens the can without the cut. Well, it cuts–just in the middle of the rim so that you eliminate those dangerous shavings.
#2 KitchenAid Stand Mixer

One Christmas, my dime store mixer died in the middle of my baking day. That's when my husband surprised me with a new KitchenAid and I've never looked back.
I'm on a tight budget, and so I've always just used cheap hand mixers or whatever I found on sale. I am so thankful my husband invested in such a great kitchen gadget! There are even all sorts of accessories for it, and even one that's an Ice Cream Maker
–now that's way cool.
#3 Cast Iron Skillet
I don't think I could do much in the kitchen without this one. That's why I have two. Raised in the South, a cast iron skillet is a must for everyday cooking. And recently, I picked up the Pre-Seasoned Combo Cooker
, too!
[Tweet "5 Kitchen Gadgets I just can't live without!"]
#4 Vintage Nut Chopper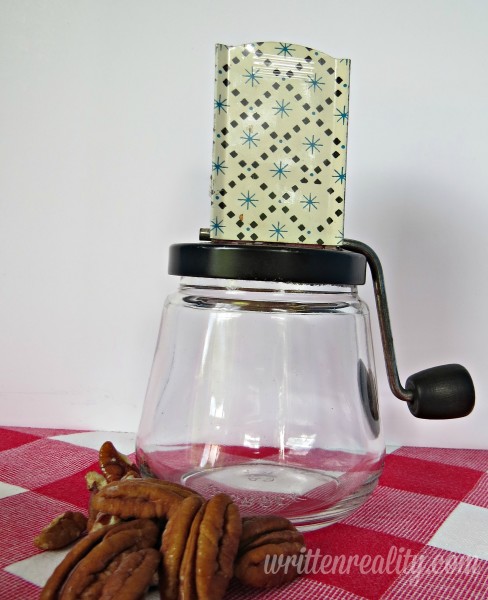 My mama bakes the best red velvet cake–hands down. Seriously, she's known for it. And growing up, I remember helping her with baking her famous cakes by using an old nut chopper to chop up all those pecans.
Here, we serve up a lot of pecan treats. And this nut chopper does the best job.
However, I've never seen another like it in the store since. I actually found mine at an antique store. So I cleaned it up and now use it for every nutty recipe I create.
*Knowing how I loved this nut chopper, my grandmother discovered a similar modern version and bought it for me. I must say, the new one does a very close job as my old one. It even has 2-directions for 2 types of chopping:

#5 Fluted Bundt Cake Baking Pan
I've mentioned this favorite kitchen gadget when I posted my Candied Cherry Bundt Cake recipe. Though it's pricey, it's worth every penny. I've had mine for many years, and every cake has been fabulous. I've never had a cake pan bake so evenly. So this one is worth the investment.
What about you?
What's the kitchen gadget you can't live without? Share with us!