This post may contain affiliate links. Please see my full disclosure policy for details.
Feeling overwhelmed by the hustle and bustle of Christmas? Here's how to have happier holiday and celebrate Christmas the way you were meant to with the ones you love.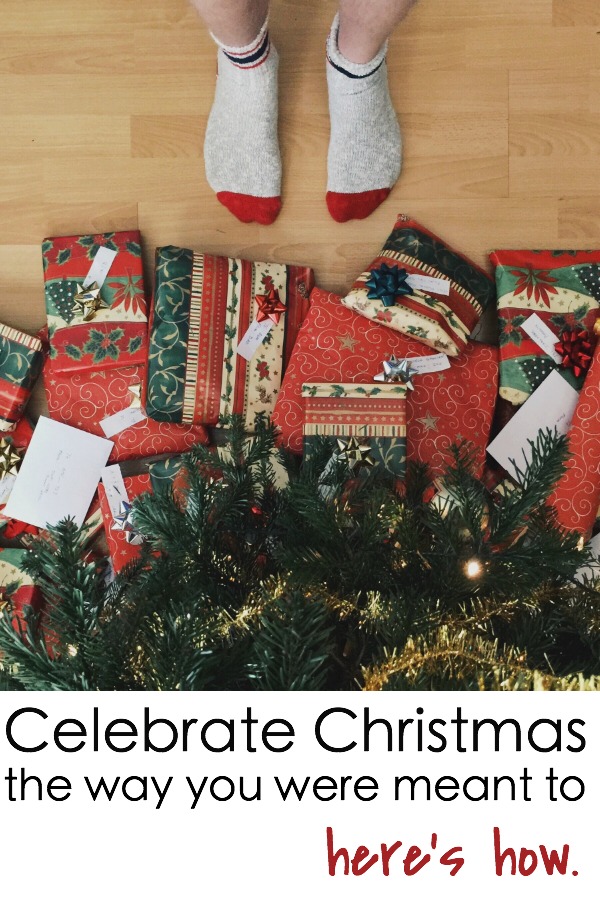 The Quest for the Perfect Christmas
Christmas. I love everything about it. From the twinkling trees to the fabulous feasts, it is truly the most wonderful time of the year. It can also be the busiest and most stressful time where we overindulge on sweet treats and overspend on everything else.
For years I tried everything you could imagine to create the perfect Christmas. I wanted my husband and children to experience every bit of it, and I tried desperately to squeeze in every sort of tradition and Christmas activity possible. By the time it was over, I had nothing to show for it.
Sure, my den was filled with toys and gadgets and my dining room table overflowed with fabulous food. But I was exhausted. The truth is, I had hardly enjoyed a thing.
Most Christmas Eves, my husband and I argued over the stress and busyness. Then we argued on into the new year over our depleted bank account. Because I was so determined to give my children everything, I exceeded the budget and overspent.
Christmas Morning Letdown
By Christmas morning, I was ready to take down the tree and pack away all the decorations. I felt disappointed that I couldn't meet my own expectations. I was just ready to get rid of every trace of Christmas so I could, hopefully, do it right next time when I did a better job planning for the upcoming year.
The stress-filled hustle and bustle became my Christmas tradition. It was an endless cycle of over planning and overspending. For some reason, I couldn't find a way out of the struggle. No matter what I tried, the idea of the perfect Christmas got the best of me and I fell for the illusion every time.
That's why a few years ago I changed everything about how I celebrate Christmas. I realized my attempts for the perfect Christmas wasn't the problem. I ruined Christmas because I chose to. My insecurities as a mom and wife had taken over every celebration. I was so consumed by creating the perfect Christmas that I couldn't take the time to celebrate with family just being myself.
If Christmas was about Jesus bringing hope and peace to the world, then I wasn't celebrating Christmas at all. Instead of experiencing the freedom that Christmas represented, I was choosing to live enslaved to my own expectations of what a perfect mother should be.

Since then, we have changed Christmas at the Smith house. Yes, we still have twinkling trees and fabulous feasts, but we now celebrate the season where we all can enjoy it. I'm no longer stressed by Christmas because I've simplified the celebration with a focused plan. I know way in advance the activities, treats, and gifts my family hopes for and I've already determined the budget and saved the cash.
Planning ahead for Christmas has also given me the freedom to say no to other activities without feeling guilty. By creating a family calendar of Christmas activities, I know what my schedule looks like so I can guard my time to use it wisely and allow for some breathing room, too.
Celebrate Christmas The Way You Want
Christmas is more or less 25 days or opportunities to celebrate. Guard the empty slots on your December calendar and give yourself permission to say no to all of those other activities that add unnecessary stress to your holiday and rob you of valuable time you could be spending with your family.
The Christmas Planner
My motto is plan ahead and you'll thank yourself later. By prioritizing, determining a budget, and stashing away the cash right now, you can easily create the Christmas experience you want for your family. That way, your Christmas celebrations can be based on the holiday traditions that fit the unique needs within your own family.
If you need help starting your own Christmas planner, check out my Ultimate Christmas Planner. It includes everything you need to create the perfect holiday calendar so you can take back Christmas and celebrate the way you want to with the family and friends you love.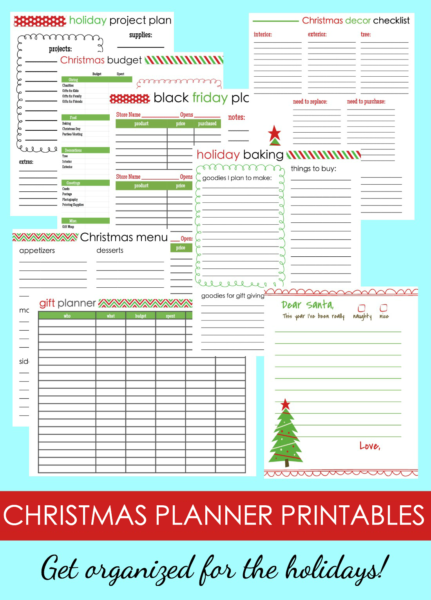 Other Topics You May Enjoy