This post may contain affiliate links. Please see my full disclosure policy for details.
Need money for Christmas? Here's a practical Christmas savings plan to help you take back Christmas and celebrate the way you were meant to with the ones you love.

Drowning in Christmas Debt
A couple of years back, I decided to make a few changes to our family budget. It was January and I had spent way too much money on Christmas. I needed to figure out some way to pay off the debt I'd created on credit cards, but with our tight budget, I didn't have a clue how to do it.
I didn't want to give up all of those wonderful things we enjoyed at Christmas, but I knew there would need to be a few sacrifices in order to make a real difference. There had to be a better way to celebrate the holidays without paying for it, with interest, over and over again.
Since I'm a paper and pencil girl, I knew a written goal would make a difference. So I immediately set out to find some sort of budget planner or the best way for saving money that I would actually use in order to not only pay off last Christmas, but continue to save enough to pay cash for Christmas year after year.
I came across one of those savings charts where you save so much money on a weekly basis and gradually increase the amount you save each week until you've saved a good bit by the end of the year. It's called the One Year Savings Challenge Plan where you basically start saving with just a dollar and work your way up to $52. By the end of the year, you have saved over $1300 to spend on whatever you want.
Take back Christmas with our Christmas Savings Challenge! Click To Tweet
Christmas Savings Challenge
It seemed like a practical solution and just what I needed to get myself out of this endless Christmas debt cycle. So I printed out a copy and pinned it to my bulletin board as my official Christmas Savings Plan.
Unfortunately, this plan didn't work as well for our family. First, we weren't receiving weekly pay at our house. My husband is paid bi-weekly and, since I work as a blogger, my pay comes at different times according to publishing dates or when a project is complete. I tried keeping up with a bi-weekly system, but it seemed a little more complicated when I added my own income randomly into the equation.
I also didn't like how the savings challenge increased over time, either, since saving a large amount of money bi-weekly wasn't possible for us, especially while we were trying to pay off the debt we already had.
That's why I created my own Christmas savings plan. I wrote out a detailed holiday budget on paper and then divided the amount into the remaining weeks I had left to save.
For me, I chose to have all my Christmas cash saved by Thanksgiving. That way I could plan for a month of Christmas shopping and also take advantage of those Black Friday and Cyber Monday sales.
Creating our own Christmas savings plan was just what I needed to tackle my debt. By physically writing out my Christmas plans and seeing my budget on paper, I've been able to pay all-cash for Christmas and all cash for our family vacations since I use the same method for those expenses, too!
The Ultimate Christmas Planner
My Christmas savings plan would not have been successful without first figuring out our Christmas budget. If you want to save enough cash for your upcoming Christmas expenses, here are a few things you need to know.
Create a Christmas budget immediately and don't leave out anything. Spend some time writing a detailed wish list for Christmas. This isn't just for gift giving, either. Write down every holiday tradition, decoration, and activity where money is required and even those extras we seem to forget, like gift wrap, tape, and those cute little bows.
Give yourself a reality check. After creating your wish list, go back and jot down dollar amounts on how much those items will cost you and then brainstorm areas where you can cut back and save.
Give yourself a break. Christmas should be merry and bright, not stressful and gloomy. Create a Christmas budget around what you can actually afford and plan your holiday activities based on what best suits your family. Learning to say, "no" to many holiday events and skipping a few Christmas parties is the best gift I could ever give my family. That way, I not only save tons of money, but time, too, to spend Christmas celebrating and building lasting memories with those I love.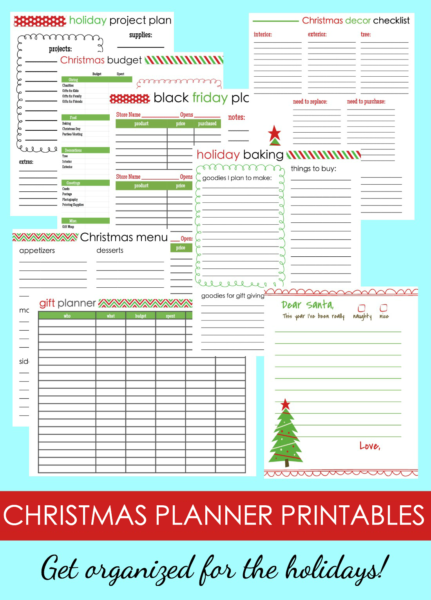 If you need more ideas and help for planning your Christmas budget, check out my Ultimate Christmas Planner. It includes everything you need to create the perfect holiday budget so you can take back Christmas and celebrate the way you want to with the family and friends you love.

Other Topics You May Enjoy