This post may contain affiliate links. Please see my full disclosure policy for details.
Cheap Christmas Pillow Covers: These Christmas pillow covers are not only WAY LESS expensive, but they are super cute and great quality, too! I found Christmas pillow covers that are less than $12 each!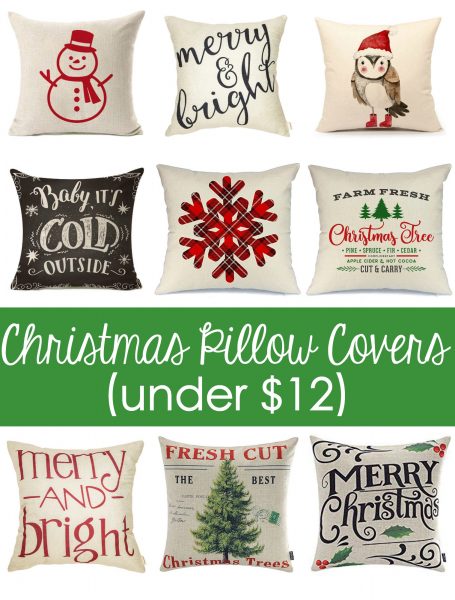 I love throw pillows. They add so much color and fun to any room you're trying to decorate and are an easy way to switch out new themes and patterns to freshen up your space. So, of course, I am crazy for all the fun pillows I find during the holidays. But boy are those little pillows way expensive! That's why I've started just using the Christmas pillow covers. That way, I can switch them back once Christmas is over and I don't spend more money than I really can afford.
Christmas pillow covers come in all kinds of fun themes, no matter how you decorate. Even better, Amazon is loaded with tons of them! For me it all started with a couple of ugly pillows that came with my sofa. I went on Amazon and found these khaki stripe pillow covers that went perfectly with the style of my new sofa and matched everything else. The covers fit over those ugly pillows nice and snug and they look like they came that way.
I couldn't believe how cheap they were because they're such a heavy fabric. So then I bought these buffalo check pillow covers and once again, they were super fabulous, too.

I am now adding a few of these Christmas pillow covers to my cart because I'm not sure which ones I want. I bought the black and white 'Merry & Bright' because it went with my buffalo check-no brainer. But I think I want to pick up one to go in my den that's red and white because I'm decorating that space with more of a traditional type look. The ideas are endless. Who else LOVES Christmas decorations?
Anyway, when I discovered all of these super cute pillow covers and finally figured out that getting a great decorative pillow cover didn't need to be expensive, I decided to share with everyone else. Stay away from those way-too-expensive department store pillows and grab a couple of these.
Cheap Christmas Pillow Covers
These cheap Christmas pillow covers are perfect to add just a little more fun to any room you're decorating. Here are some of my favorites that I found as I was shopping around online this week. The best part is that the ones I found are less than $12 each. Most of them are less than $10.
Watercolor Christmas Tree Pillow Cover
Fresh Cut Christmas Trees Pillow Cover
Set of 2 Christmas Buffalo Check Pillow Covers
Set of 4 Holiday Rustic Pillow Covers

Christmas Mixed Buffalo Plaid Farmhouse Pillow Covers
Christmas Tree Farm Pillow Cover

Merry Christmas Buffalo Plaid Trees Pillow Cover
Baby It's Cold Outside Pillow Cover
Other Topics You May Enjoy