This post may contain affiliate links. Please see my full disclosure policy for details.
Last week I decided it was time for another DIY makeover and this time, it was Millie's turn. She's my pampered 4-legged fur baby. And just like the kids, she is super excited for anything new.
I wanted to make her a mod-style bed with sleek legs, but of course, short enough for her to easily hop into whenever she was ready for a nap–oh the joys of a dog's life.
DIY Dog Bed
I love how it turned out and Millie loves it, too! She immediately hopped right up on it without me ever saying a word about it. It's funny how she knows when something's for her. From her Christmas stocking to birthday toys, she knows when the gifts are hers or when they're for someone else. –smart girl
Building Millie's Mod-Style Bed
As with all of my DIY projects, this one costs very little. I bought the cool mid-century legs and the paint. The wood came from Hubby's scrap pile and then I used a fun patterned pillowcase to recover a pillow Millie already napped on–she has several napping spots according to where I'm working.
To build a similar bed, measure the dog. I just used Millie's pillow as a guide to how big I wanted it. I sat the pillow on a sheet of plywood to decide just how deep and wide the bed should be.
So here's the lowdown:
1- 24 x 16 sheet of plywood for the bottom
1 – 24″ 1×10 board for the back
2- 16 3/4″ 1×6 board for the sides
4- Waddell Wood Table Legs
4- Waddell angle leg mounting plates
Here's a quick tip:
Before assembling the boards with wood screws, drill pilot holes to prevent the wood from splitting.
Millie's Pillow and Headboard
Millie is a Maltese, so a standard size pillow worked well. It also made it super easy because it didn't require any sewing. I just slipped on the pillowcase and tucked under the ends. The pillowcase can then be easily removed and washed or changed if I decide I want to use another pattern or color for fun.
I chose this pillowcase for its fun geometrical pattern. To create the same larger version of the pattern, I simply scanned the pillowcase on my printer, enlarged the shape to the size I wanted, and then cut it out to create a tracing pattern.
I positioned the pattern to where I wanted it, and carefully traced over it using a Sharpie Paint Marker
in medium white.
So find a pattern you like, SCAN-ENLARGE-PRINT, and trace any pattern you want.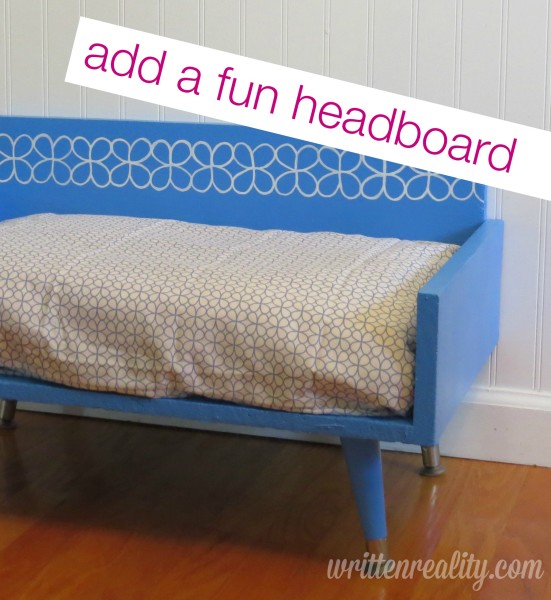 What about you?
Do you have a pet? Share your pet projects with us!
Other Topics You May Enjoy