This post may contain affiliate links. Please see my full disclosure policy for details.
I love do-it-yourself projects, but I'm not what you'd call very 'crafty.' So when I discovered Washi Masking Tape
I was hooked–and bought more rolls of it than I'd ever need. So here's a fun wreath I made putting the Washi Tape to good use.
Porch Swings and Rocking Chairs
Where I'm from, we like to decorate our outdoor spaces more than our indoor space, probably because we spend a lot of time on our porches or outside in the evenings when the Southern heat still simmers, but is easier to enjoy.
That's why I'm loving this project. It will go well with the trinkets and flowerpots I already have sitting around on my front porch–and is perfect for adding a little festive feel when I pull out the patriotic decorations for Memorial Day and the 4th of July.
DIY Wreath for All Occasions
Like most of my projects, everything else I used can be found at your local dollar store. I even spotted some patterned masking tape on my last visit–though obviously I didn't buy it since I already have a year's supply!
The great thing about this project, is that it's REVERSIBLE. That way, you can easily tie another ribbon or scarf around it, flip it over, and you've pushed yourself into the next season or holiday.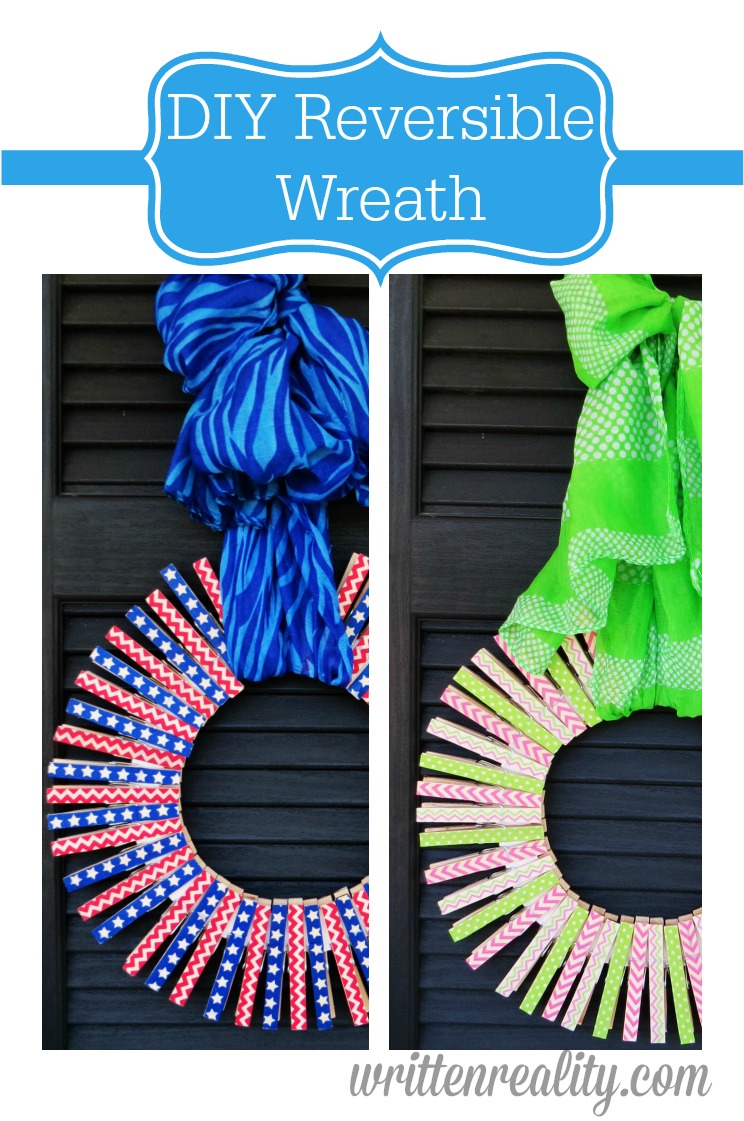 Materials Needed for Your Own DIY Reversible Wreath
So here's what you'll need for this project:
Clothespins
Cardboard
Felt, Cloth, or Posterboard (This is cosmetic to cover the cardboard ring. I used white poster board. But you could also cover the ring in a patterned cloth, felt, etc. Get as creative as you like!)
Circle Pattern
Ribbon or Scarf
Washi Masking Tape
Pencil
Scissors
Endless Ideas for Every Season
Though the materials are basic supplies, the patterns you use and the scarf or ribbon you choose will be based on the holiday or season you want to celebrate.
Again, I wanted to keep it simple and inexpensive, so the scarves I used were found at the Dollar Tree. I then used the patterned Washi Tape to create an Easter/Spring Wreath that I could then flip over to take me into Memorial Day/Summer all the way to the 4th of July.
Ready to get started?
Hop on over to STEP ONE: