This post may contain affiliate links. Please see my full disclosure policy for details.
Easy Biscuit Chicken Pot Pie : This easy chicken pot pie recipe is made in the slow cooker with biscuits baked right on top. It's the perfect meal for busy weeknights, too.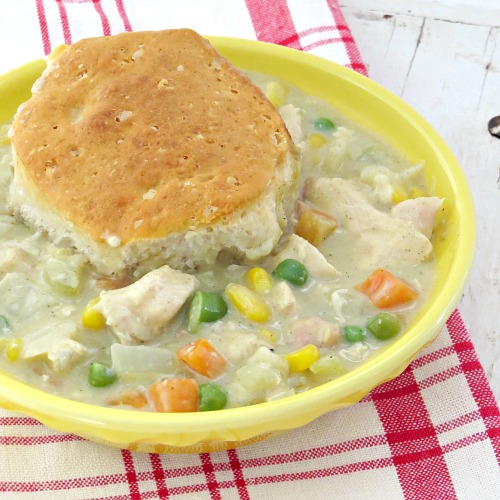 Need an idea for an easy comfort food meal? This easy biscuit chicken pot pie recipe is a great one. It's one of those meal ideas where you pretty much just throw things in the pot and go about your day. That's why I try to keep a few of these basic staples in my pantry and fridge for this one. That way, I know I always have something available to cook for supper without thinking too much about it.
This version of chicken pot pie has the biscuits baked right on top of it. However, you could easily just bake your biscuits a few minutes before it's time to serve and add them across the top of the dish. I've tried both and my family loved it either way. And as always, feel free to swap out the vegetables for your favorites. I just use a bag of basic frozen veggies just to make it even easier.

Easy Biscuit Chicken Pot Pie
Ingredients
3 boneless skinless chicken breasts, cut into bite-size pieces
1 medium onion, diced
1 cup diced celery
2 cans condensed cream of chicken soup
1 cup skim milk
1/2 Tbs. poultry seasoning
1 tsp. salt
1/2 tsp. pepper
1 bag frozen mixed vegetables
1 can refrigerated biscuits

Directions
Spray the slow cooker insert with cooking spray and add the chicken.
In a separate bowl, mix together the chicken soup, milk, poultry seasoning, and salt and pepper, blending well.
Pour the soup mixture over the chicken, cover, and cook on low heat for about 3 hours.
Preheat the oven to 350 degrees.
Stir in the frozen vegetables and arrange the 8 biscuits on top.
Remove the slow cooker insert and bake for about 40 minutes or until the biscuits are cooked through. Enjoy!
>>Don't forget to check out our Busy Mom's Easy Cooking Guide to make meal prep even easier!<<
Other Recipes You May Enjoy