This post may contain affiliate links. Please see my full disclosure policy for details.
Valentine with glasses: Looking for a fun way for your kid to exchange Valentines this year? Check out this free "I Only Have Eyes For You" Valentine printable that's super easy and fun, too!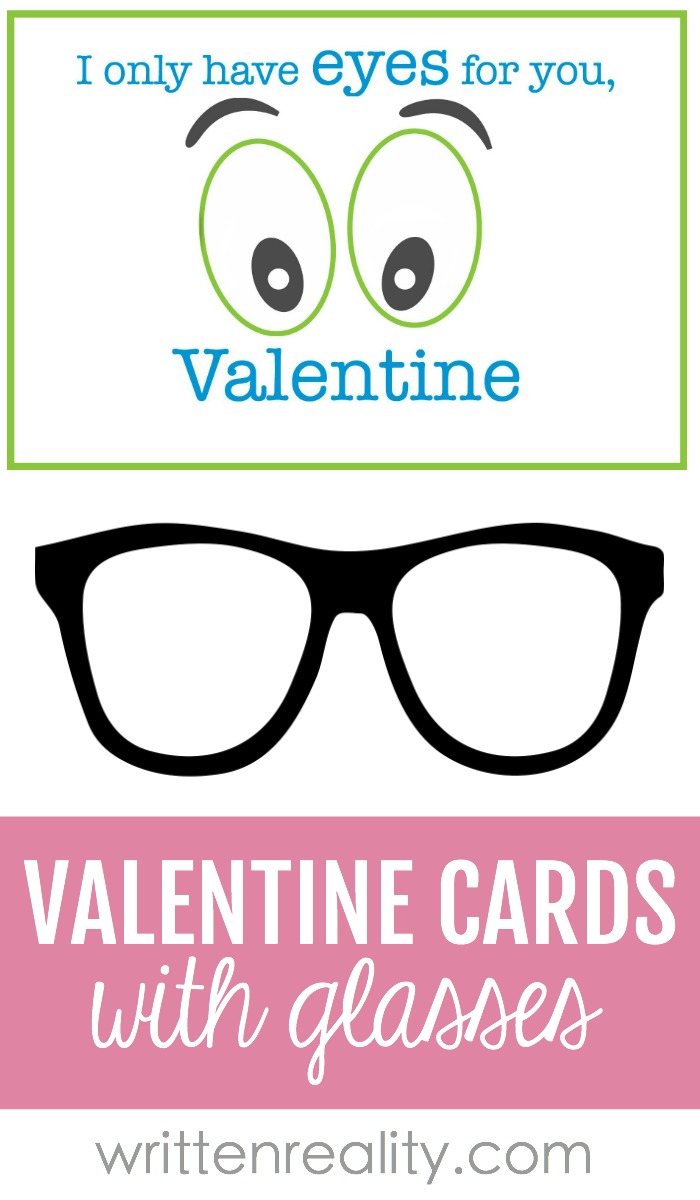 I've always loved the Valentine Card exchange. As a kid, I remember spending quite some time scouring my box of Valentines before ever addressing them to my fellow classmates. I was careful to choose just the right one for each person–making sure the words matched my true feelings without hurting someone else's in the process.
This year, I'm sad that it's my son's last time participating in the Valentine Exchange. He's a fifth grader. For me, that means the last year spending our afternoon together working on his Valentines.
So I thought I'd think outside the box a bit–no pun intended–and create something different that he would enjoy.
Like most of our crafty projects, I started in the bonus room. That's where I keep all my scrapbook paper and other decorative items that I reuse and recycle for all sorts of school projects all the time.
I found a leftover bag of party favor eyeglasses I'd purchased a couple of months ago to create a Lorax costume.

Valentine With Glasses
The rest, as they say, is history. I knew the eyeglasses could be a fun trinket to use as a Valentine prop and since they're super cheap by the dozen, I could just grab another bag at the party supply store so that I had enough to go around.
For printable kids valentine cards, I sometimes will print them on something a little heavier than copy paper. That way it's sturdy like other cards you buy at the store. However, I found that I liked these better on regular copy paper since I was stapling them to the party glasses in a plastic bag. Either way, the valentine with glasses turned out fabulous!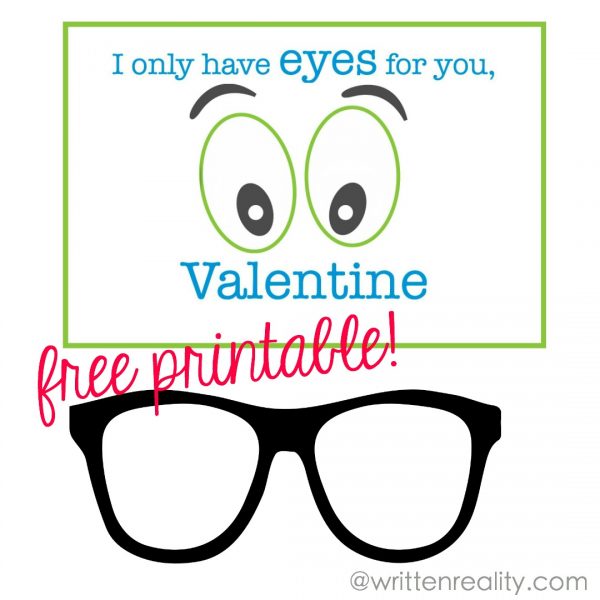 CLICK HERE TO PRINT YOUR OWN VALENTINE WITH GLASSES
If you're looking for inexpensive party favor plastic eyeglasses, I like the round framed glasses I used when we made the Lorax costume. However, be creative. There are tons of party favor eyeglasses out there, from sunglasses to glow in the dar.
Here's what I used to create mine:
Materials Needed:
—Free Printable Valentine Cards downloadable image
–resealable sandwich bags
That's all there is to this one.
Just print out the image, address each Valentine, and staple the card to the top of a resealable sandwich bag with the glasses tucked inside.
Seriously, besides picking up more of the eyeglasses, everything else was found in my crafting supplies or in my cupboards. Before attempting any craft project, always look at what you already have on hand. I'm super happy with this one and it would never have happened if I'd began in the store.
Feel free to print out your copy of the Eyes for Your Valentine or pin it for later. To print, just click on the link above in the materials lists. –Happy Valentine's Day ♥
This Adorable Valentine With Glasses is FREE! Click To Tweet
Other Topics You May Enjoy