This post may contain affiliate links. Please see my full disclosure policy for details.
Adding a little life to my outdoor space has been loads of fun and trying out the Flowerpot Do Overs has really added character and color to the space.
After cleaning up some of my old terracotta pots, I decided it was time for something new. I keep these pots on hand for other projects and usually just add a little paint.
But this time, I decided to use fabric.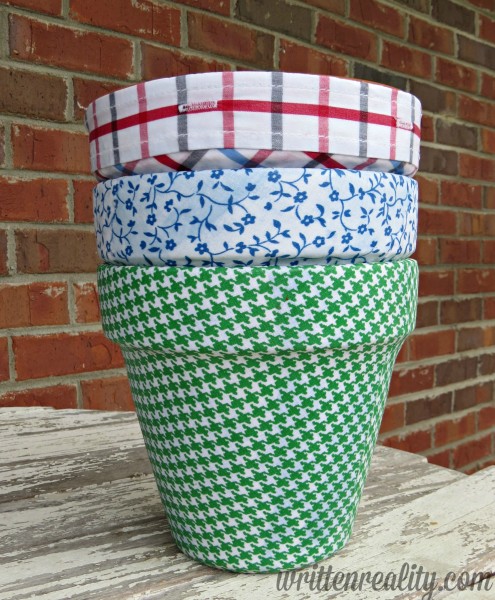 Flowerpots Do Over-We've Got You Covered!
Here's what I used for this project:
1. medium size terracotta pot (I think they call it standard size, too)
2. scraps of fabric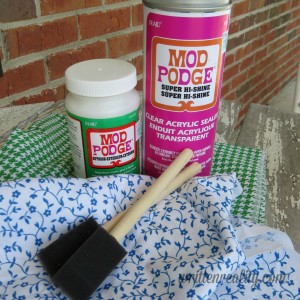 3.Mod Podge, Outdoor
4.Mod Podge Acrylic Sealer, Super Gloss
5. Foam Paint Brush
Instructions:
This is one of those projects you really can't mess up. Think of art class in elementary school with a bottle of glue and scraps from a newspaper or magazine. It really is that easy.
First, brush a light coat of Mod Podge over the flowerpot. Then, wrap around the fabric, making sure to keep it tight and smooth.
My pots had a lip. So I used it to guide the direction of my fabric to make sure it adhered well around the lip, or rim, of the pot.
For two of the pots, I chose to wrap the fabric all the way over and into the inside of the pot. However, on another one–I'll get to that one in a moment–I cut the fabric before going over the edge.
Just play with it.
You can move it around until the pot is covered the way you like it.
Allow the fabric to adhere to the pot. This only takes a few extra minutes-maybe 10 or so. Then brush another coat of Mod Podge over the entire surface for extra protection and to help strengthen the stick. –Staying Power–
[Tweet "Fabulous Flowerpot Makeovers w/ fabric scraps–give it a try!"]
*So here's a note: After allowing one coat of Mod Podge with the brush to dry, I sprayed on the sealer. But I really don't think it's needed. Your choice. For me, I preferred the cloth texture and the glossy sealer made it look too shiny for my taste. All I had on hand was the super high shine variety and I wasn't going out to purchase something else–just saying.
Instead, I just used more coats of the brush method with the other two pots, so I'll keep you posted on how well they all hold up in the weather.
Remember the 3rd Fabric Flowerpot?
I loved this one! Instead of fabric scraps, I used an old shirt. It turned out better than I could have expected.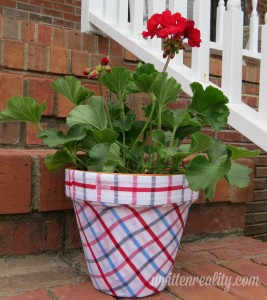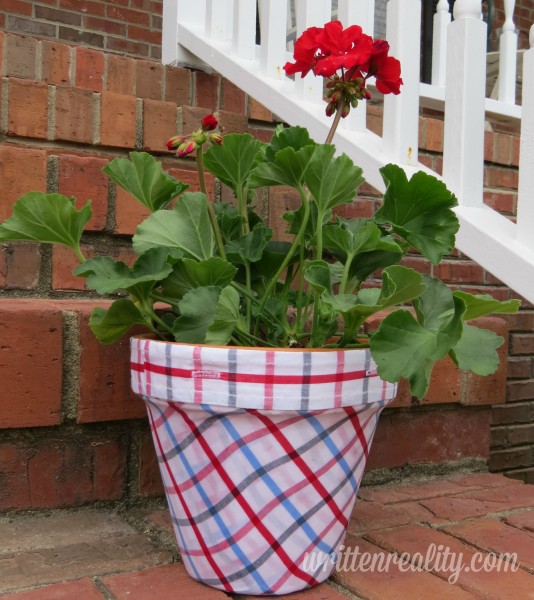 Here's how I used an old shirt to create my Flowerpot Masterpiece:
Click Here to Read → Flowerpots Do Over with an Old Shirt
What about you?
What are some things you've reused or recycled into something fabulous? Share your ideas with us!