This post may contain affiliate links. Please see my full disclosure policy for details.
Need ideas to keep your kids learning this summer? Here's a free printable summer activities chart to keep your kids active and learning all summer long.

Summer Activities for Learning
Last summer I decided to give my youngest son a learning challenge. I wanted to create a quick and easy routine that would keep his brain active over summer vacation. He'd had a great 5th grade full of wonderful hands-on activities and he had fallen in love with books, so he was constantly reading the latest by a favorite author or from some favorite book series.
I feared he'd lose learning momentum during the lazy days of summer, so I hoped we could incorporate just a few summer learning activities in our mornings that would keep his brain active and avoid the infamous summer boredom that often sets in within a week of summer break.
I certainly didn't want my son feeling burdened by his summer learning to-do list. Boredom is actually healthy and should be experienced often by children. It's boredom that sparks our creativity, so I didn't want to overload him as if he were in summer school.
Rather, I wanted to create a challenge filled with fun activities that would keep him thinking instead of zoning out in front of video games or the television.
Summer Goals for Kids
Like most moms, I started by searching the internet for anyone else who had created a similar summer learning challenge. There are tons of great ideas out there and I was sure I wasn't the only mom who wanted to keep her child learning during the summer months.
I found this No Screen-Time Until. . . printable that was just what I was looking for. It listed 5 simple activities for a child to accomplish. Once the child completed the 5 activities, he/she could play video games or watch TV.
Tweaking the Summer Goals Chart
However, I did decide to tweak the No Screen-Time sheet a bit because I also wanted my son to learn cursive handwriting. Since his elementary school doesn't require cursive handwriting, I wanted him to experience the process and at least be able to read cursive writing as well as write in cursive when asked to sign his name.
By the end of the summer, my son had read tons of great books, completed an entire cursive handwriting book, and strengthened his math and problem solving skills. Instead of moping around first thing every morning, he set about reaching his goals for the day.
The Learning Continues
Here's the best part: the learning continued. It's like the goals turned on a learning switch each morning. Once they were completed, he kept reading, writing, and building things. He spent way less time in front of the TV and discovered that there is, in fact, a wonderful world out there beyond his video games.
Through this experience with my son last summer, I learned that setting just a few summer learning goals is super easy and doesn't require much time to accomplish. My son still had tons of down time last summer and yes, he still watched TV and played his video games. However, this short time each morning completing just a few summer learning activities, kept him thinking. He learned a new skill, cursive handwriting, and strengthened many others.
Grab this free Summer Goals chart for kids! Click To Tweet
Generic Summer Goals Sheet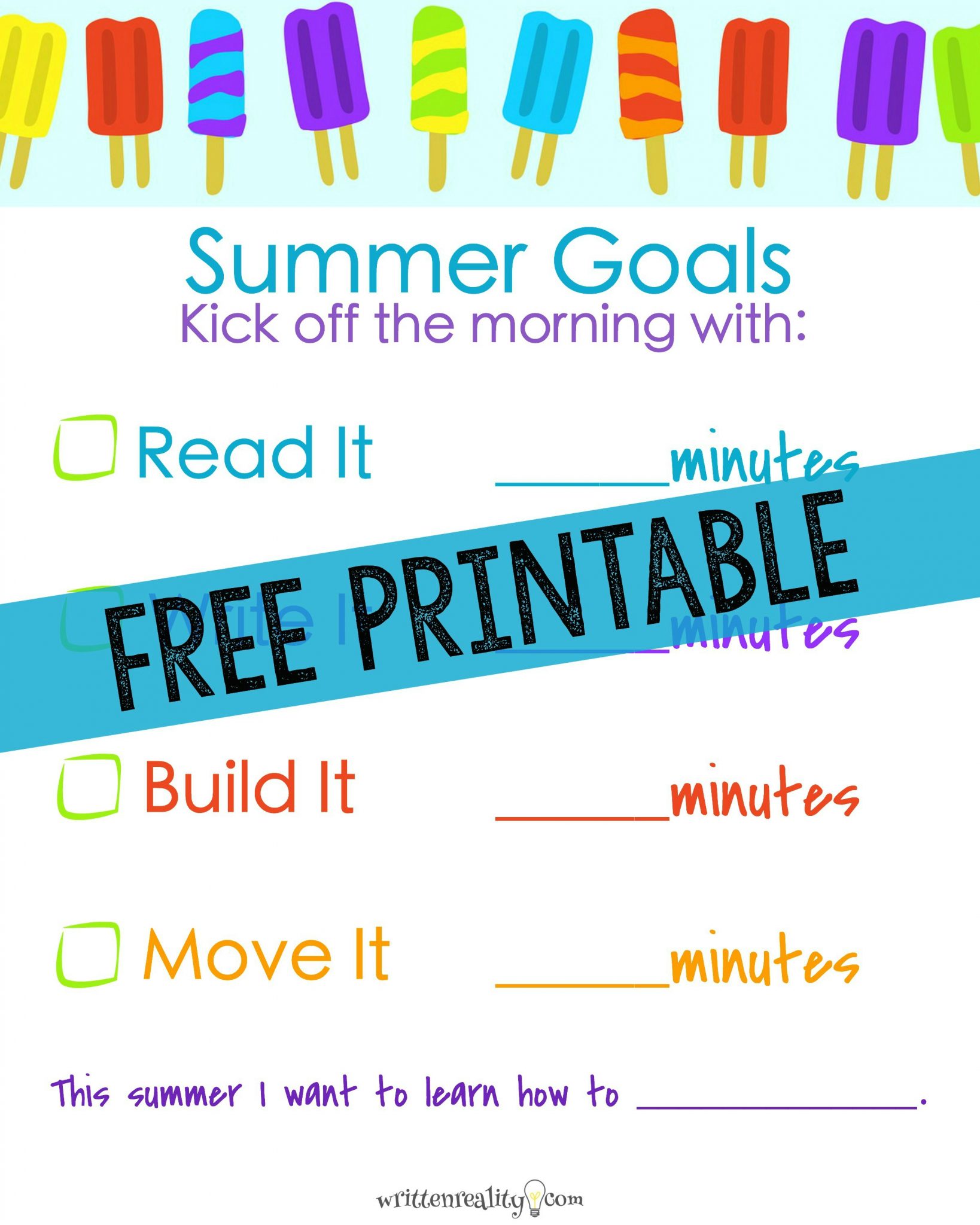 This summer, I plan to once again tweak the Summer Goals list. Here's what we plan to accomplish this summer.
Cook It
Since my son has expressed his interest in cooking, I thought I would challenge him to learn to cook this summer. Sure, he can make a sandwich and cook up his own serving of Ramen noodles. This summer, however, I want to teach him to cook all sorts of new recipes and hope that I, too, will learn a few new cooking techniques myself.
Build It
My youngest son inherited all of his older brother's Legos years ago. Between the two of them, we now have enough Legos to build a house we could actually live in and these toys have been instrumental in teaching my kids all sorts of problem solving skills and creativity that will help them forever.
This summer I want to expand my son's skills to include building other things, like woodwork and even helping with home improvements or changing the oil in the car. Yes, if I had a daughter, I would still encourage this one. Just as cooking, all of us need to know how to make basic home repairs and we should all know how to build something.
Write It
Fortunately, I have a writer. Like me, both of my boys love writing. And, since both of them hope to join the writing profession one day, this one is a priority at our house. The challenge will be keeping writing as a natural routine within our day. So one of our summer goals will be keeping a journal where we write something, whether a paragraph or just a note of gratitude, everyday.
Read It
Reading will always be encouraged at our house. After teaching third grade for so many years, I know firsthand how important reading over summer vacation can be. I am also fully aware that there are plenty of kids who don't enjoy reading. I wouldn't give up on them, however. There's a topic out there they would love learning. Sometimes, it just takes a little more digging to discover a favorite genre or meet that book that changes everything.
That's why I decided to create my own generic summer learning goals sheet. I wanted something that my son and I could sort of plan out together. That way, he would feel he was contributing to his own goal setting rather than me just making up goals for him to complete.
For this summer learning activities sheet, I chose to include the following categories:
Read It (reading something)
Write It (journal entry)
Build It (anything creative)
Move It (some sort of exercise)
Then my son can decide what to read, write, create, and how to exercise, as well as how long to spend on each task. If you would like a copy of this template, just click on the link below.
Free Printable Summer Goals Sheet
Other Topics You May Enjoy