This post may contain affiliate links. Please see my full disclosure policy for details.
First Time Kayaking Tips : Looking for some family fun ideas? Kayaking is a great choice for the whole family. Here are 7 first time kayaking tips for some awesome Family Fun.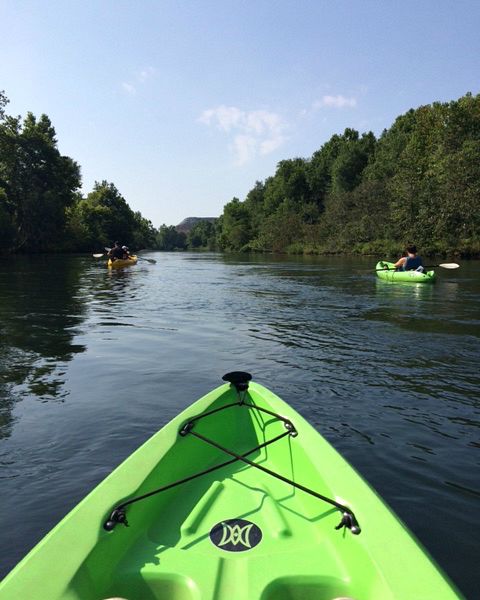 With two boys and a dog, my husband and I are always on the lookout for fun family outings. For us, kayaking is the perfect solution.
In recent years, kayaking has become super popular. Not only is it a great choice for family entertainment economically, it's an easy to learn sport that is super fun for the entire family and even pet-friendly, if you're like us and take your dog along on most vacations.
Kayaking is physical, outdoors, and tons of fun for all of us. Even better, kayak rentals are popular. So you can try out the sport using a rental to see what kind of kayak and equipment best suits your family's needs.
If you're interested in taking your family kayaking soon, here are just a few first time kayaking tips to get you started.
First Time Kayaking Tips
1. Choose
Your
Kayak
As with any outdoor equipment, kayaks come in all sorts of styles and sizes. There are whitewater kayaks for fast moving waters and recreational kayaks for slow moving canals and lakes. There are sit ins and sit on tops, as well as tandems for smaller passengers and pets.
When deciding on a kayak, borrow a friend's kayak, paddle in a rental, or do your research to decide which kayak works best for you and your family's needs.
2. Dress the Part
As with any outdoor activity, make sure to choose clothes that suit your environment, and in this case, the water temperatures. Though you plan to stay in the kayak throughout your journey, you'll need water shoes for climbing in and out of the boat, and always carry a life vest as an extra safety precaution, too.
3. Hydration
A water bottle is also a must on your kayak journey. You never know just how long your route will take and some days you may want to just take in the scenery and linger a while as you enjoy the view. By keeping a water bottle handy, you and your family can relax and enjoy the time together while keeping well hydrated on summer days, too.
4. Sun Protection
Nothing is worse than a wonderful day out in the sunshine without sunscreen. By that evening you are miserable suffering from sunburn. So don't forget the sunscreen and make sure your family is well protected. Just like with any outdoor activities, it's also great to have a pair of sunglasses, and a hat comes in handy, too.
5. Dry Bag for Belongings
If you carrying along your cell phone, keys, and other items, make sure they're secured in a waterproof bag or container. A Ziplock bag is the perfect solution. It's super cheap and will keep your belongings dry. We try to keep the things we carry to a minimum, so one large sealable plastic bag is big enough to hold those few belongings for us.
6. Start with a Short Trip
For your first time kayaking with the family, take a short route that's easy to manage. Start in calmer waters to get accustomed to the kayak and your paddling technique. Share a tandem kayak with younger children who may tire out more easily. This will also give them some time to strengthen their paddling techniques, too.
It's also a great way to get the younger kids excited about kayaking. With a short trip, they enjoy just enough time on the water without getting too hot, tired, and hungry. If you are taking young ones, a short trip on a cooler summer morning would be a great way to start.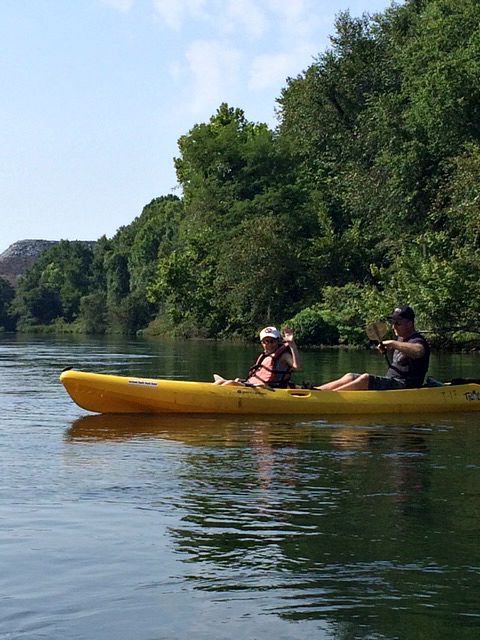 7. Take it Slow
Kayaking is all about the outdoors, so relax and take your time learning. It's a great way to spend time together as a family to slow down from the fast pace of the daily and enjoy the great outdoors.
Once we went kayaking, we couldn't wait for our next outdoor adventure. Kayaking is such a wonderful way to get away from the hustle and stresses of daily life and reconnect with your family. Take some time this spring and summer to enjoy your family with some kayaking family fun.
Other Topics You May Enjoy