This post may contain affiliate links. Please see my full disclosure policy for details.
Are you planning to travel with kids this summer? Save your sanity on your next family road trip! Here are the best road trip games for kids.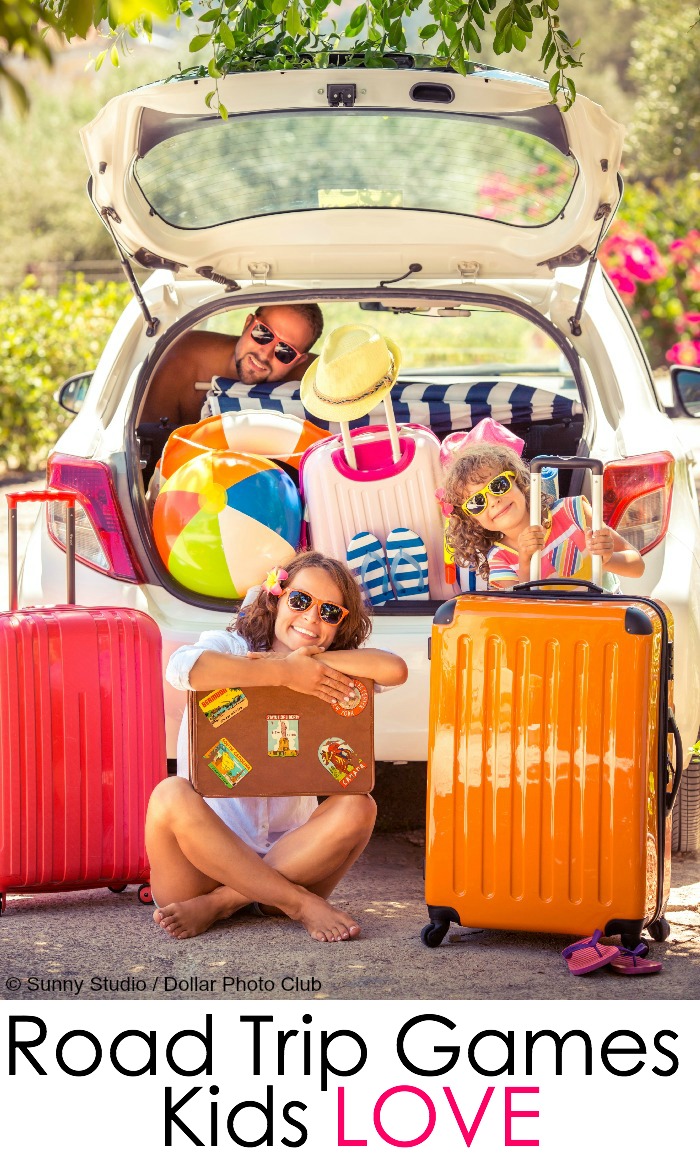 We love a great family road trip. But let's face it. Those long days on the road can get pretty cramped and the kids can easily get restless from riding in the same position for way too long.
That's why I'm sharing a few of my all-time favorite car games. These ideas are fabulous for summer vacation or any time you find yourself stuck in traffic with a car load of fidgety kids.
Road Trip Games For Kids
Tune In
Who knew national public radio could be exciting?
Choose a common word we hear often or a popular word you may hear in a song. Then, tune in to a radio show, wait, and listen. The first person to hear the word spoken or sang wins and gets to choose the word for the next round, too.
Restaurant Roundup
Each person chooses one restaurant and tallies every time the restaurant is mentioned, passed, or its logo is spotted along the way. When you reach your destination, the player with the most tallies wins and gets to choose where the family will eat dinner.
Car Bingo
Here's a verbal version without the need for Bingo Cards. Just choose a few items to spot along your journey:
a motorcycle
an RV
a car with at least five people inside
a car with a dog inside
a car that looks just like the one you're driving
-you get the idea.
The first person to spot the chosen items, wins!
Check out these BEST EVER Car Games for Kids!
Click To Tweet
License Plate Game
Make sure everyone has a notepad and pencil for this one. Along the way, write down the name of each state that's spotted on a license plate. This one is so popular, there's even a license plate game printable, too.
20 Questions
We love this game and play it often at the Smith House. One player thinks of a person, place, or thing. Everyone else has 20 questions they can ask to figure out the answer, but all questions can only be answered with "yes" or "no."
Name that Tune
Each player takes a turn humming the first few bars of a song. The first person to name the tune is the winner and hums the next round.
String Along A Story
The first player completes the following sentence:
"Once upon a time, there was a __________named__________who (name the problem)."
Each player then takes a turn adding another sentence to the story until the problem is solved and the story is over.
Jokes and Riddles
Knock-Knock jokes are always fun. Take turns telling jokes or stretch your thinking by sharing a few riddles or brainteasers. Grab a few good joke or brainteaser books before your next road trip. Then keep one in the car for later when you're stuck in traffic or have a long wait.
Relax and Build Memories
No matter where the road takes you this summer, remember that a family road trip is all about the fun.
Here's your chance to turn off all electronics and have everyone's undivided attention. So open up the conversation and share a few laughs. Enjoy each other's company, and take the opportunity to make memories that will last long after you reach your destination.
Other Topics You May Enjoy