This post may contain affiliate links. Please see my full disclosure policy for details.
Groundhog Day Books for Kids : Here's a great list of picture books to read with your kids to celebrate Groundhog Day.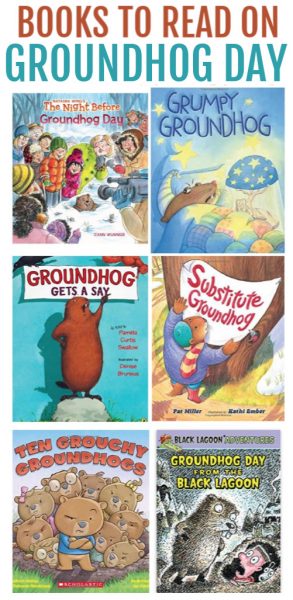 I always enjoyed reading aloud to my students when I taught elementary school and so I was also on the search for great picture books to celebrate fun holidays and other events. That's why I thought it would be fun to gather a few Groundhog Day books for kids that adults will certainly enjoying reading as well. Here are some of my favorites. Enjoy!
Groundhog Day Books for Kids
The Night Before Groundhog Day by Natasha Wing
This is a fun take on Twas the Night Before Christmas. It begins with, "Twas the night before Groundhog Day and all through our town, everyone was waiting for tomorrow's countdown. Because in the morning, when we all come together, a groundhog will wake up and forecast the weather."
A fun rhyming story that is perfect as a read aloud and bedtime story the night before Groundhog Day.
Groundhog Gets a Say by Pamela Curtis Swallow
In this one, Groundhog decides to tell the world the truth about himself, because for this groundhog, there is more than just the weather. It's a fun take on the Groundhog Day celebrations – with a super cute twist.
Grumpy Groundhog by Maureen Wright
On Groundhog Day, everyone is ready for Groundhog to make his annual appearance, but he just wants to stay in his warm cozy bed.
Groundhog Day by Lisa M. Herrington
If you're looking for more a fun fact sort of Groundhog Day book, this one is part of the Rookie Read-About Holidays. It's filled with colorful photographs and an in-depth look at the holiday that is easy to read and enjoy.
Groundhog Day! by Gail Gibbons
I love all the books by Gail Gibbons. They are always so informative and fun to read. This one examines Groundhog Day, of course, and ancient traditions that have evolved into our modern day celebration.
Ten Grouchy Groundhogs by Kathryn Heling
Here's another fun rhyming countdown book filled with "grouchy, grubby, gobbling, gabby, giggly, groovy, graceful, glitzy, gleeful, groggy groundhogs getting ready for their great big day."
Substitute Groundhog by Pat Miller
What happens when the groundhog is sick on Groundhog Day? Why, he interviews other animals to come out and sub for him instead!
Ground Hog Day From The Black Lagoon by Mike Thaler
The students in my third grade class always loved The Black Lagoon series, so I thought I'd share the Groundhog Day one, too. It's a fun one!
Other Posts You May Enjoy