This post may contain affiliate links. Please see my full disclosure policy for details.
Did you know you could make bonbons the old fashioned way? It's easy!
Here's a step by step recipe to homemade Turtle Bonbons. They're super easy, super delicious, and you'll be deemed super mom by your family with every bite.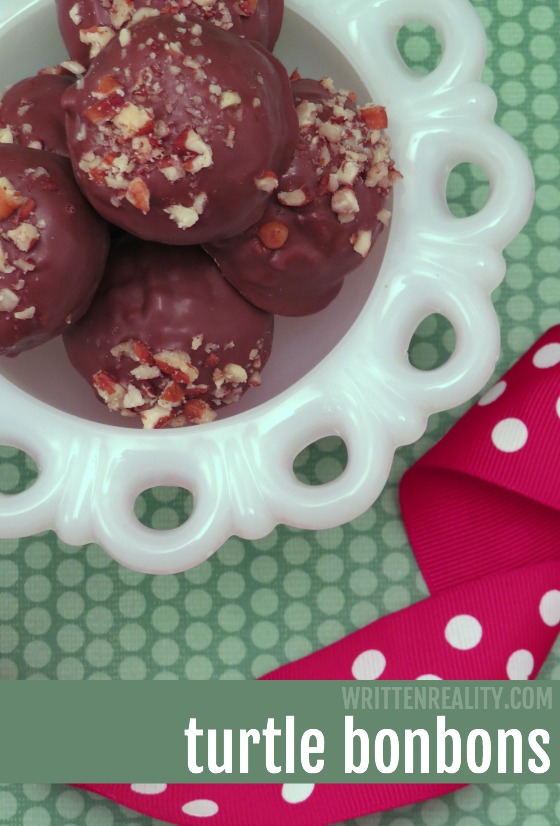 Holiday Truffles and Bonbons
Today I'm continuing my Holiday Truffles and Bonbons series, and I've been chomping at the bit for this one.
It's my homemade Turtle Bonbons recipe and they. are. fabulous.
After trying my hand at the Butterfinger Bonbons, this one seemed like a piece of cake. It wasn't that the Butterfinger variety was difficult, it was just my first time trying to make bonbons.
And now that I've made a few, I am so in love with making them and so thankful for Chocoley.com for sharing their cooking tips and ideas–AND their yummy chocolate. Seriously, they have a new friend in me.
So kudos to my Chocoley peeps–you know the way to this mom's heart.
The Key to the Perfect Bonbon
For these bonbons, I used my double boiler insert to slow melt the chocolate into a creamy dipping sauce. This way, the temperature stayed within the degrees I needed it that helped sustain a nice creamy texture, even though the inside was a rough one–filled with caramel and finely chopped nuts.
A slow melt is really the key to any bonbons or truffles recipe. Make sure to slowly melt the chocolate, keep it warm, and above all, keep it dry.
Water is never your friend when making bonbons. Any water or steam can change the thickness of your chocolate, and later can even cause your bonbon shells to crack.
So when creating your bonbons, remember to take your time and just enjoy the process. Your bonbons will turn out perfectly and you'll be one proud mama when serving them, too.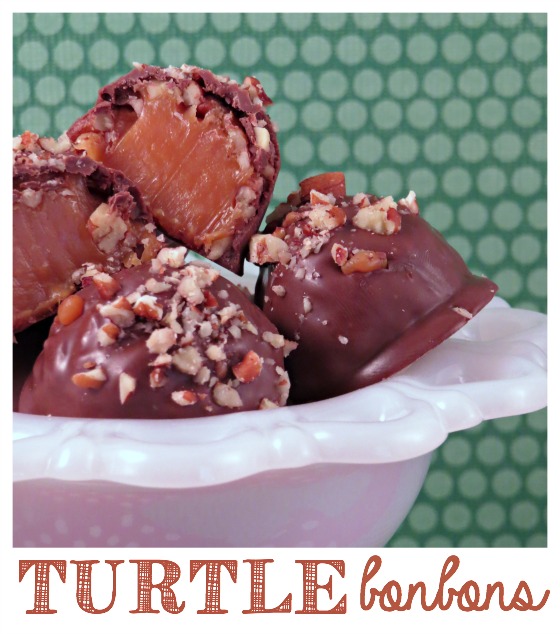 Homemade Turtle Bonbons Recipe
Although some of my other tools and ingredients can be exchanged for others, here's my essentials list of what I used to create my Turtle Bonbons and the reason they were so easy to make:
Double Boiler Insert— Remember slow and steady wins the race with this one.
Heavy Weight Dipping Sheets— These sheets are a must-have for chocolate dipped treats.
Dipping Tools–These tools make the dipping process easy and the end result fingerprint-free.
Thermometer–The key to perfect bonbons is keeping the chocolate at just the right temperature.
Caramel–This is hands-down the best caramel you'll ever use for baking. Just pinch off what you need and it's delicious!
Bada Bing Bada Boom Candy and Molding Formula in Milk Chocolate–It slow melts easily and it's flavor is out of this world!
Just scroll down to the bottom of this post for the full Turtle Bonbons recipe. You can print it out now, pin for later, or bookmark to refer back to when you need a fun idea for your next family gathering or special treat.
Most Popular Recipes
Butter Crusted Parmesan Pork Chops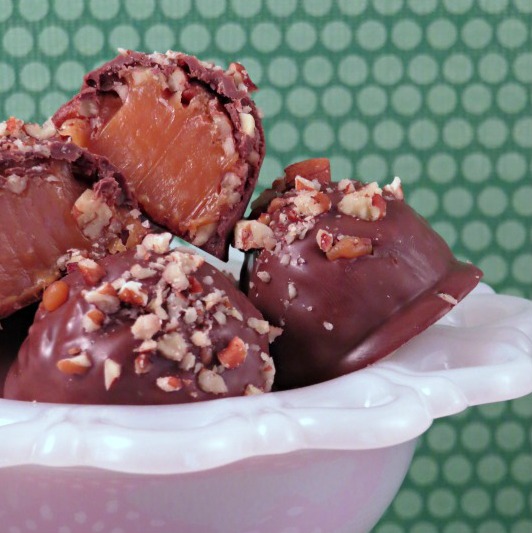 Homemade Turtle Bonbons
2014-10-30 14:39:27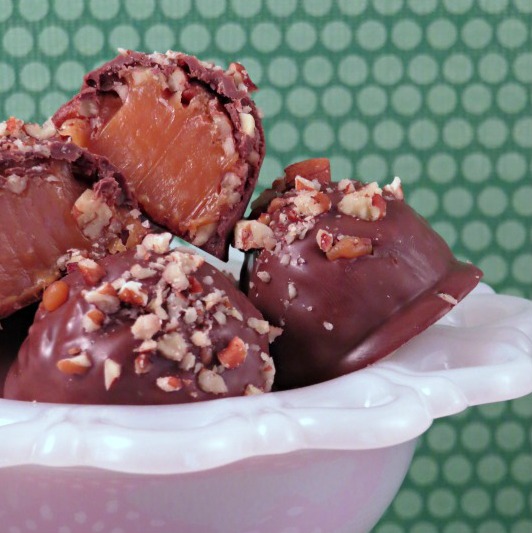 Ingredients
1 lb. gourmet caramel
2 lbs. dipping chocolate
1 cup of chopped pecans
Instructions
Pinch off a small bite-size portion of caramel and roll into ball.
Roll caramel balls in chopped pecans and gently press to make pecans stick.
Reform into ball if needed and place on waxed paper or dipping sheet.
Place in refrigerator.
Slow melt chocolate according to package directions.
When slightly cooled, dip each caramel nut ball in chocolate and place on heavy weight dipping sheet.
Cool in refrigerator for just a couple of minutes to set.
Written Reality https://writtenreality.com/