This post may contain affiliate links. Please see my full disclosure policy for details.
Can you believe it's time for summer vacation? With only 3 days left for this school year, we are chomping at the bit for some fun in the sun!
I've rounded up a boatload of summer fun this week that's inexpensive, easy to assemble, and loaded with enough variety to please the whole family. With 150+ ideas in this roundup, there are plenty of fabulous finds your family is sure to enjoy this year!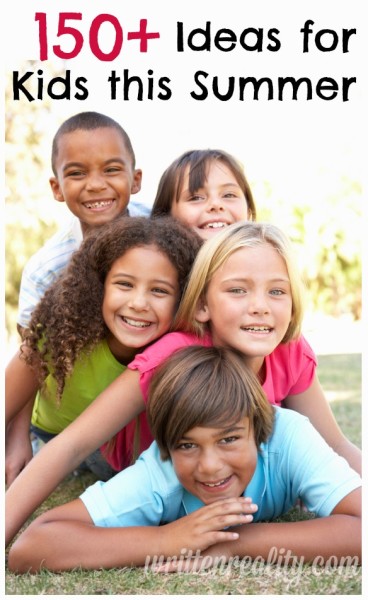 Ideas for Kids this Summer
Summer Activities for Kids and Preschoolers by Crystal & Co.
Looking for a few boredom busters? Here's an 80+ list of ideas for the little ones divided into 3 categories of GO, MAKE, and PLAY & DO!
100 Fun Ideas for Your Summer Bucket List by Moms Confession
How about a Summer Bucket List? Here's one with plenty of awesome ideas–with a FREE printable, too!
Fun in the Sun Family Activities by P is for Preschooler
I love these creative alternatives with a few extra tips about keeping the family safe in the sun.
Hamburger Relay Race by The Real Thing with Coake Family
This one is really creative. It's a fabulous idea for family fun using a felt hamburger! –a family fun post after my own heart 🙂
Handmade Summer Fun by Hand Made Kids Art
Are your kids into arts and crafts projects? This is an ongoing series of handmade ideas that will continue all summer long.
[Tweet "150+ Ideas for Summer Fun!"]
Don't forget the FREEBIES–
In cast you missed it, here's my post of FREE activities filled with FUN:
Rainy Day Fun Ideas
Here are a few indoor ideas for rainy days, too!
What's on your Summer Bucket List of fun this year? Share with us!