This post may contain affiliate links. Please see my full disclosure policy for details.
Looking for boredom busters for the kids this summer? I've rounded up a fabulous find of kid activities that's sure to beat the boredom and, best of all, they're FREE!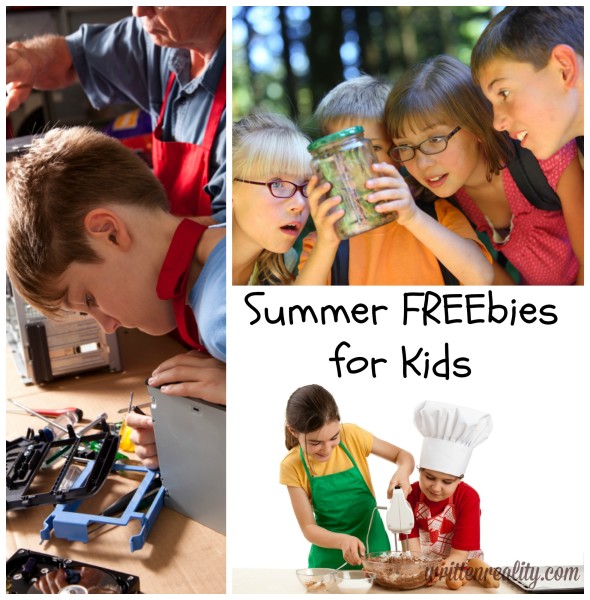 Build it!
Lowe's Build & Grow Kids can build something awesome at Lowe's! These FREE clinics are held on Saturdays @ 10am. It's a perfect way to get the kids comfortable with basic toolkits and they usually go home with a few extra freebies, too!
Home Depot's Kids Workshop Held on the first Saturday of every month, these workshops offer kids all sorts of fun building projects from handmade gifts to a hand built lawn mower! Kids also receive other freebies just for participating.
Let's Get Digital!
Apple Camp for Kids Here's a 3 day session where kids can learn (for FREE) how to create their own films using iMovie. Campers can then share their work at the Apple Camp Film Festival– way cool! I wouldn't mind taking this one myself!
Microsoft YouthSpark Microsoft also has a summer camp where kids can choose from one of the following programs: design games, learn game coding, smart photo taking, or smart movie making. The camps are in-store, so check to see if there is a site location near you.
Kickin' it Old School
Kids Skate Free As a kid, I loved to skate! Here's a great site dedicated to finding locations all over the US where kids can skate for FREE.
Kids Bowl Free Check out this site filled with FREE Bowling locations all summer long! Just click on the map where you'll find bowling centers offering free bowling days around your state.
Calling All Cooks
Junior Chef Classes with Williams-Sonoma Kids learn to make delicious recipes–from main courses to desserts! This one also offers plenty of opportunities for tasting along the way.
[Tweet "Check out these Summer FREEBIES for Kids where kids can cook, build, and make movies, too!"]
Check out these kid-friendly posts, too!
What about you?
What sort of fun are you planning for your kids this summer? Share your ideas with us!