This post may contain affiliate links. Please see my full disclosure policy for details.
Dinner time is a big deal at the Smith House. It's when we set aside uninterrupted time to enjoy our evening meal while sharing with each other the events and details of our day.
For years, we've used Dinner Games as a way to spark the conversation around the table that's helped strengthen our family and keep us connected. So today I'm sharing just a few fun conversation starters to celebrate October.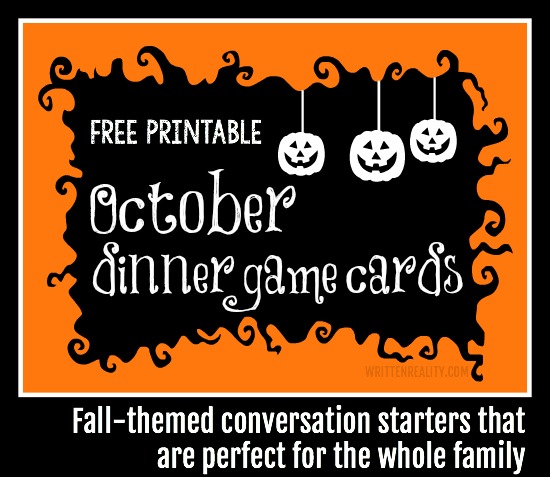 Fun Without the Scary
We don't really celebrate the spooky or scary themes of October at the Smith House. While others love the idea of haunted houses and being scared half to death, I'm not one who enjoys the idea of fear or things that go bump in the night.
However, every store and TV commercial seems to celebrate the scary. So since these Halloween themed ideas and items bombard us throughout the season, we do take time each year to discuss what is real and what isn't, and how to handle the fears we may face.
That's why for these printable dinner game cards, I used the opportunity to include a couple of questions about the scary while making sure to keep the mood upbeat and fun.
October Dinner Game Cards
These fall-themed conversation starters are perfect to use throughout October. Just print a copy, cut them apart, then choose a question to get your family talking.
I hope you'll use these conversation starters to celebrate the festivities of the season to encourage the kids to think outside the box a bit and use their imaginations for creative ways to have fun.
Print Your FREE October Dinner Game Cards HERE
Never Miss a Post
Other Topics You May Enjoy
Grab Your Copy of Dinner Games
Dinner Games: serving up conversation and family fun