This post may contain affiliate links. Please see my full disclosure policy for details.
Painted Pumpkins Ideas to make it super easy for Halloween this year. These quick and easy painted pumpkins ideas are perfect this fall. They're fun to create and look fabulous on your front porch or in your home.

Painted Pumpkins Ideas
We love all things pumpkin at the Smith House, but living in the South where the fall season usually arrives way late, carving a pumpkin isn't something that will last very long. Even though we still carve our traditional jack-o-lantern a couple of days before Halloween, we opt for painted pumpkins so that we can enjoy them all season long.
Looking for a few quick and easy ideas for painted pumpkins this year? Here are some pumpkins I painted that only took me one afternoon.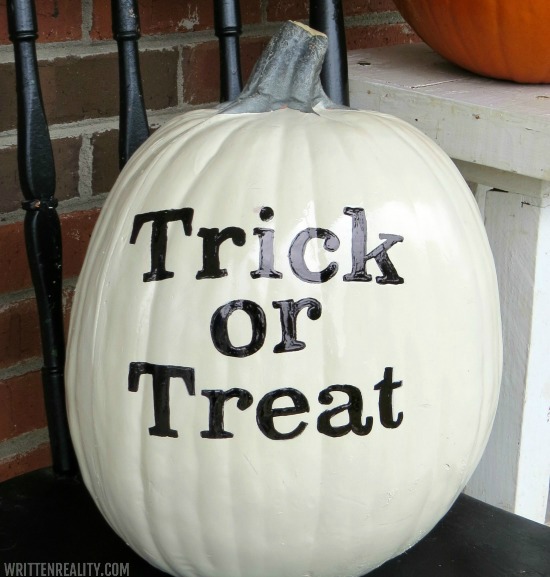 Painted Pumpkins Ideas With Words
Your painted pumpkins can strike up its own conversation! Use a stencil to add a fun saying or use a Sharpie pen to write the words to your favorite fall poem or phrase. For this one, I chose to spray paint a large pumpkin with Valspar in Buff and allowed plenty of time for the paint to dry.
I typed out my message on the computer so it took up the entire 8 1/2 x 11 space, printed it out, taped it to the pumpkin, and used a pencil point to trace.
With a medium tip paint marker, I simply filled in the space. The paint marker is what makes this one so quick and easy to decorate. Choose a medium point for thicker coverage and keep the point down to continue the paint flowing, too.
Check out our SUPER COOL Costumes for a Teen Guy!

Solids and Stripes
I planned to group the pumpkins together, so I wanted to pull from one color or coordinate them somehow.
For the smaller ones, I simply sprayed them again with Valspar in Buff, and then used the paint marker to add a few stripes.
Striping pumpkins are pretty easy if you use the grooves already provided. However, I wanted to widen the stripes a bit, so I applied painter's tape and colored in the gap to make my lines nice and thick.
Don't forget the solids–Adding a coat of any coordinating color is the easiest and quickest fix.
Cover the pumpkin completely in chalkboard paint or use a metallic spray paint to add a little bling.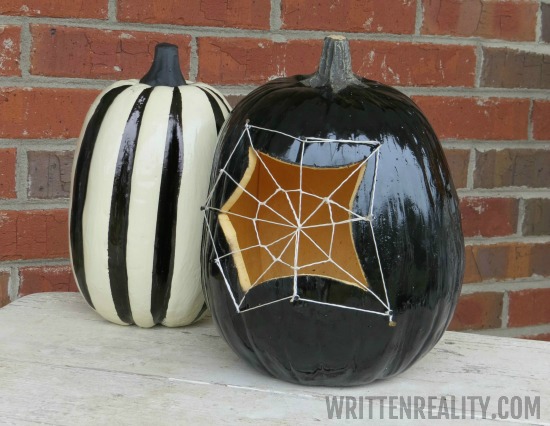 Spider Web Pumpkin
I found this painted pumpkin idea in old Better Homes and Gardens Special Halloween Tricks & Treats issue and, again, super easy.
We used:
–Artificial Carving Pumpkin (since I was carving it and wanted it to last all season)
–High Gloss Black Spray Paint (you can find black pumpkins, but I already had an orange one)
-pin nails
-string
-knife or carving tool
It did take my husband and I both holding onto the string to keep it nice and tight. But once it was wound around the nails, we tied a good knot and it was there to stay.
For this one, I cut a hole in the bottom and added a LED Tap light inside. It looks really good on our front porch and adds a nice fall feel as it glows while grouped with our other pumpkin creations. This year I'm picking up a pack of these flickering LED tea lights. They're perfect for all your painted pumpkins ideas, too!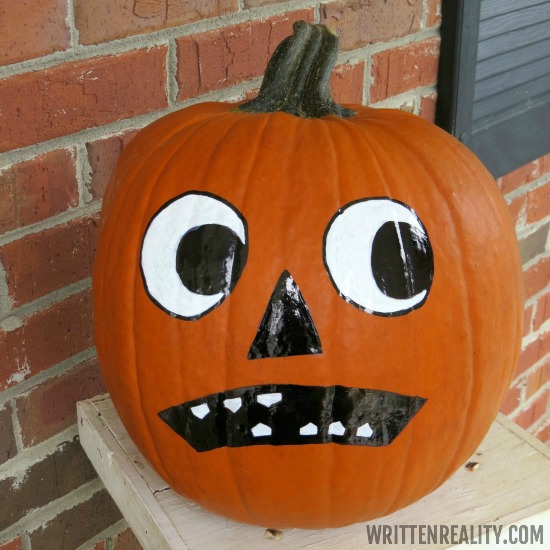 Vintage Face
This is my all-time favorite of the painted pumpkins ideas. Out of every pumpkin my husband and I have ever carved or painted, this one is by far the best looking and easiest to create.
When it comes to fall decorations, I'm not the scary or creepy type. I like fun and festive. And I especially enjoy decorating with vintage elements reminding me of the past.
That's why I immediately knew I wanted a vintage face on this one. So I looked through old pictures and searched vintage Halloween, and found a face I could easily replicate with just a little paint.
I used a real pumpkin for this one because I loved its rich color that enhanced the vintage feel. Since I wasn't planning on carving it, I figured it would last a little longer. And I'm keeping it inside on my hearth for a while until the weather cools a bit and I can set on my porch for the rest of fall.
The face is pretty geometrical, with big circles, a triangle, and a symmetrical mouth with a few teeth. So after staring at the face a bit, I just used a black paint marker to draw it, and then a white paint pen to fill in the space.
Since my pens are high gloss, the end result looked plastic–which is exactly what I wanted for this one to remind me of all those plastic pumpkins from my past.
If you really want to make it easy or if you need a decorated set of pumpkins in a hurry, you can also find sticker sets for Pumpkin Decorating, too.