This post may contain affiliate links. Please see my full disclosure policy for details.
Looking for fun and easy Halloween cardboard box costumes? Create these easy Halloween costumes with just a cardboard box, foam board, and a little paint.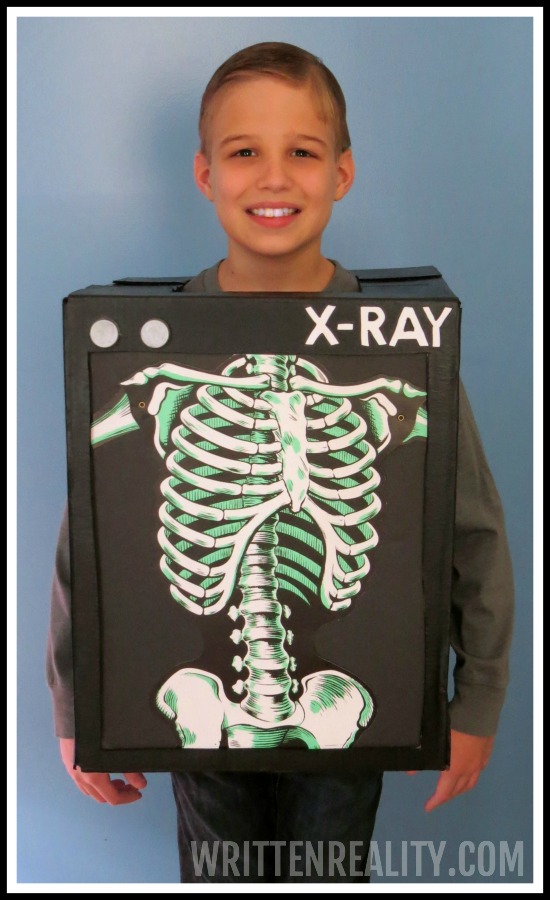 If you're looking for easy Halloween costumes, a cardboard box costume makes it super easy and fun. Just think "outside the box" a bit and get creative. It's a simple solution that creates a unique Halloween costume. Here are some inexpensive ways to use everyday household items and recycled materials for your child's costume this year.
Halloween Cardboard Box Costumes
My first child loved dressing in costumes. When he was just a toddler, his barber gave him his first 'superhero' cape–an old shiny blue one that snapped around his neck and flew out from his sides as he attempted his grand imagined feats.
His costume collection grew soon after, including leftover Halloween costumes I'd find on clearance and other items he'd discover at the local dollar store.
Through the years, he and his younger brother have filled a toy box full of superhero clothing and gadgets, and they've both dressed as all sorts of interesting characters, from a Kissing Booth and a Rubik's Cube to Napoleon Dynamite and Mr. Potato Head.
However, store-bought costumes are pricey. And though the boys [and my husband] threaten to purchase those authentic superhero costumes and attend Comic-Con some day, I beg to differ. We're on a tight budget, so unless someone has a fat wallet I'm not aware of, the high-dollar getups will need to wait.

Everyday Items and Recycled Supplies
Although we've purchased plenty of those prepackaged costumes, my favorites have been those we created together. It's amazing what you can create when you think outside the box a bit. Our best costumes have been those we've made from everyday items around the house. They're the ones that have won the best costume award at fall parties and festivals–and they're the costumes we'll never forget.

DIY Rubik's Cube Costume
My son was in middle school the year he decided he wanted to dress as a Rubik's Cube. By this time he'd outgrown the classic costumes and now, since his interests had shifted from trick-or-treat mode to tween parties, he wanted more of a conversation piece while still having fun.
Thankfully, my husband took the lead on this one. He created three separate pieces by taping black foam board together to create the cube's twisting effect.
After that, I squared off construction paper and clipped the corners using a corner rounder from my scrapbooking supplies. I lined the construction paper on each side by color and glued it in place. For a final touch, I traced the Rubik's signature onto the center square with a Sharpie pen.
We used foam board for this one, but you could easily create a Rubik's Cube costume using just a cardboard box. Just spray paint the box black, cut out spaces for the arms and head, and glue on colored construction paper. Everyone loved this one and it was lots of fun to make.
Check out these cardboard box costumes! #EasyHalloweenCostumes Click To Tweet
DIY Xray Costume
This cardboard box costume was super easy. My husband spray painted a cardboard box and cut out a framed center from the side we deemed the front.
I purchased a life-size jointed skeleton, trimmed off the extra parts, and glued it to a panel I made from black foam board. After hot gluing the panel inside the box to create the screen effect, I colored two plastic bottle caps with a silver Sharpie pen and hot glued them to serve as the machine's knobs. The final touch was x-ray wording that I printed from the computer and glued to the top.
If you're looking for easy Halloween costumes, these cardboard box costumes are super easy and fun!
Other Topics You May Enjoy