This post may contain affiliate links. Please see my full disclosure policy for details.
Add a few of these pumpkin crafts and pumpkin ideas to your Halloween and fall celebrations this year. It's pumpkin fun for everyone!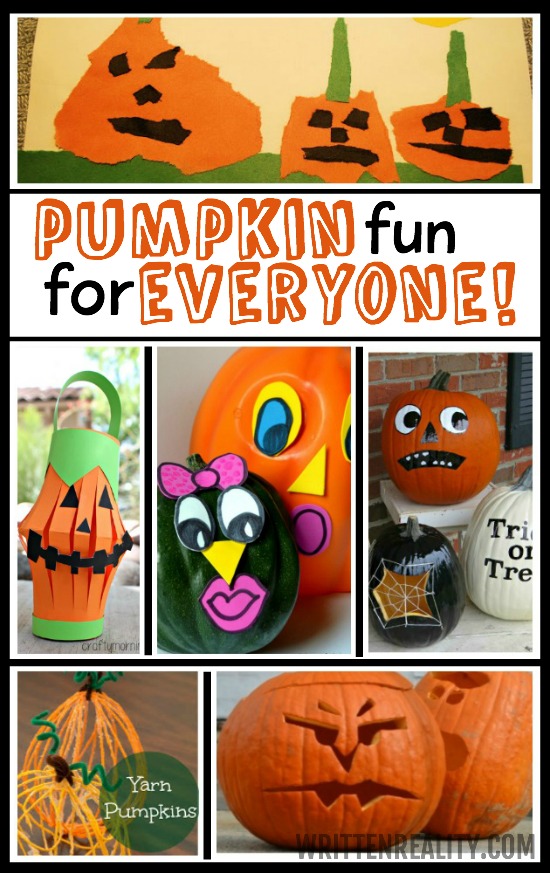 Ready to kick off the month of October with all things pumpkin? We're gathering easy pumpkin crafts and other pumpkin ideas for the whole family. Now it's all in one location to serve up a handy go-to list for plenty of pumpkin fun.
Check out our Easy Halloween Costume Ideas for Teen Boys
Pumpkin Crafts Your Family Will Love
1. Make your own Pumpkin Pie Play Dough.
2. Hold a Pumpkin Carving Contest at home with help from Over 700 Free Pumpkin Carving Stencils.
3. Try your hand at these Yarn Pumpkins using just yarn, balloons, and glue.
4. Roast your own pumpkin seeds.
5. Create a Thumbprint Pumpkin Patch using just paper, orange paint, and your thumb.
6. Make this adorable Easy Rolled Paper Pumpkin Craft.
7. Ever tried melting fall-colored crayons over your pumpkins? Check out this Crayon Melt Pumpkin Craft without the carving mess.
8. Create a fun Pumpkin Lantern from a toilet paper roll.
9. Stamp potato pumpkin faces using just an ordinary potato.
10. Take a walk outside and gather a few pine cones from around your neighborhood to create Pine Cone Pumpkins.
11. Here's a craft idea that brings new meaning to Charlie Brown's "I gotta rock" response. Make your own pumpkin paperweights using markers, paint, and a rock.
12. Pumpkin Art with Torn Paper is a fun and easy way to use your imagination. Just form pumpkin shapes by tearing the paper to create a pumpkin patch or fall scene across the page.
13. Create Silly Pumpkin Faces using old magazines.
14. Make Mix-n-Match Pumpkin Faces.
15. Play a game of pumpkin bowling.
16. Enjoy a Five Little Pumpkins Puppet Show.
17. Grow your own pumpkin–IN a pumpkin!
18. Create a spider web pumpkin or decorate your pumpkins with paint pens and markers.
19. Add whimsical items–like Lashes and Staches— for silly faces pumpkins and good ol' veggies for pumpkin VeggieHeads.
20. Here are just a couple of fun pumpkin-themed worksheets, too, for writing fun.

Other Topics You May Enjoy: