This post may contain affiliate links. Please see my full disclosure policy for details.
Printable Pumpkin Worksheets : Looking for printable pumpkin worksheets for fall learning fun? The fall season is filled with plenty of fun ways to teach kids creative writing skills. Here's a list of pumpkin-themed picture books, and a couple of free printable fall worksheets for word fun, too.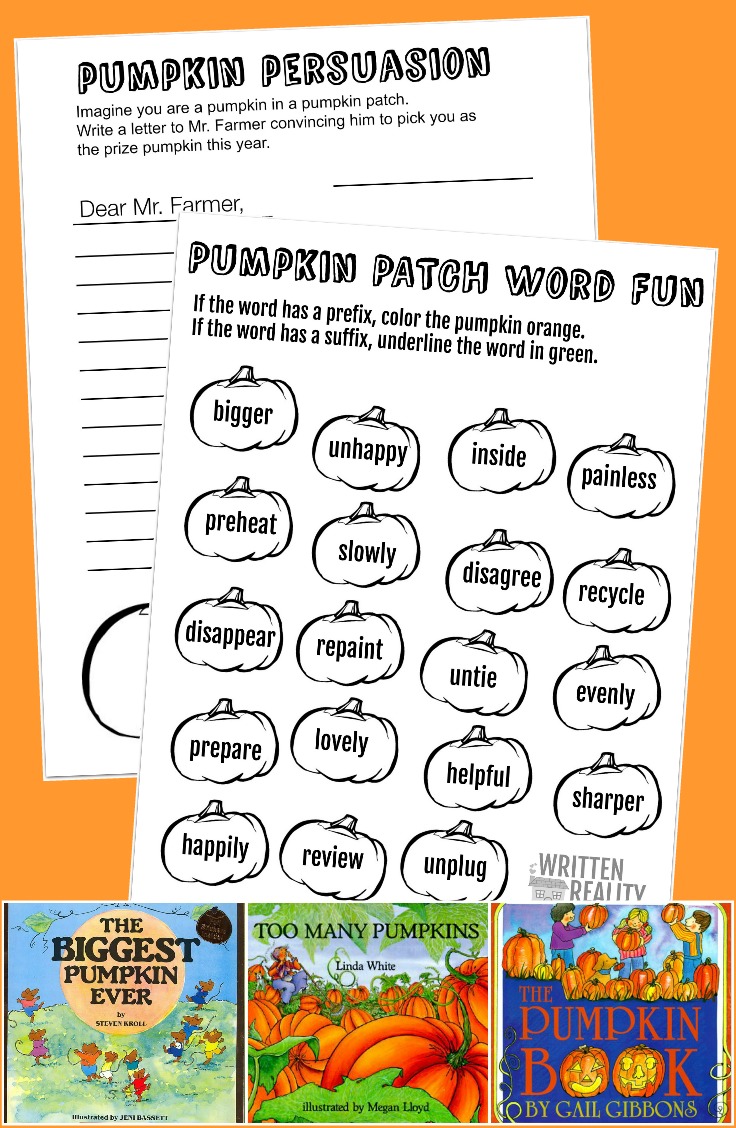 Printable Pumpkin Worksheets
From jack-o-lanterns to breads and sweet treats, pumpkins are everywhere during the fall season and we use them for just about everything, including learning activities, during the fall. So why not incorporate a little pumpkin fun into your child's creative writing routine? It's a fun way to practice and improve writing skills that kids will actually enjoy doing.
That's why I've included a couple of fun printable Pumpkin Patch worksheets I created, just click on the links below to print them. These Halloween worksheets offer a little extra practice on prefixes and suffixes, and there is also a fun persuasive writing exercise, writing a letter to Mr. Farmer from the pumpkins point of view.
Printable Pumpkin Patch Word Fun Sheet (prefixes/suffixes)
Printable Pumpkin Persuasive Letter
Pumpkin Themed Picture Books
I've also included a list of my all-time favorite picture books that are pumpkin-themed and are perfect to read together. I used these pumpkin themed books for years in my own classroom as our morning read aloud to start our day during the month of October and my students really enjoyed them.
These pumpkin themed picture books are also great to read aloud during the fall season as a springboard for writing. By using quality literature, kids are able to get a better sense of story, how to weave these elements into their own creative ideas, and how to make better word choices as they write.
For more details on my favorite pumpkin picture books, check out my list and a full description here: Must Read Pumpkin Pictures Books For Kids.
Grab these fall worksheets w/pumpkin picture book ideas, too! Click To Tweet
Other Topics You May Enjoy