This post may contain affiliate links. Please see my full disclosure policy for details.
Popular Pumpkin Picture Books : These pumpkin picture books are perfect for your fall celebrations. Check out the best ever picture books to add to your fall themed books this year.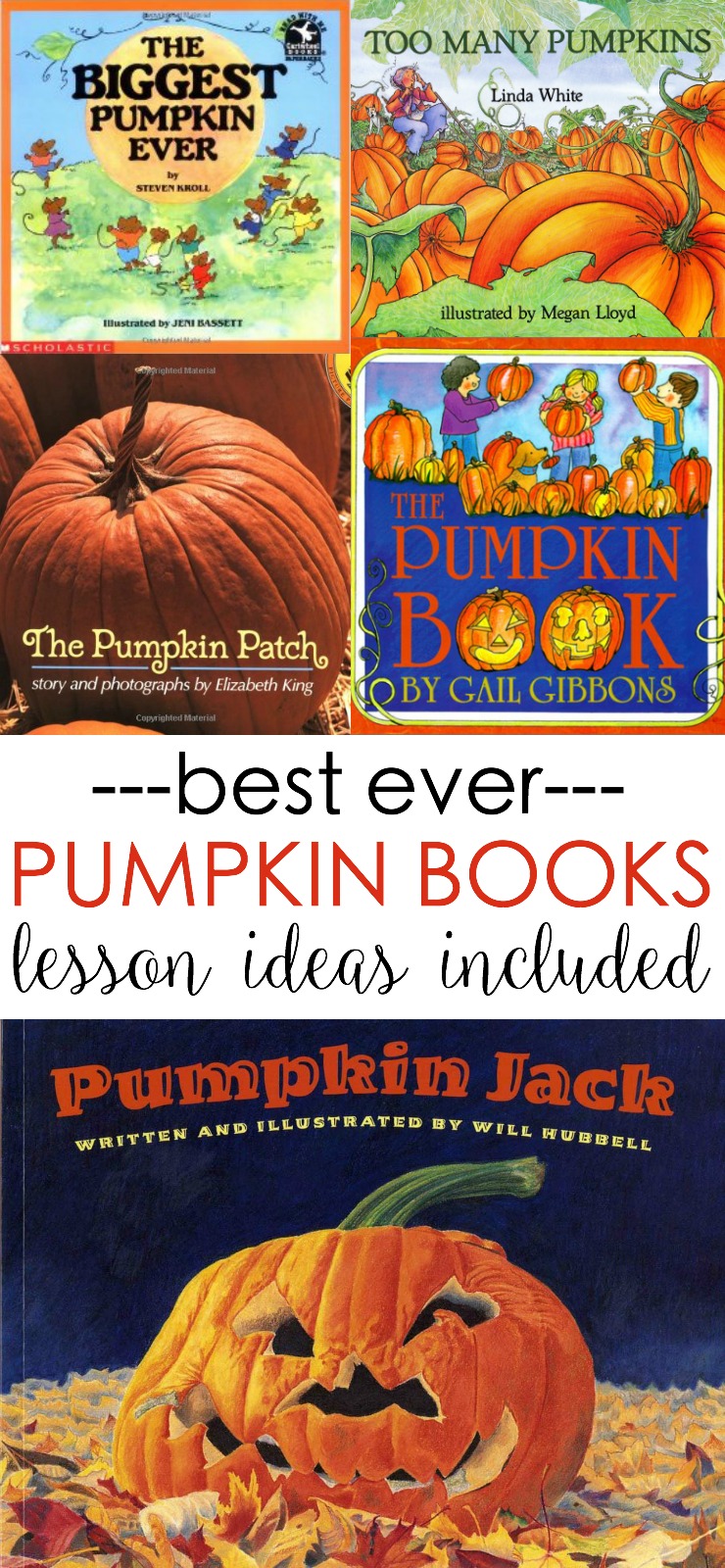 We love pumpkins at the Smith house. Ever since the boys were toddlers, we've celebrated the fall season with all sorts of fun pumpkin themed activities from traditional pumpkin carving to creating pumpkin themed art. For us, though, no season is complete without plenty of picture books and fun read alouds. That's why I'm rounding up some of the best pumpkin books we love to include in your own fall celebrations.
These pumpkin books are perfect to share as bedtime stories if you're looking for fall themed books this season. They are also great to include with other fall activities and pumpkin fun. Even better, these picture books are great to use for teaching with pumpkins. Here are our all-time favorite pumpkin books along with activities and ideas for teaching with pumpkins, too.
Pumpkin Picture Books Make Perfect Read Alouds
The Pumpkin Book by Gail Gibbons
I used a lot of books by Gail Gibbons when I taught third grade. They have wonderful illustrations and plenty of details and fun facts, making her books the perfect way to introduce the topic. The Pumpkin Book would be a great one to use at the beginning of a pumpkin theme or lesson. Before reading, have your child list things they already know about pumpkins and what they may want to learn about them. After reading the book, go back and check to see if any of their questions were answered and list other surprises they learned about pumpkins, too.
The Pumpkin Patch by Elizabeth King
I love this picture book because it's told with real photographs. The book goes through the process of planting pumpkin seeds in a pumpkin patch from tilling the soil to harvest. It's a wonderful way to teach the plant cycle.
The Biggest Pumpkin Ever by Steven Kroll
This one has always been a favorite. The book tells the story of two mice who care for the same pumpkin, but for totally different reasons. It's a great book to teach teamwork and also compromise.
Too Many Pumpkins by Linda White
Unlike me, the main character in this story, Rebecca, hates pumpkins and tries everything she can to get rid of her pumpkin problem. The story ends with quite a fun surprise. This one is a wonderful read aloud to teach prediction. It also shares a great message about community, too.
The Berenstain Bears and the Prize Pumpkin by Stan and Jan Berenstain
Who doesn't love the Berenstain Bears? Just like the others, this one shares a great lesson learned message, too. That's why I had to share it in my list of favorite pumpkin picture books. It's a wonderful opportunity to discuss sportsmanship and enjoying the experience rather than winning first prize.
Here's a fun one. Ever have trouble throwing away your beloved jack-o-lantern after you had worked so hard to carve it? This story shares the story of a jack-o-lantern named Jack who is thrown back into the garden to grow and multiply. It's a wonderful opportunity to teach the life cycle of plants.
Must Read Pumpkin Picture Books for Kids Click To Tweet
Other Topics You May Enjoy