This post may contain affiliate links. Please see my full disclosure policy for details.
Check out our 10 all-time favorite Thanksgiving books. They're perfect for reading aloud this Thanksgiving to celebrate gratitude, compassion, and all the traditions of the holiday.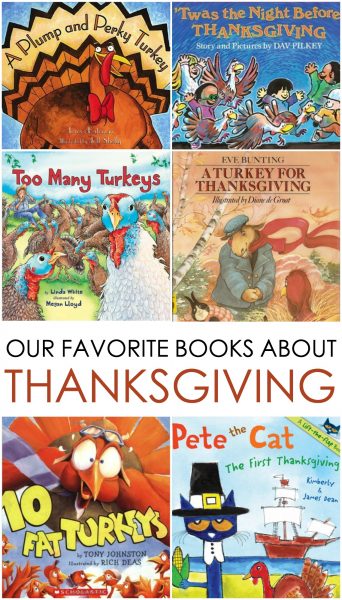 I have quite a collection of seasonal books and Thanksgiving is one of my best collections. These picture books are perfect for celebrating gratitude and compassion. Some of my favorites share facts about the first Thanksgiving while many of them are just plain fun. Here are just a few favorites that are fun to read aloud, celebrate the season, and are perfect to prompt creative writing ideas, too.
Our All-Time Favorite Thanksgiving Books
#1 A Turkey for Thanksgiving by Eve Bunting
First off, this one's by Eve Bunting–so of course, it's a keeper. It's my all-time favorite read-aloud for Thanksgiving.
If you haven't had a chance to enjoy it, please check your local library or purchase your own copy to share again and again.
#2 'Twas the Night Before Thanksgiving by Dav Pilkey
Dav Pilkey's another great storyteller, and this one is an all-time favorite, too. Kids love the familiarity of the poem and the sing-song way the story unfolds.
This story is a Thanksgiving classic and would be an awesome surprise for any kid you know.
#3 A Plump and Perky Turkey by Teresa Bateman
I happened upon this book through one of those book orders I sent home with my class. Using points I'd earned from past orders, the book was actually a freebie that was included in a Thanksgiving book set I thought the kids would enjoy.
After that, it was included every year as a read aloud and served us well for writing activities and even a few creative art projects, too.
FREE Thankful ABC Printable that's perfect for Thanksgiving!
#4 Turk and Runt by Lisa Wheeler
Turk is the biggest and strongest turkey on the farm. And though all the turkeys (except his little brother Runt) think it's fabulous to be the chosen one, they've failed to answer the most important question: Chosen for what?
It's a great story to teach kids about drawing conclusions, assumptions, and point of view.


#5 Too Many Turkeys by Linda White
Remember Too Many Pumpkins? Think of this one as its sequel. However, this time it's not a pumpkin problem, but turkeys that decide to join the farm. It's a fun story that builds as the turkeys multiply across the page.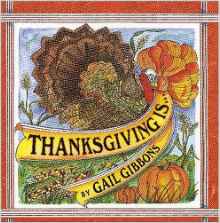 #6 Thanksgiving is. . . by Gail Gibbons
This is a great choice for an overview. With wonderful illustrations, the book gives basic information about the holiday and some other lesser known Thanksgiving facts, too.
#7 Sarah Morton's Day by Kate Waters
If you're looking for a book to help share what life was like for the pilgrims, this is the best for a kid-friendly choice. The story takes you through a typical day as a pilgrim child.
#8 Pete the Cat: The First Thanksgiving
Pete stars in the school's play to make learning about Thanksgiving a whole lot more fun. It's a lift-the-flap book, too.
#9 The Pilgrims' First Thanksgiving by Ann McGovern
This is a great read aloud to share interesting facts about how Thanksgiving began, with opportunities to compare today's celebrations with those long ago.


#10 Balloons Over Broadway by Melissa Sweet
The Macy's Thanksgiving Day Parade is a family tradition at the Smith House, even though we live in South Carolina and the parade takes place in New York. But ever since I could remember, we've watched the parade on television. And so every year, as I'm finishing up our Thanksgiving feast, we watch to see our favorite balloon characters and wait for Santa Claus to pass by.
This book shares a little about the parade's tradition by sharing the story of Tony Sarg, Macy's parade puppeteer.
Other Topics You May Enjoy