This post may contain affiliate links. Please see my full disclosure policy for details.
Halloween Costume Ideas for Teen Boys : Need a quick idea for the teen guy in your life? There are lots of costume ideas for teen guys, too!

With teenage boys in the house, I know the struggle of figuring out Halloween costumes. It's not always as easy as grabbing an old bed sheet from the closet. For girls, it seems the costume ideas are endless. There are so many makeup products and accessories geared toward teen girls already, so it seems finding a fun Halloween costume, or even just using things you have around the house to create your own, would be a whole lot easier for a girl.
However, the Halloween costume industry has a come a long way since I was a kid. And even the costume ideas for teen boys has grown by leaps and bounds. In fact, we've been able to find lots of fun Halloween costumes for our boys through the years. We've even created a few fun DIY Halloween costumes, too.
Check out these Easy Halloween Cardboard Box Costumes!
Here's the thing. I have one son who loves the whole idea of Halloween costumes. My other son doesn't care that much for it. Where my first son has dressed as everything from a pirate to a Rubik's cube, my younger son hasn't really wanted to bother coming up with Halloween costume ideas at all.
He's chosen instead to dress in style for Halloween. Yep. He loves a good suit and will use any excuse, including Halloween to wear one. One year he dressed as a preacher and the next it was a white tuxedo look with a slick part in his hair like the Sean Connery version of James Bond.
That's why I decided to share some of my favorite Halloween costume ideas for teen boys that are not only easy to throw together, but are super cool, too. Here are just a few to get you thinking.
Just don't wait too long! These costumes for teenage boys seem to go super quick! So make sure you get a jumpstart on your teen guy's costume. That way, he can get the exact one he wants this year.


Halloween Costume Ideas for Teen Boys
Just like my teen son, you can dress your teen guy in style for Halloween this year. Check out these super cool party suits. They come in fabulous colors and patterns. I've even included the suit for the invisible man. Just check out the links below.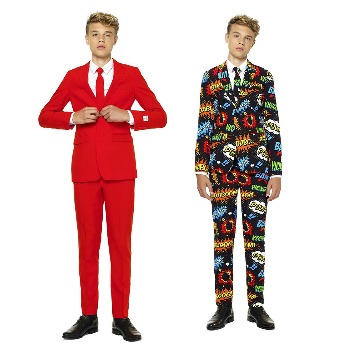 Super Cool Teen Suits for Halloween
Teen Boys 'Badaboom' Party Suit
Teen Disappearing Business Suit Invisible Man
Funny Halloween Costumes for Teen Boys
As for my other son, the older he gets the more he enjoys dressing as a funny character or something to really draw attention. Here are a few theme related costumes, too, if your teen guy enjoys a particular character, like Waldo. the Mad Hatter, or even an inflatable dinosaur.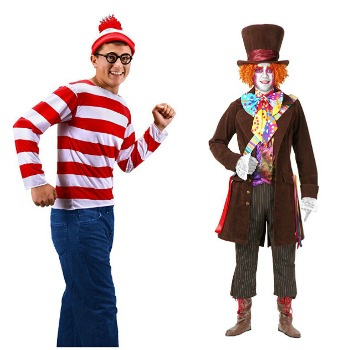 Where's Waldo Teen Costume Set
Halloween Inflatable T-Rex Dinosaur Costume
Halloween Costume Accessories for Teen Guys
If you want to keep it super simple, then just choose a few fun accessories or a wig from your local party store. There are lots of fun wigs and accessories for every era. These are great to have for spirit weeks at your middle and high school, too.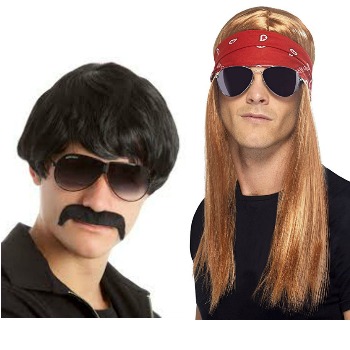 For more Halloween costume ideas for teen boys and even the rest of the family, check out my
Halloween Costume Pinterest Board!
Other Topics You May Enjoy