This post may contain affiliate links. Please see my full disclosure policy for details.
One Sheet Pan Shrimp Fajitas : Here is an easy sheet pan shrimp fajitas recipe that is quick and delicious. Simply toss the vegetables and shrimp in seasonings and bake on one pan. Yum!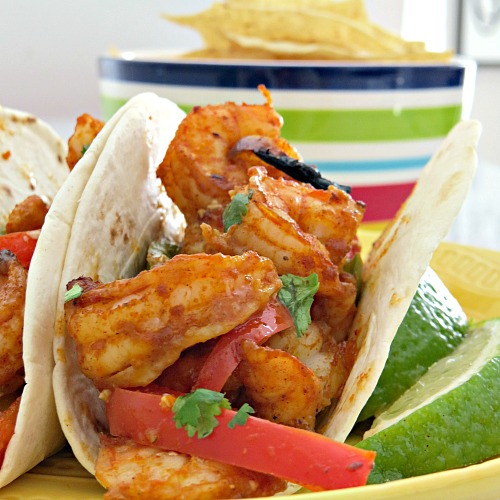 Since I knew this week was going to be a super busy one, I decided to plan a few quick and easy recipes that wouldn't take much prep time or that much time to bake, either. I knew I wanted to include my recipe for sheet pan shrimp fajitas. It doesn't get any easier than tossing everything in a bowl of seasonings and then baking on a large sheet pan.
Try our sheet pan sausage dinner, too. It's fabulous!
For my shrimp fajitas recipe, I loaded it with lots of our favorite flavors, but you can easily switch out the peppers for another vegetable that I'm sure would be just as wonderful. After it bakes for about 10 minutes, I usually broil it for a couple of minutes more to char it a bit, too. When everyone is gathered around the table for dinner, you can just set out the pan with warmed flour tortillas along with all the fixings, and let everyone make their own fajitas. Again, just add your family's favorite toppings. This is just how I like to make mine.

One Sheet Pan Shrimp Fajitas
I have included all of the ingredients and directions in a printable recipe card at the bottom of this post. Simply scroll down to save, print, or just pin for later. This one is a crowd pleaser that my family really enjoys. Hope your family and friends will enjoy it, too. Happy Cooking!
>>Don't miss our yummy Shrimp N' Grits Recipe!<<

Here's an easy One Sheet Pan Shrimp Fajitas recipe you'll love! Click To Tweet
Other Recipes You May Enjoy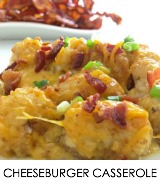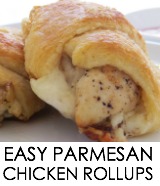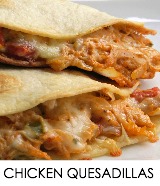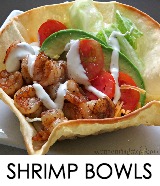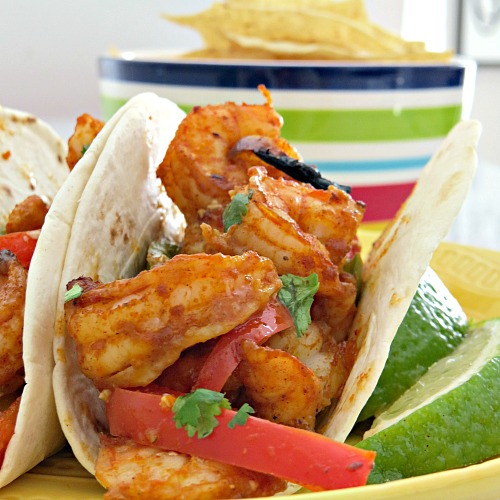 Sheet Pan Shrimp Fajitas
2017-02-07 07:14:45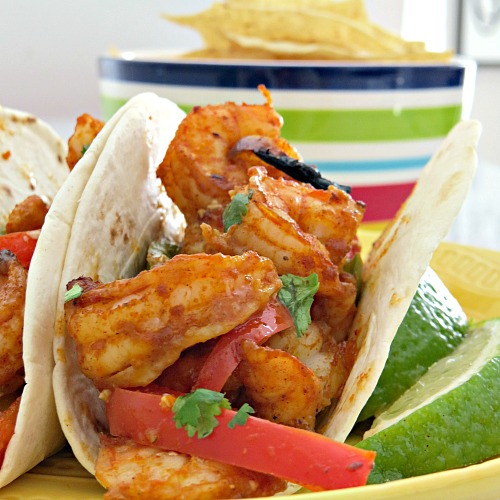 Ingredients
2 pounds of shrimp, peeled and deveined
1 green bell pepper, seeded and sliced thin
1 orange bell pepper, seeded and sliced thin
1 red bell pepper, seeded and sliced thin
1 red onion, sliced thin
2 tablespoons of olive oil
1 packet taco seasoning
1/2 teaspoon of smoked paprika
1/2 teaspoon salt
1/2 teaspoon ground black pepper
6-8 flour tortillas
Optional Toppings
fresh cilantro
shredded Mexican blend cheese
sour cream
fresh tomatoes and avocado
Instructions
Preheat the oven to 450 degrees.
In a large bowl, toss the onion, peppers, shrimp in the olive oil and the seasonings until the vegetables and shrimp are well coated and combined.
Spray a large baking sheet with cooking spray and spread evenly with shrimp and vegetables.
Bake for about 10 minutes or until the shrimp are cooked. Broil for 2-3 minutes until shrimp and vegetables are slightly charred.
Serve in flour tortillas and top with your favorite toppings. Enjoy!
Written Reality https://writtenreality.com/