This post may contain affiliate links. Please see my full disclosure policy for details.
Need help with pantry organization? Don't get caught in the holiday hustle this year. Here's a quick and easy way to organize your pantry for your holiday baking. Your shelves will be well-stocked with all you'll need for those traditional favorites, with plenty of time to create a few new favorites, too.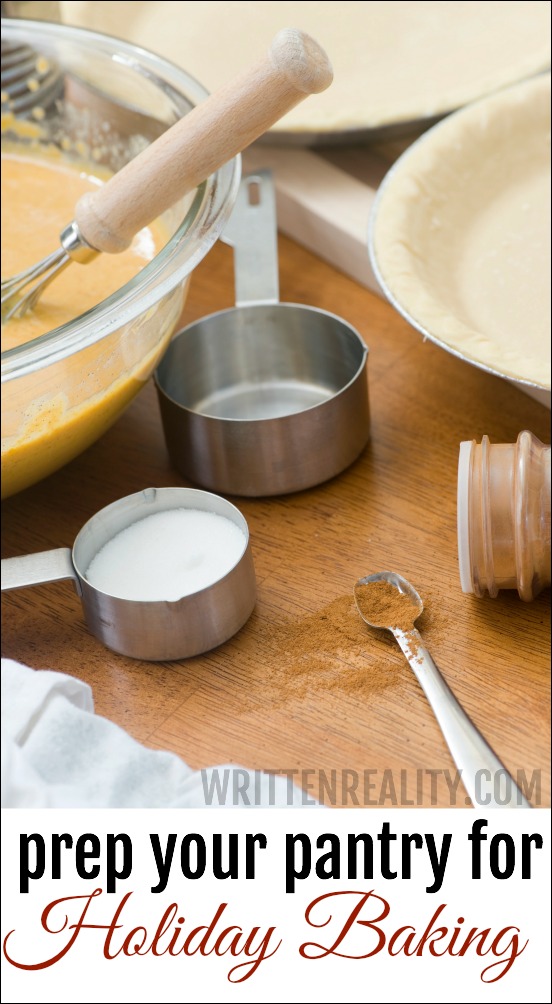 Prep Your Pantry for Holiday Baking
I love holiday baking–as long as I'm prepared for it. There is nothing worse than readying yourself for a recipe only to find you're out of an essential ingredient or can't find that box of powdered sugar you know you bought last week.
This year you can avoid the holiday frenzy. Here are a few tips to help you beat the shopping hustle, stock your shelves, and prep your pantry for holiday baking success.

1. Declutter and Take Stock
Take a morning to clear your pantry. Remove every item, wipe down surfaces, toss the outdated, and restock every shelf so that items are visible and within easy reach.
Once you clear away the old, you'll have more room for stocking up on those extras for holiday baking and can easily take note of what's really needed during the upcoming holiday sale.
2. Check for Expiration Dates
Many seasonal favorites call for cinnamon, nutmeg, cloves, and other fall flavors like pumpkin pie spice. Though these spices have a long shelf life, they do lose their kick a bit. The longer they hang around, the less you'll be satisfied.
Since these spices are often forgotten the rest of the year, take some time to sort through your spice rack.Check expiration dates and start a grocery list of the ones you need to replace.
3. Check your Sugar Supply
We love sweet treats at the Smith House and most of our traditional holiday favorites call for some sort of sugar variety.
Check your cupboards and make sure you have plenty of brown, powdered, and white sugar for baking, and go ahead and stock up when you find it on sale. Between the end of October and throughout November and December, you'll find sugar at its cheapest price.
So go ahead and buy these items in greater quantities. That way, you'll have plenty when you need it, without the hassle of sending your husband back to the store again to wander around aimlessly while you wait for the "can't find it" call.
Money-Saving Tip:
Just as sugar, baking staples like butter, flour, and baking powder are at rock bottom prices during November. Even better, you'll find the most coupons for those items in November's Sunday inserts, too.
4. Don't Forget the Parchment Paper
For some reason, I'm always low on parchment paper. I only use it for baked goods, like Christmas cookies, but somehow I never seem to have enough available on the very day I'm knee-deep in cookie dough and trying to make room for one more cookie tray in the freezer or another space to cool the ones we've just baked.
Sort through basic paper goods you'll need for baking, like parchment paper, waxed paper, and aluminum foil. Again, these items go on sale during the holidays, so don't forget those Sunday paper coupons, and stock up on plenty of these items that never expire.
Simple Pantry Organization For Holiday Baking Click To Tweet
Other Topics You May Enjoy