This post may contain affiliate links. Please see my full disclosure policy for details.
This easy slider recipe is super delicious! It's filled with roast beef and cheese, and covered in a special sauce you'll love. It's a crowd-pleasing party recipe everyone will enjoy.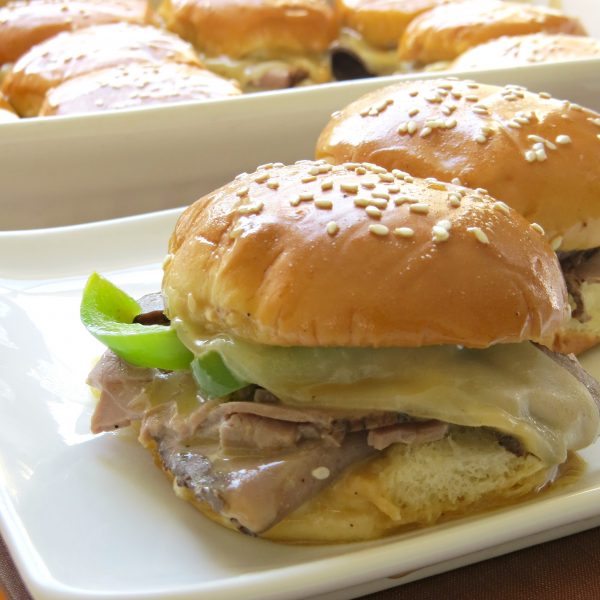 My boys love roast beef sandwiches. They like the deli-style roast beef cut with melted cheese on a warm sesame seed bun. That's why I decided to create a sliders version I could make on busy week nights. I wanted another easy recipe that I could throw together and bake in one pan that didn't take much prep time. I also wanted something that was delicious, of course, and hearty enough for my hungry boys to enjoy.

The best thing about a slider recipe is that it's usually pretty versatile. You can add your favorite meat and cheese to create new combinations, and even try different types of slider buns that can sometimes change the taste of the recipe entirely.
For this one, I started with roast beef, since that's popular at our house, and sautéed a little bell pepper and onions to give the sandwich an extra flavorful kick. I also topped each slider with provolone cheese since that's what I had on hand, and then brushed the tops of each bun with a special sweet sauce to create something spectacular. The sauce really adds a stick sweet topping that my family really enjoys. Here's how I like to make mine.
Serve these easy roast beef sliders at your next celebration! Click To Tweet

Super Easy Roast Beef Slider Recipe
Ingredients
1 large onion, sliced
1 large green bell pepper, sliced
olive oil
12 plain slider buns
1 pound thinly sliced roast beef
12 slices provolone cheese
for the sauce:
8 tablespoons butter
2 tablespoons light brown sugar
1 tablespoon Worcestershire sauce
1 tablespoon sesame seeds
Directions
Preheat oven to 350 degrees.
Sauté onions and peppers in olive oil until tender and set aside.
Place the bottom half of the puns in a 9 x 13 baking dish. Top each bun with a generous portion of roast beef, peppers and onions, and a slice of provolone cheese.
Then add the top half of the bun.
In a medium size saucepan, mix together the sauce ingredients and heat until butter is melted and the mixture is smooth.
Spoon the sauce over the top of each bun.
Loosely cover with foil and bake for 20 minutes. Remove foil and bake for another 5 minutes. Enjoy!
The best part about this easy slider recipe is that they serve well for busy week nights, but are super fun to serve as party food, too!

Other Recipes You May Enjoy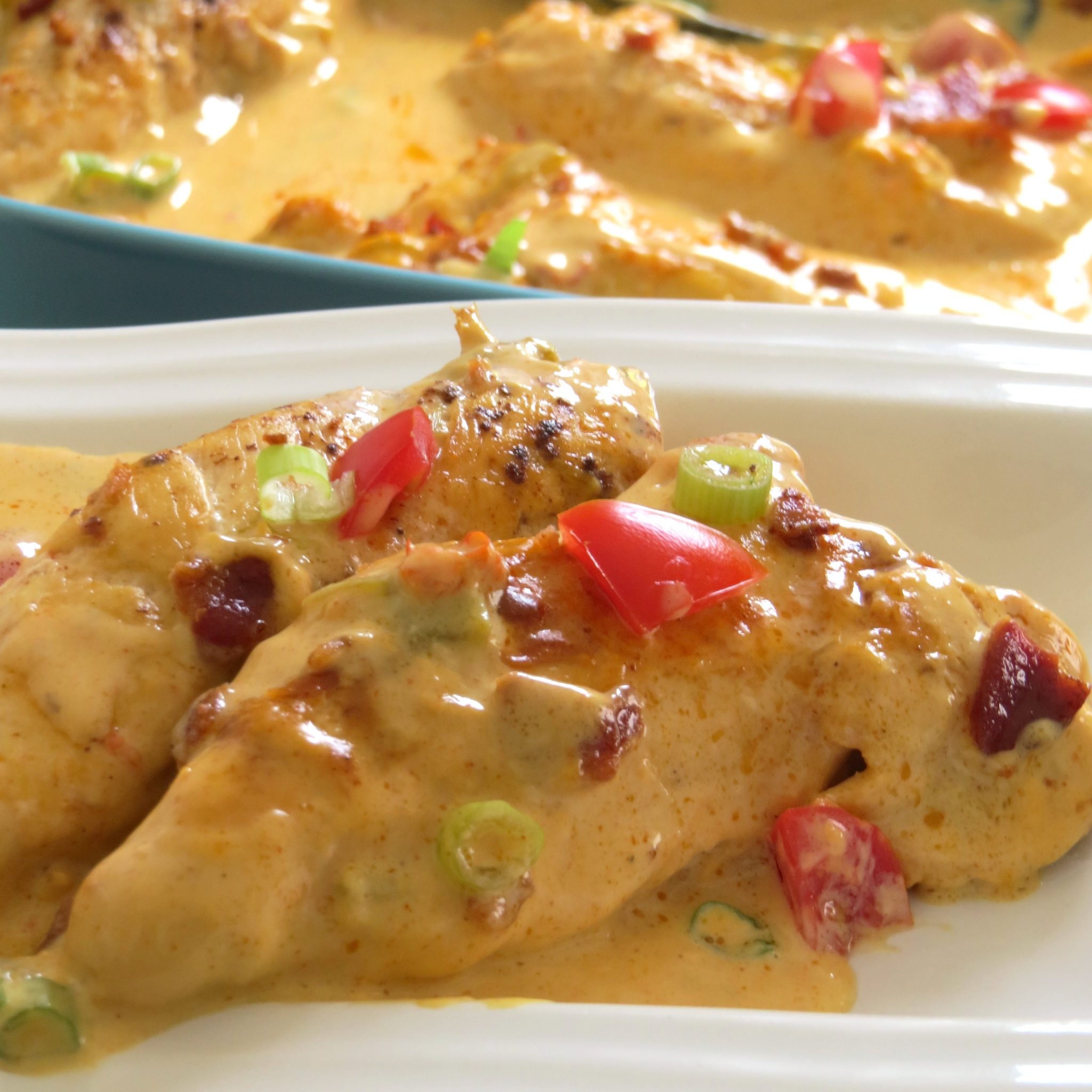 Chile Con Queso Chicken Casserole
2016-10-03 13:37:53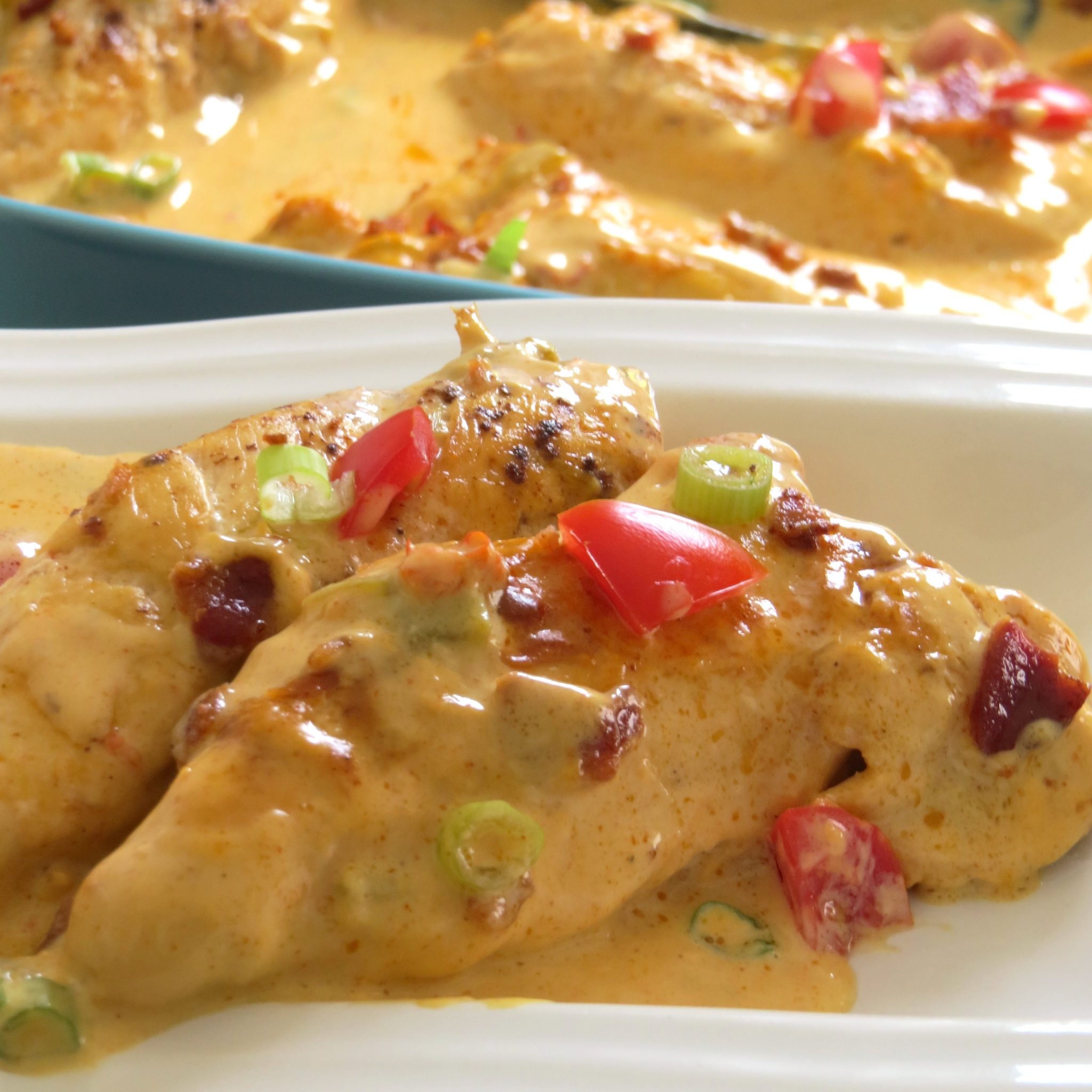 Ingredients
vegetable oil
4 large boneless skinless chicken breast, halved
1 packet of taco seasoning mix
1 jar of salsa con queso
1 can of green chilies
1 cup Mexican cheese blend, shredded
3/4 cup half-and-half
chopped tomatoes
chopped green onions
Instructions
Preheat oven to 350 degrees and spray a medium size baking dish with cooking spray.
Heat about a tablespoon of vegetable oil in a large skillet over medium heat.
Toss the chicken in the taco seasoning and cook for 6 to 8 minutes until lightly browned on each side.
In a large bowl, combine the queso, chilies, cheese, and half-and-half until well blended.
Pour a small amount of the queso mixture into the bottom of the baking dish, just enough to cover the bottom.
Layer with the chicken. Then pour the rest of the queso mixture of the top of the chicken.
Cover with foil and bake for 20 minutes.
Uncover and bake for 15 minutes longer, or until the juice from the chicken is clear.
Sprinkle with chopped tomatoes, and green onions. I had some crumbled bacon, so I tossed that on top of the chicken, too.
We like to serve this chicken casserole over white rice. Enjoy!
Written Reality https://writtenreality.com/