This post may contain affiliate links. Please see my full disclosure policy for details.
Are you a busy mom looking for quick and easy meals to feed your family? Here are some super easy meals you can make for your family in 20 minutes or less!

I'm always looking for quick and easy meals to feed my hungry crowd. I want hearty meals that will satisfy my growing boys that are easy to make and don't take a lot of time in the kitchen slaving over the stove.
Here are some awesome recipes from Written Reality, along with a few fabulous meal ideas from my fellow mom blogging friends, too!
Super Easy Meals in 20 Minutes or Less
BBQ Chicken French Bread Pizza || The Pinning Mama: Talk about super easy–this one takes under 15 minutes and bakes up beautifully, too!
10 Minute Lemon Chicken Soup || The Pinning Mama: I love this lemon chicken soup. It's made with only 5 ingredients, is super simple, and is sure to be a classic comfort food favorite.
Blackened Fish on the Grill || Written Reality: My husband came up with this one and I can't believe how super easy it is to grill up and serve. It's super delicious and low in calories, too. Just serve with your favorite rice side or a fresh green salad and you have a healthy meal that your family will love.
Chicken Lettuce Wraps || Girl Gone Mom: Here's an easy (better than P.F. Chang's) lettuce wrap. It's full of wonderful flavors of Sriracha, sweet chili Thai sauce, and scallions–and it's surprisingly filling for a meal, too.
Parmesan Shrimp Scampi with Linguine || NEPA Mom: I'm all about the pasta and this one is sure to be a go-to at our house. Filled with parmesan shrimp (yes, please), it's linguine that everyone will love.
Gnocchi with Speck Ham in Butter Garlic Sauce || It Is a Keeper! :Tossed with speck ham, this one has a light salty flavor that, mingled with butter garlic sauce, gives it a satisfying flavor that you won't believe it was made in only 15 minutes.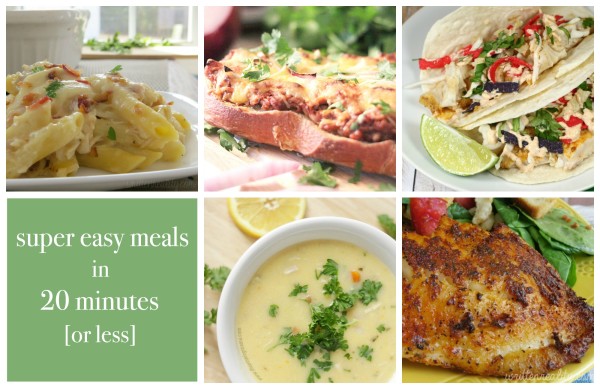 Spicy Seared Scallops || It Is A Keeper! : We love scallops at the Smith House. Here's a spicy version for the seafood lovers at your house.
Baja Fish Tacos || It Is A Keeper! :How about fish tacos? They're super easy to assemble, filled with a crunchy texture, and loaded with flavor.
Chicken & Bacon Pasta Bake || Written Reality : When I think comfort food, I think bacon or pasta. This one combines those two favorite comfort classics to create one super easy and delicious meal.
Cheesy Sloppy Joe Toast || Written Reality : Here's one of our go-to meals when we're in a hurry. Just keep a few slices of Texas Toast on hand and ground beef, and this one can be made super fast.
Creamed Spinach Tortellini || Written Reality : Here's another pasta favorite: tortellini. I like this one because it sneaks in a little spinach, too, and the kids devour it.
Try one these Super Easy Meals in 20 minutes or less! Click To Tweet

Other Recipes You May Enjoy