This post may contain affiliate links. Please see my full disclosure policy for details.
There's a new VeggieTales Movie on DVD, and you could win it to enjoy at your next Family Fun Night!
Releasing August 5th on DVD, Veggie Tales: Celery Night Fever takes you back to disco balls and polyester, to share–and sing–a story about forgiveness as only our favorite Veggie Crew can.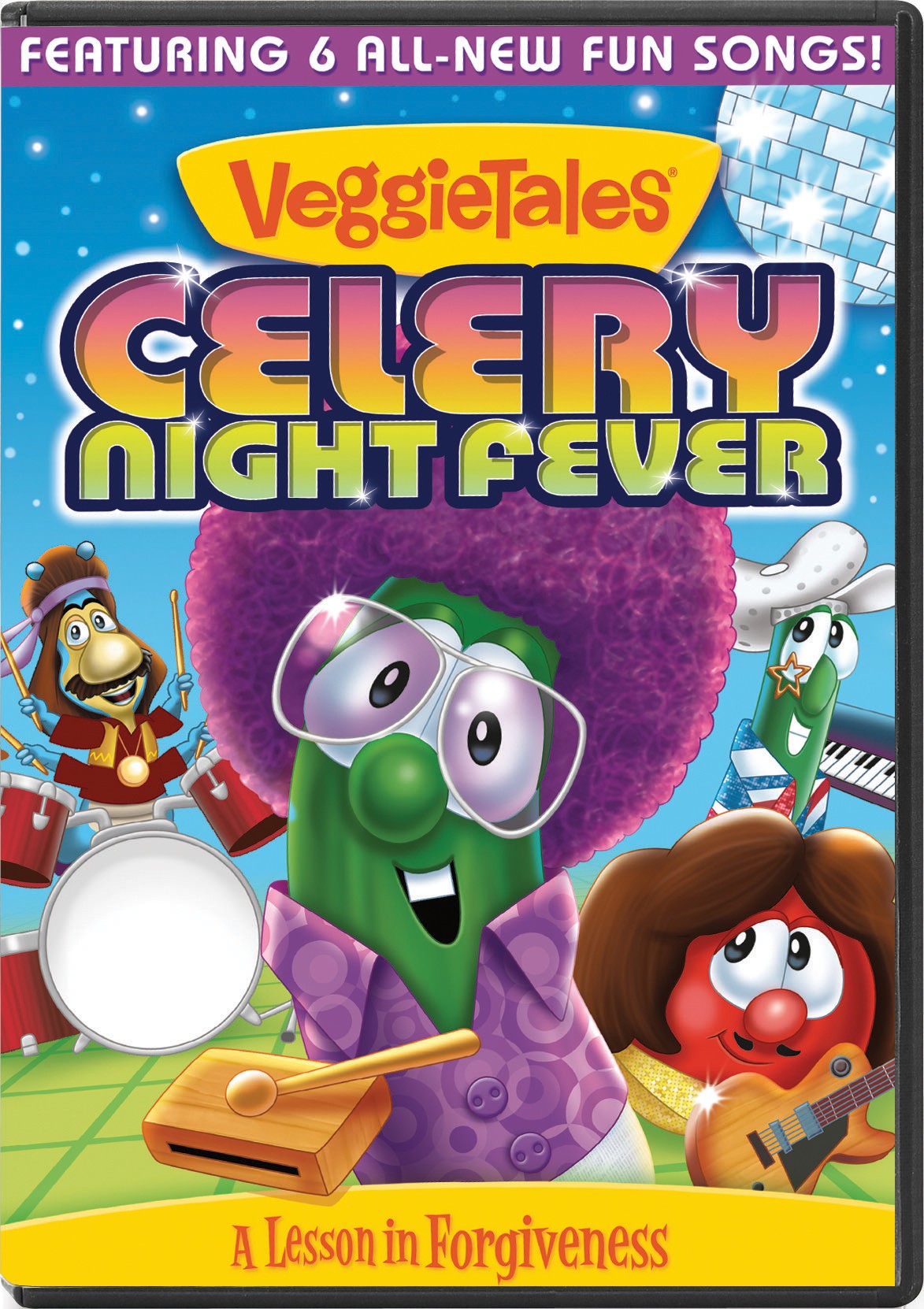 About the film:
In Celery Night Fever, the retro funkadelic sights and sounds of polyester leisure suits and disco balls take center stage–along with a timeless message of friendship and forgiveness. Actor Terry Crews provides the voice of Bruce Onion, a nefarious real-estate developer who plans to turn the serene, green Celery Park into a parking lot.
His unsavory scheme spurs Laura Carrot and Junior Asparagus to enact a bold plan: reuniting the long-lost '70s band The Groovy Brothers to play at a fund-raising concert.
The problem is, The Groovy Brothers haven't spoken to each other in decades, and the members have little interest in getting back together. Their long-simmering feud spills over to affect Laura and Junior.
It's not just Celery Park that's in jeopardy–if best friends can't learn to forgive each other and accept each other's faults, the veggies might lose their cherished community gathering spot.
Celery Night Fever features six original songs, including a rousing number from Bruce Onion, showcasing the musical side of Terry Crews.
Celery Night Fever debuts August 5th exclusively on DVD.
The Smith House Veggie Tales Collection
Over the years, we've built quite a collection of these wonderful stories. Both of my boys loved the colorful characters and the fun they created, and my husband and I have always loved the message behind them.
Even my 10 year old enjoyed this one, too! He laughed through most of it– the funky clothes and hair are hilarious–and the '70s theme made it a fun one for all of us.
This would be a fabulous addition to your own Veggie Tales collection and would make a great gift for a little one–Christmas list, anyone?
Don't Miss Another Giveaway!
Veggie Tales Celery Night Fever Giveaway
So to celebrate its upcoming release, we're giving it away, too!
Just enter below to win your own copy on DVD to enjoy at your next Family Fun Night.
"Disclosure (in accordance with the FTC's 16 CFR, Part 255: "Guides Concerning the Use of Endorsements and Testimonials in Advertising"): Many thanks to Propeller Consulting, LLC for providing this prize for the giveaway. Choice of winners and opinions are 100% my own and NOT influenced by monetary compensation. I did receive a sample of the product in exchange for this review and post.
Only one entrant per mailing address, per giveaway. If you have won the same prize on another blog, you are not eligible to win it again. Winner is subject to eligibility verification."