This post may contain affiliate links. Please see my full disclosure policy for details.
Looking for a few read-alouds to add to your Christmas collection this year? Here are 10 Christmas books every kid would enjoy reading.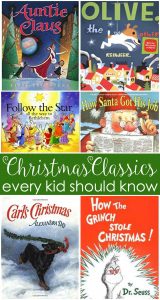 There's something magical about Christmas stories. And there are plenty to choose from, with enough published today to read a new one every day of the year.
But no two books are created equal. And though there are many Christmas titles out there, only a few are what I consider keepers. Here are some of my favorites.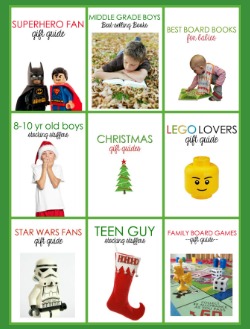 Don't Miss our Christmas Gift Guides
10 Christmas Books Every Kid Should Read
#1 The Amazing Christmas Extravaganza by David Shannon
This is my all-time favorite picture book at Christmas. The message, the illustrations, and even how the tangled lights share the story–you'll understand what I'm talking about when you read it– create a timeless tale of how easily we can wrap ourselves in the festivities rather than the realities of what Christmas should be.
I love it and your kids will, too.
#2 Auntie Claus by Elise Primavera
This story is filled with secrets that lead to a sweet surprise. Great message in this one, too, conveying the spirit of Christmas in a fun, suspenseful, page-turning way.
#3 Olive, The Other Reindeer by Vivian Walsh
My husband bought this one for me the year it was published, and soon after, it became an animated favorite. It's a great story with a twist and a play on words from one of our most favorite Christmas classics.
#4 Follow The Star All The Way to Bethlehem by Alan and Linda Parry
Kids love this one for the activities. There are puzzles, maps, and letters tucked through the pages for readers to enjoy as they make their way through the Christmas story and follow the star.
#5 How Santa Got His Job by Stephen Krensky
You know how kids are always asking those Santa questions? Here's a funny take to answer all the hows and whys of Santa's big night and his toy-filled sleigh.
Think of it as a modern-day 'Twas the Night Before Christmas with a few funny surprises.
#6 The Polar Express by Chris Van Allsburg
So by now, I'm almost positive you've seen the movie. And I do love the movie version. My husband always chooses it at Christmas when it's his turn on Family Fun Night.
Still, it's the book that holds the magic for me. The pictures and words join together to set a spectacular dreamy tone throughout the story. And any kid who doesn't own a copy is really missing out.
Check out our list of : 20 Christmas Movies Every Kid Should See
#7 How the Grinch Stole Christmas! by Dr. Seuss
The same goes for this one as The Polar Express. Sure, you've enjoyed the movie. But kids need to experience the original text, too. There's just something magical within the pages, as you cozy up together in bed and relive the story page by page.
#8 Carl's Christmas by Alexandra Day
I was introduced to Carl years ago during my teaching intern in a first grade class. I've loved Carl ever since. For me, this is the best Carl book ever.
The story is truly a picture book–there are only a handful of words through the entire story. And the beautiful illustrations share a wonderful tale where readers easily fall in love with Carl all over again.
#9 The Year of the Perfect Christmas Tree by Gloria Houston
This Appalachian tale is one of the most heart-warming stories you'll ever read at Christmas. Sharing the story of a poor girl named Ruthie, the book reminds us of what Christmas is really about.
#10 The Night Before Christmas by Clement C. Moore
What kind of Christmas reading list would be complete without this one? Moore's classic is one we all love, and the perfect bedtime story for Christmas Eve. This version is a beautiful one.

Other Topics You May Enjoy