This post may contain affiliate links. Please see my full disclosure policy for details.
These health benefits of apples and their everyday uses may surprise you. Here are 17 benefits of apples and ways to use them you may not know.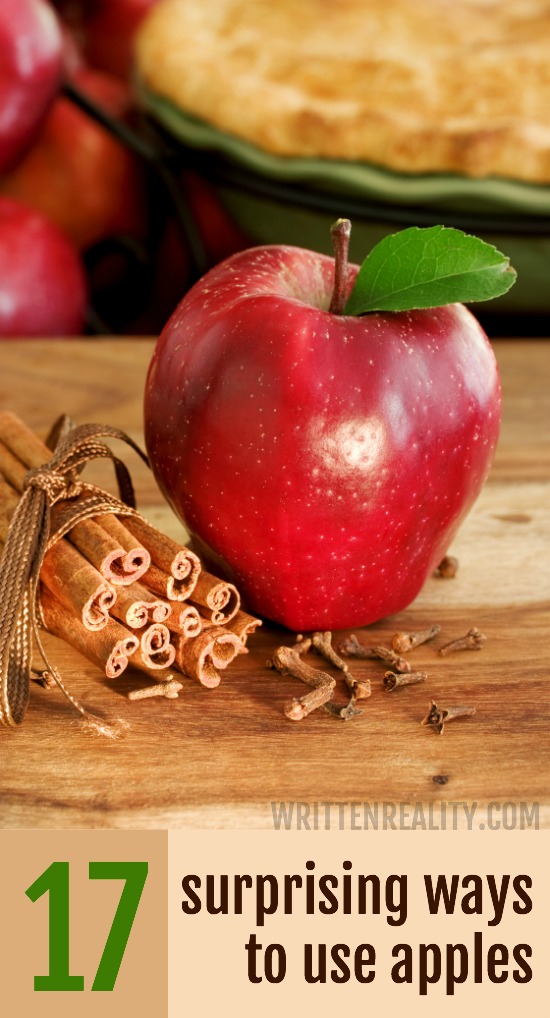 We've all heard the saying, "An apple a day keeps the doctor away," but what about using an apple to improve lung function or clean your hair?
I love apples–whether slow-cooked into butter or deep-fried in a pie.
Today, however, I'm pointing out an apple's natural goodness. The health benefits contained within just one apple is miraculous. And, along with its many other everyday uses, these wonderful benefits truly make the apple one super fruit.
17 Surprising Benefits of Apples
1. Clean Your Hair
A small amount of apple cider vinegar can be added to water as a great rinse for those of us who suffer from oily hair.
2. Soothe Allergy Symptons
Apples contain quercetin, which is often used as a natural antihistamine.
3. Satisfy Your Sweet Tooth
Applesauce is commonly used as a baking alternative to sugar and oil to significantly reduce a recipe's calorie count.
4. Make Tea Light Holders
A cored-out apple creates the perfect spot for a tea light.
Float them around in a bucket or corral them on a serving tray for a nice decorative element for family gatherings this fall.
5. Get Rid of a Migraine
Some migraine sufferers claim that the scent of a green apple helps reduce their symptoms.
6. Improve Lung Function
Apples are a rich source of phytochemicals that have often been linked with improving asthma and pulmonary function.
7. Feed the Birds
Did you know fruit is the preferred food for many types of birds?
Why not treat the birds in your neighborhood to something sweet?
Toss a few fresh apple chunks in your birdfeeder tray. Your birds may tweet a new happy tune.
8. Soften Brown Sugar
Take your brown sugar brick and toss it into a resealable bag with an apple slice. Your brown sugar will be soft again in just a day or two.
Did you know these surprising benefits of apples? Click To Tweet
9. Ease Motion Sickness
The pectin in a green apple helps to neutralize stomach acid and its natural sugar helps settle the stomach, too.
10. Make Your Dog a Homemade Treat
Apples can serve as a super healthy treat for man's best friend. Just avoid the seeds and keep servings to small amounts.
11. Improve Your Complexion
Did you know that apple pectin is great for inflammation and wrinkles?
Apples are filled with antioxidants to clear toxins that cause so many skin problems. Apples are also a fabulous source for skin nourishing vitamins to give your skin a radiant glow.
12. Create a Decorative Stamp
Not just for your kid's art project anymore, many hobbyists are creating apple stamps to decorate tea towels, table runners, and even fun reusable grocery totes.
13. Decorate the Christmas Tree
Adorning Christmas trees with apples, nuts, and other natural products is as old a holiday tradition as the Christmas tree itself.

14. Keep Cakes Moist
The next time you bake a sweet treat or other baked good, add half of an apple to your airtight container. You'll never need to worry about your baked goods drying out too soon again.
15. Ripen Fruit
Need your fruits ripened a little faster?
Toss your freshly picked peaches or bananas into a brown bag with a ripened apple. The apple will speed up the process.
16. Make Potpourri
I love the sweet smells of all sorts of apples.
Add a little cinnamon, nutmeg, and vanilla oil to a few dried apple slices and simmer in a pot for a wonderful autumn aroma throughout your home.
17. Promotes a Healthy Heart
Apples can also reduce your risk of heart disease by helping to lower cholesterol levels.
Some studies have also linked drinking apple juice daily with reducing many other risk factors of heart disease, too.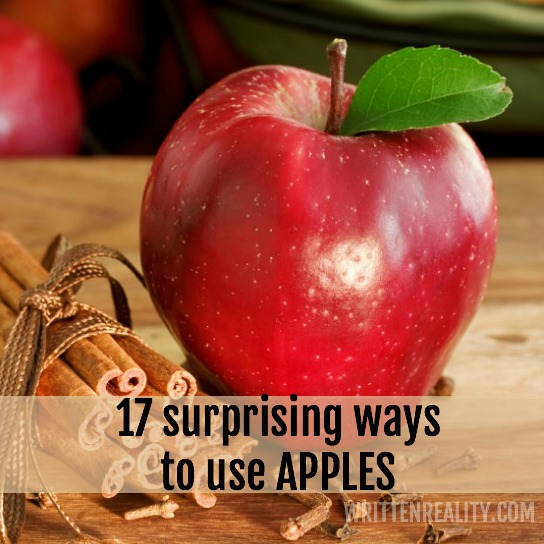 An Apple a Day–or more
So how do you like them apples?
Considering all of the fabulous benefits of apples, I'd say let's visit our local orchards and pick us a whole lot more!
Other Topics You May Enjoy