This post may contain affiliate links. Please see my full disclosure policy for details.
Looking for ways to save more money this year? Here are 5 super easy ways to save money this year!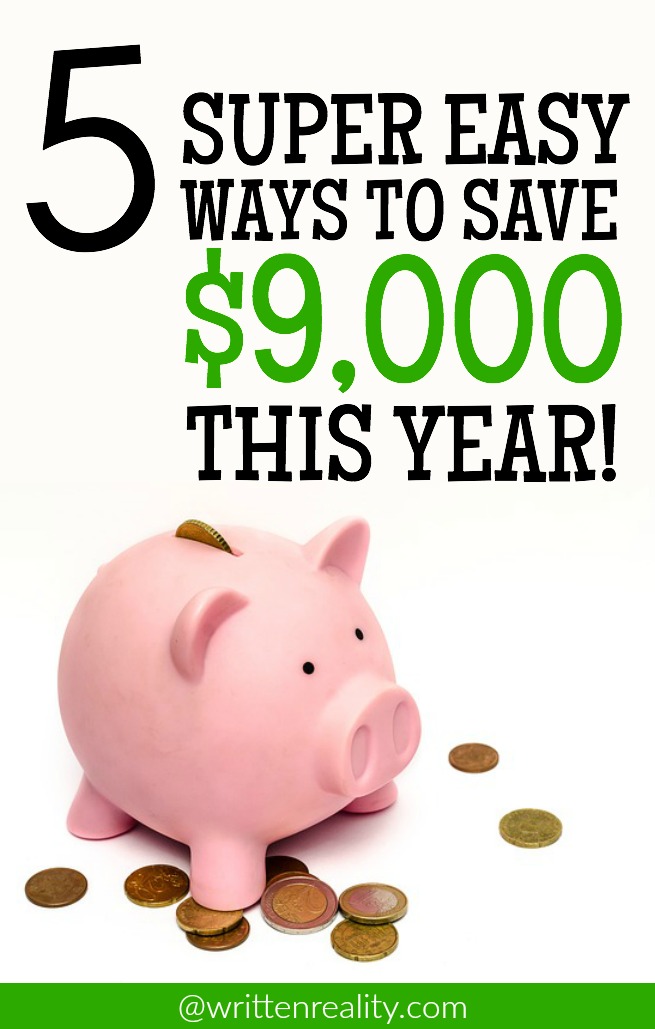 Several years ago, I decided to resign from teaching elementary school to stay home with my kids. I knew living off of one income would be difficult, but I had no clue just how much giving up my half would hurt us.
I'd planned on working from home as a freelance writer. My idea was to live off the one income for a few months- or maybe a year at most- until I established myself as a writer to write my way back to the income I'd made the previous year.
As you may have already figured out, that is not at all what happened. After years of work and rarely any pay, I learned how to stretch our tight budget to make ends meet.
Over the past few years, I've discovered all sorts of ways to save money.
5 Super Easy Ways to Save Money
Here are a few of the simple ways I've learned to spend less and save more:
#1 Make Your Own Coffee
Your morning routine at the coffee shop can add up quickly. By skipping that specialty coffee, you could save $100 or even more each month.
#2 Pack a Lunch
We all know how rushed our mornings can be. It's easy for us to just grab something from the cafeteria at work or from a vendor. But are those conveniences really worth doubling or tripling the price?
A little extra prep time the night before to pack your own lunch could save you $200 or more on a monthly basis.
#3 Eat at Home More Often
This was a huge help at our house. We now reserve eating out to only one night a week at most or to celebrate special events.
This one change can shave $300 or more from your monthly expenses.
#4 Cut the Cable
To be honest, we've never had cable or satellite, or any of those things. And I'm happy to say that my basic television stations have been plenty of entertainment for us in the TV department.
Cut the cable and you could save around $75 a month.
#5 Choose Home Entertainment Over Expensive Movie Nights
We love a movie night, but with the price of a soda and popcorn, movie nights are a big splurge.
By popping your own popcorn, renting a movie at home, or pulling out the board games, you could save your family another $75 a month.
By following these 5 super easy steps, you could save $750 a month.
That's over $9,000 a year!
I'd say that's a super way to pay off stubborn debt and invest in your future. 🙂
Other Topics You May Enjoy