This post may contain affiliate links. Please see my full disclosure policy for details.
DISCLOSURE: Many thanks to Thomas Nelson Bibles for providing a sample of the product for this review. Opinions are 100% my own and NOT influenced by monetary compensation.
#AbideBibleMIN #MomentumInfluencerNetwork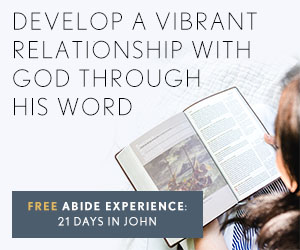 This past year I set a new goal for myself to read through the Bible using different translations. I started in January and read through the English Standard Version using a 90 day plan. Then I just finished reading through the New International Version using a 6 month plan. Just as I completed the 6 month plan, I received an email asking if I'd like to review a new Bible! It was perfect timing! So of course, I said, YES!"
Wow, I was blown away. First of all, it's beautiful! I love the taupe and golden foiling cover and it's nice and flexible for easy reading and studying, too. There are lots of wonderful features (shared below) and I can't wait to get started reading this one in the New English Translation.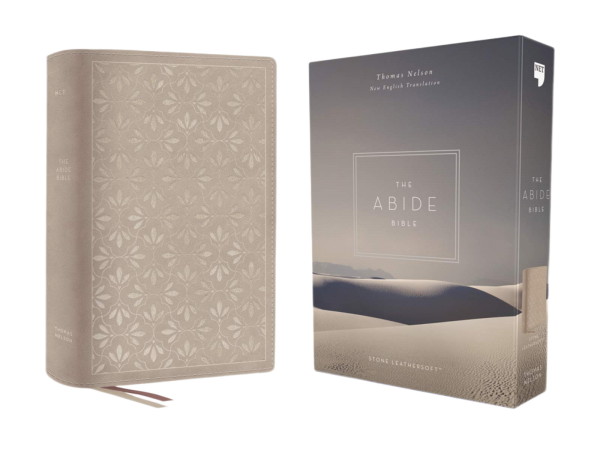 Do you yearn for life-giving, intimate communion with God?
Created in partnership with Bible Gateway and the Taylor University Center for Scripture Engagement, The Abide Bible's features include articles, book introductions, and practical Scripture engagement prompts based on five ways of engaging deeply with the Bible:
Praying Scripture: Pattern your prayers after biblical texts, personalizing the prayer and gaining language for the thoughts and emotions you want to express.
Picture It: Place yourself in a biblical narrative as a bystander or participant in important events.
Journaling: Focus and reflect on Scripture and its meaning for your life, open- ing yourself to God's voice as you ponder.
Engage Through Art: Consider a classic piece of art—photograph, sculpture, painting—and let it deepen your meditations on scriptural truths.
Contemplate: Follow the church's longstanding practice of reading, meditating on, praying, and contemplating a passage of Scripture in order to experience God's presence through the words of the Bible.
Features include:

Bible book introductions provide a concise overview of the background and historical context of the book about to be read
365 Day Bible Reading Plan guiding you through the entire Bible in a year
Line-matched, single-column Scripture text for improved readability
Smyth-sewn binding lays flat in your hand or on your desk
Two satin ribbon markers allows you to easily navigate and keep track of where you were reading
Easy-to-read 9-point NET Comfort Print

THE ABIDE EXPERIENCE: 21 DAYS IN JOHN FREE VIDEO SERIES
There is also a video devotion that's available for FREE! It's called The Abide Experience: 21 Days in John. The 21 devotions are led by Dr. Phil Collins, general editor of the Abide Bible which is designed around five methods of Scripture Engagement that will change the way you read Scripture. The 21 Days in John FREE Video Devotion also provides a free download of the book of John from the Abide Bible.
Again, the Abide Experience is FREE and includes 21 Video devotions delivered by email and a full download of the book of John from The Abide Bible!
Transform your personal Bible devotions into intimate, ongoing conversations with God with various Scripture engagement approaches that keep Bible reading fresh and new. "Abide in Me." John 15:4
The Abide Bible is designed to help you experience the peace, hope, and growth that comes from en- countering the voice and presence of God in Scripture. Every feature in Abide is designed to teach and develop Scripture-engagement habits that help you know the power and spiritual nourishment of abiding in Christ.
GIVEAWAY
There will also be a drawing for this beautiful ABIDE BIBLE (NET) US RESIDENTS ONLY so if you'd like to be included just leave your FULL NAME and EMAIL address in the comments below by 12/5 .