This post may contain affiliate links. Please see my full disclosure policy for details.
These ice cream cookie bonbons are covered in milk chocolate and filled with your favorite ice cream. They're super easy to make and delicious, too.

This past weekend, my husband and I decided to pull out some of our favorite chocolate to create a quick treat. And since the weather's warmed a bit, I thought it would be the perfect day for making an ice cream treat. With just a few pantry items, we created a new treat entirely–Ice Cream Cookie Bonbons–and we were both pleased with how great they turned out.
Our only regret was making just a dozen. So today I'm sharing a recipe to make two dozen, instead. That way, you'll have plenty for everyone to try; and a couple of extras for seconds, too.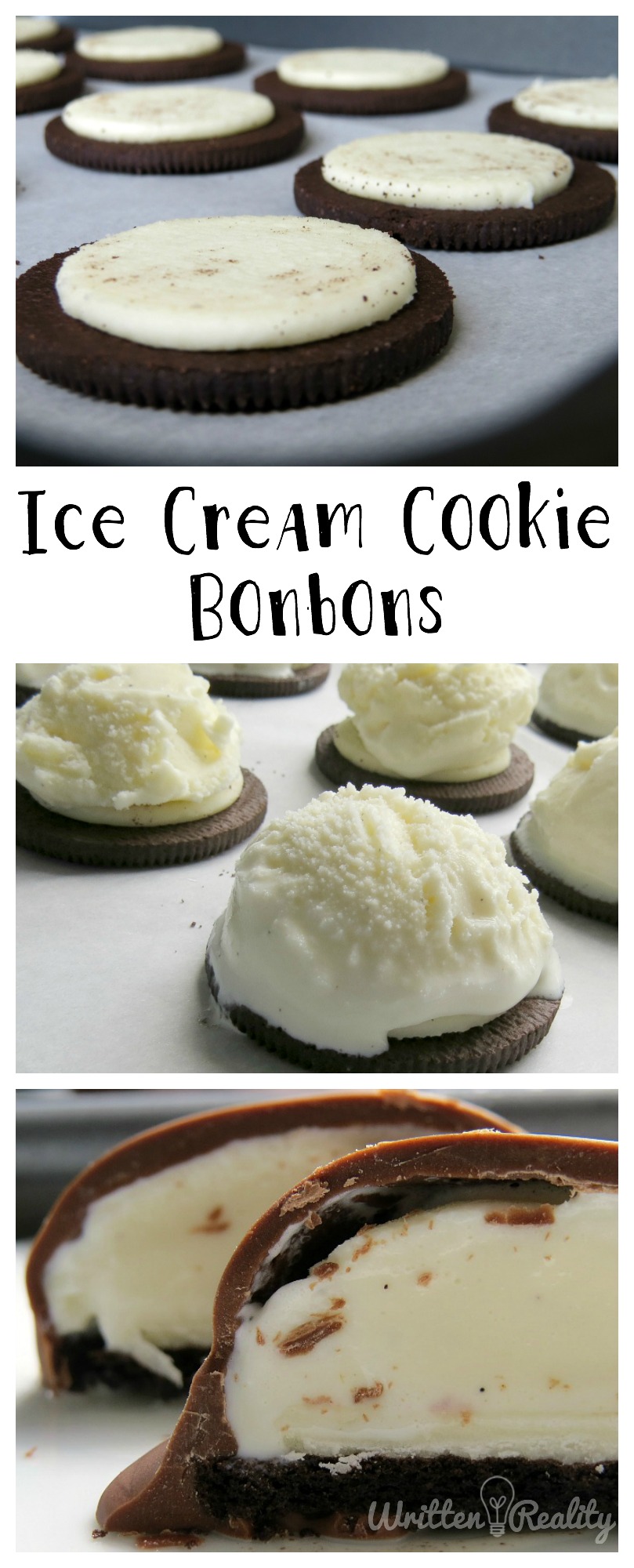 Ice Cream Bonbons
Here's what I used to make mine.
24 chocolate cream filled cookies
1 quart of vanilla ice cream
1 lb. milk chocolate wafers
I used chocolate cream filled cookies because Hubby and the boys devour them and they love cookies n' cream everything. But feel free to use vanilla flavored cookies. I'm sure those would taste great, too.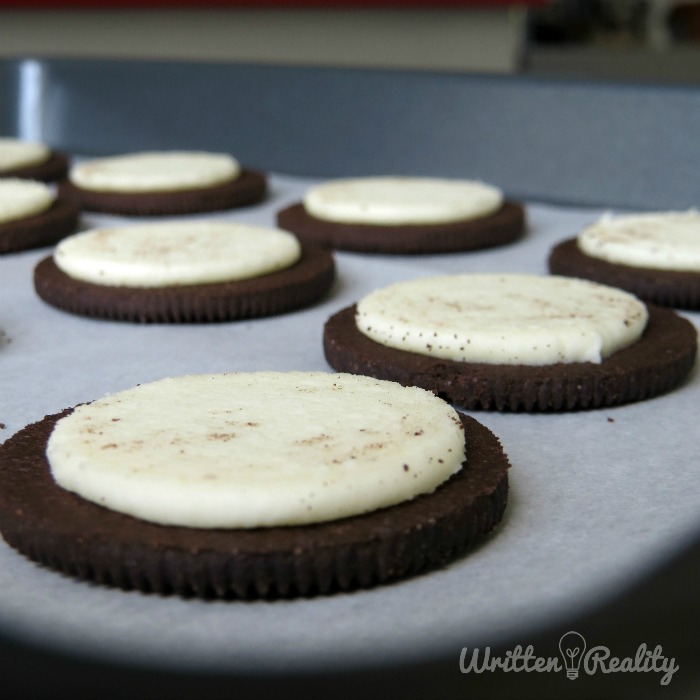 The best part of this recipe is that you only use the bottom portion of your cookies. Just take off the top cookie to enjoy while you're making the bonbons. After all, we wouldn't want them to go to waste. 😉
Quick and Easy Ice Cream Treat
The ice cream cookie bonbons remind me a lot of an ice cream sandwich, but with a little extra bonus when covered in the milk chocolate shell. They're perfect for your upcoming summer get togethers and I know your family and friends will love them, too.
If you want a more detailed printable version of this recipe for Ice Cream Cookie Bonbons, just scroll down to the bottom of this page. Be sure to bookmark it, too, or pin it for later when you're looking for a quick and easy treat. Your family will thank you for it. Enjoy!
Other Recipes You May Enjoy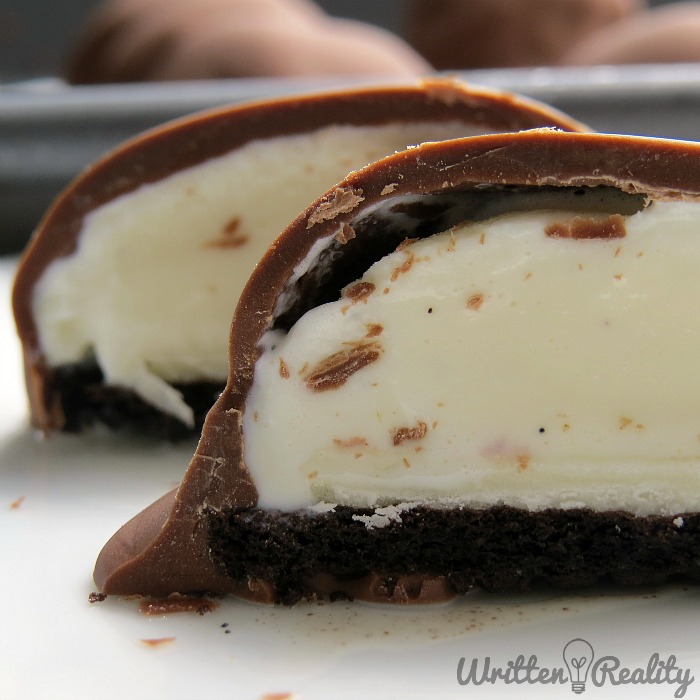 Ice Cream Cookie Bonbons
2015-04-11 13:59:42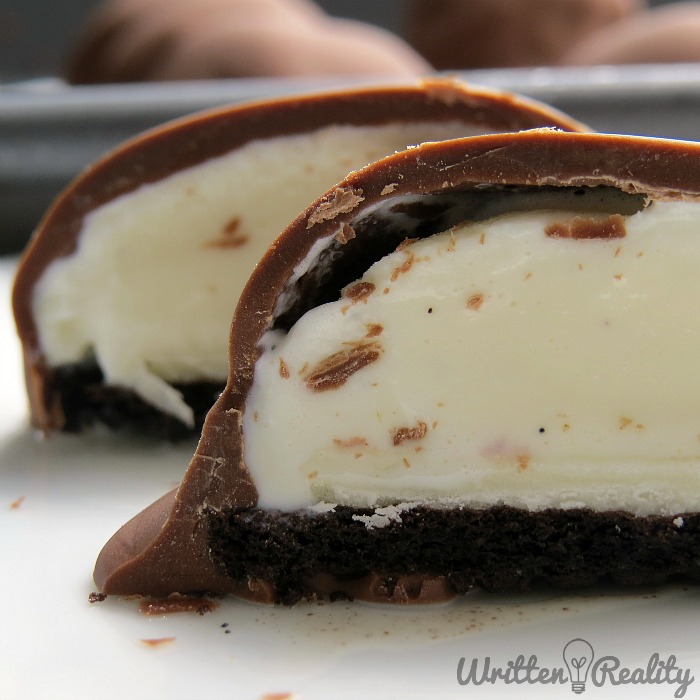 Ingredients
24 chocolate cream filled cookies
1 quart vanilla ice cream
1 lb. milk chocolate wafers
Instructions
While ice cream sets to soften just a bit, line a baking sheet with parchment paper and take apart the cookies, being careful to keep the cream filling attached to one side.
Lay out the 24 cream topped cookies on the lined baking sheet and top each one with a small rounded scoop of ice cream.
Place the ice cream topped cookies in the freezer for about 30 to 40 minutes.
Melt the chocolate wafers according to package directions, keeping the chocolate warm but not too hot.
Dip each ice cream topped cookie in the chocolate and set on parchment or waxed paper.
Serve immediately or store in your freezer until ready to serve. Enjoy!
Written Reality https://writtenreality.com/