This post may contain affiliate links. Please see my full disclosure policy for details.
Best of Beauty Products : Discover the best of beauty products for the eyes, lips, and face for 2017. From drugstore to luxury items, these are the all-time best sellers and cult favorites this year.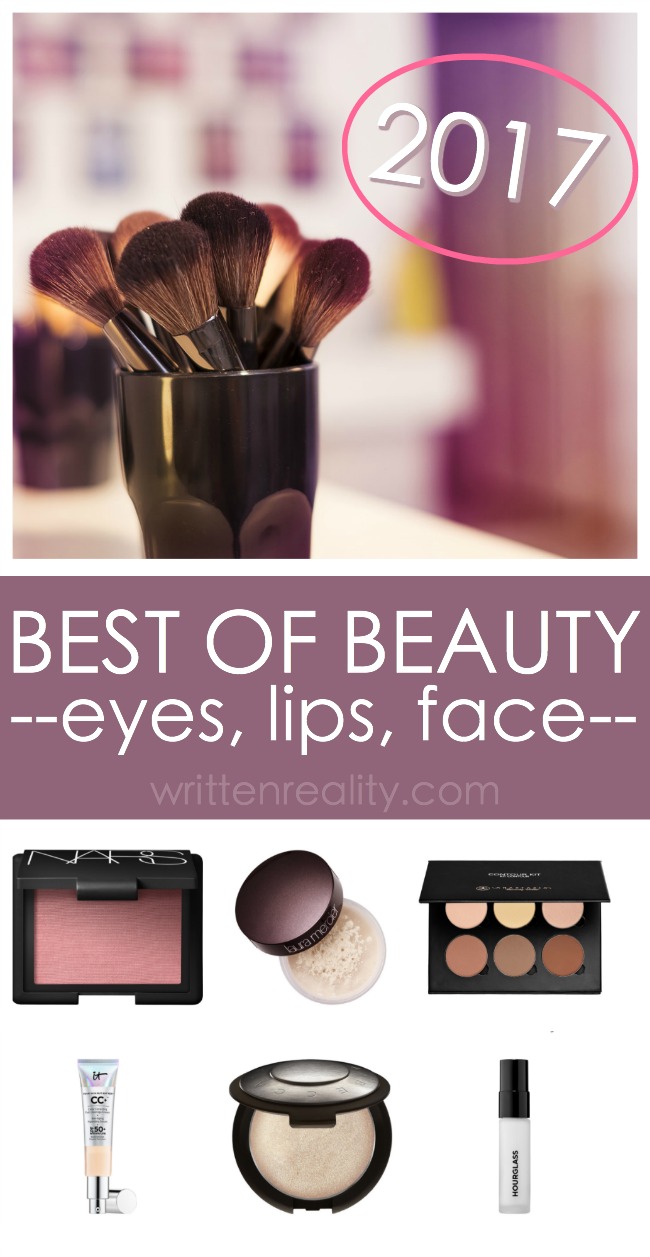 I love trying out new beauty products to see if they really do all for the skin and your overall appearance that they claim. That's why I decided I would share a special series on the best of beauty products out there. Now these products are from different price points. I researched several websites to look at all of their best sellers in each category and then read through the reviews to get an idea of what the regular customer was saying about the beauty products, too.
After looking through all the reviews, I compiled a list of the best of beauty products that kept showing up in each of these categories. So here is a list of what I found to be the Best of Beauty Products for the eyes, lips, and face for 2017. Let's get shopping!
>>Don't miss these BEST EVER Makeup Gift Sets 2017!<<
Best of Beauty Products 2017
Best of Beauty Products for the Eyes
I love eye makeup and all the beautiful products they have to dress up your eyes. However, now that I'm older I've found that my biggest problems with applying makeup happens around the eyes. Below our share all of those cult favorites and best sellers, as well as a few of my own thoughts about these products on mature skin.
Shop The Best of Beauty Products for the Eyes
Becca Under Eye Brightening Corrector
For many of us, just using a corrector in the right shade will instantly improve those dark circles and other discolorations under the eyes. The key is to find the right shade, which depends on your skin tone and the problems you have in that area, and also one that's just the right consistency for your skin type–whether you have oily skin or dry.
Maybelline Instant Age Rewind Eraser Dark Circles Concealer + Treatment
Now that I'm older, I have a lot more trouble finding the right concealer for my dry and crepey skin. I recently discovered this one and I'm super happy with the results. It's lightweight and not as drying as most concealers, so I think it's a must have for my mature skin. When I was younger, I needed the Tarte Shape Tape, listed below. But I think as we become older, we need to lighten up on the undereye concealer and this one is the perfect consistency.
Tarte Double Duty Beauty Shape Tape Contour Concealer
This concealer is one powerful coverup. It really does mask imperfections and, unlike a lot of concealers that slide around too much, once you put it on it stays in place . However, as a girl with mature skin and lots of crepiness under the eyes, it takes a lot more work for me to wear this one, so I use it as a concealer in other areas on my face. Younger girls swear by this one, though.
Urban Decay Eyeshadow Primer Potion
This primer is a great one to keep your eyeshadow in place and also to keep it from creasing. Just dab on a small amount and smooth out over your eyelid. If you've never tried an eyeshadow primer, make sure to give this one a try. It's amazing just how much it helps with applying your eye makeup.
Urban Decay Naked Heat Palette
I always fall back on my Urban Decay eyeshadow palettes, so I can certainly see why this one makes it to the best of beauty products in the eye makeup category. It's an eyeshadow palette of 12 amber-hued neutrals, like warm browns and burnt oranges. Just a look at this beautiful collection and you're ready to try it.
Brow Wiz Mechanical Brow Pencil by Anastasia Beverly Hills
Don't forget to shape those eyebrows, too! They really are the foundation for shaping the rest of your face. This brow pencil is an ultraslim mechanical one to help define with precision.
I can see why this one is a best of beauty products in the eye makeup category. Although I have used plenty of liquid eyeliners from drugstore to luxury brands, I am never without this one from Kat Von D. This has become my go-to because its tip creates the perfect line easily and stays put all day long.
It Cosmetics Waterproof Gel Eyeliner
I never have tried this one, but since it was also at the top of the bestseller list with great reviews, I wanted to make sure to include it. The description states that this eyeliner is for "anyone who wants rich luxe eyeliner color and application without tugging on the delicate eyelids [and] anyone who wants anti-aging benefits and wants to instantly diffuse the look of lines and wrinkles on the eyelids." So I'm adding this to my own must-try list of best of beauty products, too.
Too Faced Better Than Sex Mascara
I think everyone should try this one. It's an intensely black, volumizing mascara with an hourglass-shaped brush that separates, coats, and curls each lash to voluptuous perfection. It really does apply beautifully to create all that this little mascara claims. I keep going back to it.
Best of Beauty Products for the Lips
For the lips, there are tons of favorites. So for this one, I narrowed it down the best I could. I decided to just share the best of for 6 lip categories: lipstick, liquid lipstick, lip pencil, lipgloss, lip primer, and lip balm.
Shop the Best of Beauty Products for the Lips
MAC Matte Lipstick (Velvet Teddy)
If you're crazy about trying lipsticks, then chances are, you have several MAC lipsticks in your makeup pouch. The matte lipstick kept showing up in several best seller lists, so I knew I had to include it, and Velvet Teddy seemed to be most consumers go-to shade.
If you haven't tried any of the NYX brand beauty products, you may want to start with a liquid lipstick. I've been very pleased with the makeup I've bought from this line and this particular liquid lipstick is a fan favorite. It's also low priced and a drugstore brand.
It's a high-shine gloss that you can actually feel working because it sort of tingles when you apply it. That's because this lipgloss has plumping ingredients, too. Plus, there is Vitamin E and A to help keep your lips moisturized.
This lip pencil has become a cult favorite classic in the lipstick wearing department. It comes in lots of colors and it is long lasting without being too drying on your lips.
Anastasia Beverly Hills Lip Primer
This colorless base is great to keep whatever lipstick or color you wear in place. It hydrates, smoothes, and prevents the lip color from feathering and fading. It can also be used as a nighttime lip conditioning treatment, too.
Dior Addict Lip Glow Color Reviver Balm
This sheer balm helps to enhance your own natural lip color while moisturizing and protecting your lips. It has an SPF 10 with hydrating mango butter and loofah extract to nourish. However, it's a pricey one, so this may be one you want to add to your Christmas list of or an upcoming birthday.
Best of Beauty Products for the Face
Now, I will not even begin to try and list the best of beauty products in foundation. That depends on so many things, like your skin color, skin type, whether or not you want full, medium, or light coverage, etc. For foundations, it's best if you play around with them.
However, I will share some of the best of beauty products for blush, highlighters, and primers. I've also found the best of beauty products for CC creams and a super popular contouring kit, too.
Shop the Best of Beauty Products for the Face
This blush always shows up at the top of every list. In fact, it claims to be the #1 selling blush in the US and I love it myself. It has a silky texture that goes on nicely and some sort of micronized powder that softens and blends nicely, too. I also think the shades are gorgeous.
Becca Shimmering Skin Perfector Highlighter
I didn't really see the need for highlighter until I tried this one. I love it. It. is. gorgeous. And I have it in the champagne pop color. I can see why it's a best of beauty products in the face category.
There are lots of face primers to choose from, but this one is often in the top choices. It leaves a matte finish and plays nicely with your foundation and other makeup.
It Cosmetics Your Skin But Better CC Cream with SPF 50+
This CC Cream is super popular because it's lightweight, evens out your skin tone, and with an SPF 50+, it also serves as a little sunscreen, too. I use this one on those days I don't want to do a full face of makeup, but you can also build it up a bit to use as a regular foundation.
Laura Mercier Translucent Loose Setting Powder
This loose setting powder is known as "a cult-favorite and award-winning, silky powder with a touch of sheer coverage to set makeup for lasting wear." If you're in the market for a new setting powder, then make sure to check out this one.
Anastasia Beverly Hills Contour Kit
Here's a kit that includes everything you need to try your hand at contouring your face. There are 3 different palettes, so be sure to find the one that best matches your skin tone, and then play around with the 6 different shades in the palette for defining and sculpting.
Other Topics You May Enjoy