This post may contain affiliate links. Please see my full disclosure policy for details.
Stocking Stuffers from Target : These beauty products make awesome Christmas stocking stuffers. And they all can be found at Target, too!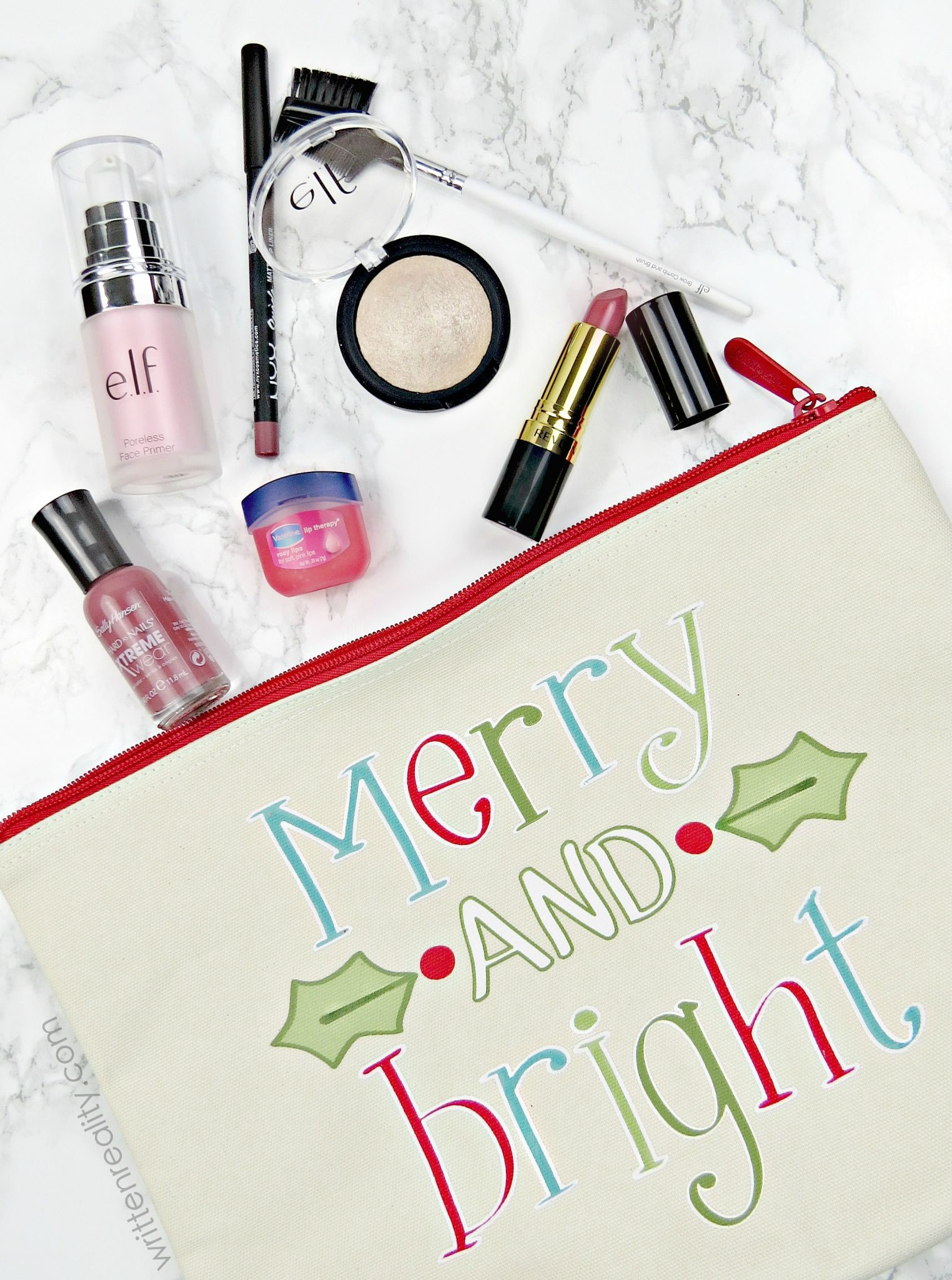 I love to shop at Target for everyday, well, everything. I can always find something fun and new in their home decor and especially in their beauty products department. Have you shopped at Target lately for beauty supplies? They're selection is fabulous! So that's why I thought I would share a list of beauty products that I think would make great stocking stuffers for Christmas, too.
Stocking Stuffers from Target
For this round up of stocking stuffers from Target, I'm listing some of their best sellers that are also inexpensive. I looked for beauty products that were super popular and highly rated, as well as beauty supplies that were around $5. While some items may be a dollar more than that, some of these items are even lower. So if you're looking for fun trinkets to include in your favorite girl's Christmas stocking, this list would be a great place to start.
Check out our most popular Stocking Stuffers for a Teen Guy, too!

Best Beauty Products Target
Vaseline Rosy Lip Therapy is such a fun (and super cheap) one to include in anyone's Christmas stocking. It comes in the cutest little container and keeps your lips hydrated and protected.
Revlon Super Lustrous Lipstick is a best seller at Target. Since it's inexpensive, it's a great one for trying out new shades.
NYX Suede Matte Lip Liner is one of my favorite lip pencils. It goes on smooth and stays in place. Even better, it's a lot less expensive than many lip liners, too. This one comes in 10 colors, so you may want to pick up a couple of different shades.
Real Techniques Setting Brush is also a best seller at Target. It's such an inexpensive makeup brush, but works just as well, and sometimes even better, than some of those high priced ones. I love all of my makeup tools and brushes from Real Techniques.
quick note: You can find this brush at other stores for around $8 or $9, but I found it at Target for less than $4, so make sure to check the prices before purchasing.
e.l.f. Makeup Mist & Set keeps your makeup just where you put it. It also helps to keep your face moisturized with aloe, cucumber, green tea and other vitamins.
e.l.f Baked Highlighter creates a radiant glow on the face with a sheer of shimmer. It's even infused with Vitamin E, Jojoba, Sunflower, Apricot and Grape to nourish and hydrate the skin.
e.l.f. Poreless Face Primer helps to reduce the look of large pores and fine lines, while also controlling shine. Just like other e.l.f. products, this one has other helpful skin ingredients, like Tea Tree and Vitamins A&E, to nourish your skin.
e.l.f. HD Undereye Setting Powder Sheer is one of my favorite setting powders for under the eyes. It's super finely grained to keep it from settling into those fine lines, and it really sets the undereye concealer and makeup.
Sally Hansen Xtreme Wear Nail Color is only a couple of bucks! It's a super strength one that comes in 34 colors, so make sure to check out this one. I think they sell this one at Walgreens, too.
Mini Salon Board Nail File 3 Pack would be a fabulous gift set with the Sally Hansen nail polish. Just grab a few packs of these along with several colors of the nail polish, tie them together, and you have a super cute gift for coworkers and friends.
Garnier SKINACTIVE Miceller Cleansing Water now comes in the travel size, making it the perfect idea for stocking stuffers from Target! Every girl could use this one, and it's a best seller at Target.
Pretty Animals Nourishing Face Sheet Masks come in several varieties to fit your skin needs. Each one is based on an animal theme that makes its packaging super fun.
Don't forget the GUYS!
Here are some Insanely Brilliant Grooming Products for Teen Boys, too!
Other Topics You May Enjoy