This post may contain affiliate links. Please see my full disclosure policy for details.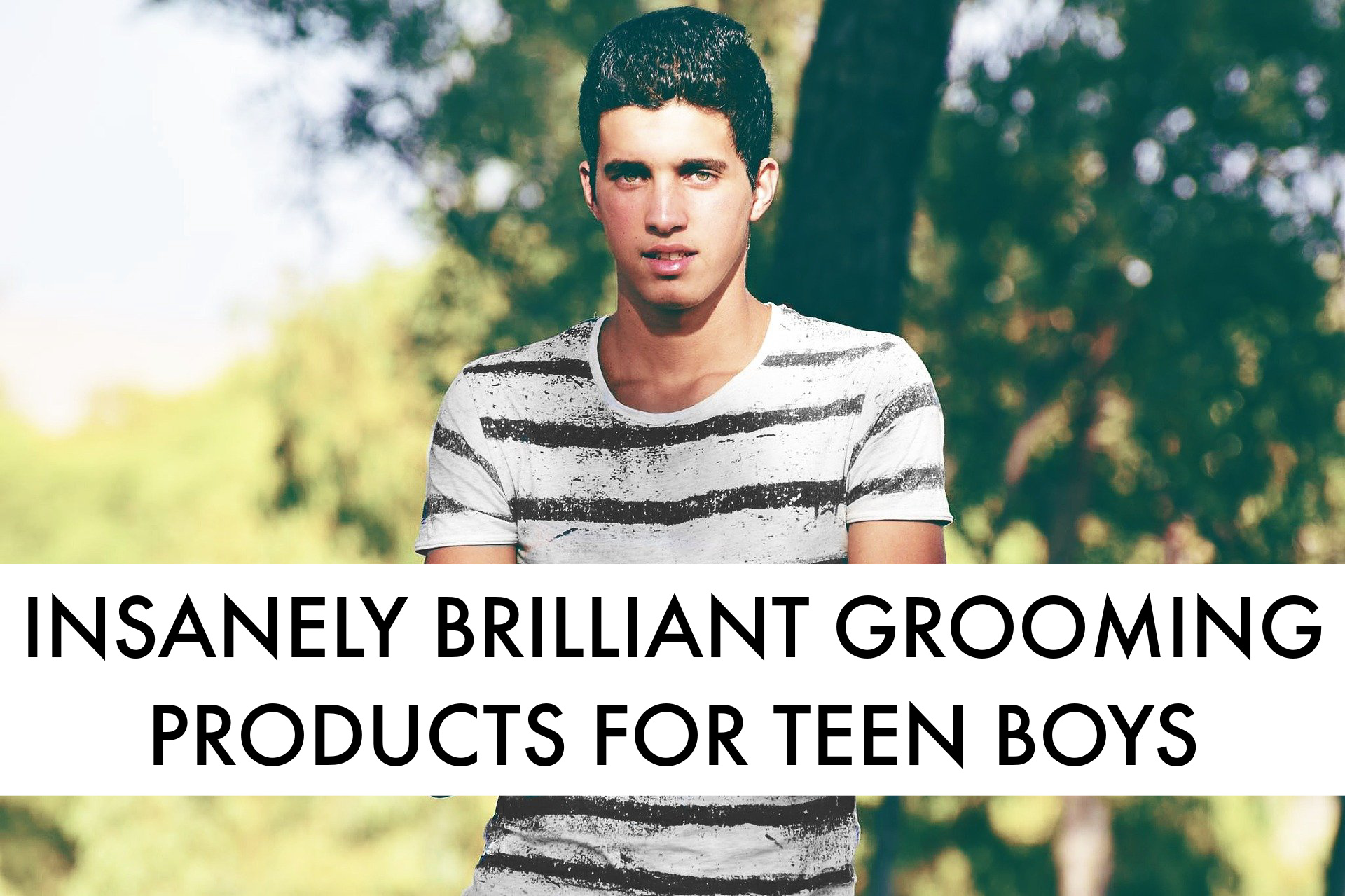 My house is filled with men, so I am always picking up grooming products here and there trying to find hygiene items that work great, but smell great as well.
As a woman, I love all the pretty bottles and luxurious smells of body washes and moisturizers. My men do not. They want body wash and bars of soap that keep them clean while keeping that masculine scent. The good masculine scent. You know what I'm talking about. They want man soap.
Each one of them also has different needs. One has drier skin while another has super oily and is prone to breakouts. So I can't just buy one bar of soap or a bottle of any kind of body wash. They just don't all work the same.
That is why I created this list for teen boys. As a mom, I know how teen boys have a different idea about soaps and grooming kits, so I looked for products I thought they would actually enjoy using. I have found grooming items that I think will help get the job done. I hope this list will help you find just the perfect item your teen boy will enjoy using, too.
Grooming Products for Teen Boys
Here's a list of our favorite and most useful grooming products for teen guys. They work great and keep your teen smelling great, too.
To me, this is the most brilliant out of all the grooming products for teen boys. I live in a house full of men and I know what a mess they can make when attempting any grooming. Not only are these nail clippers the best for trimming even the toughest nails, but it catches all those little nail trimming for easy disposal, too! Every teen guy needs a pair of these in his life.
Just say, "No," to nose hairs and that's why every teen guy needs to go ahead and invest in this one. This nose trimmer comes with a light to make grooming easier. Plus, it's water resistant so you can even trim those pesky nose hairs in the shower, too.
I picked up this mouthwash and it is the best ever! My teen son loves it and it keeps your breath fresh longer than any other mouth rinse we've ever tried. It doesn't have the strong taste that most mouthwashes have, so I was actually worried that it wouldn't work. But I was wrong. It is awesome. Try it. You'll never go back to that other stuff.
Use this toothbrush along with the probiotic mouthwash and you'll have a clean mouth forever! This best selling toothbrush gets your teeth cleaner than they've ever been. It also has a smartimer that encourages 2 minutes of brushing as recommended by dentists. I don't know how the whole timer thing will go with your teenage boy, but it's worth a try.
This hypoallergenic deodorant is actually a stone–seriously. Just dampen the mineral salt rock and apply just like any other deodorant stick. This one is great for men, women, and teens, especially those with sensitive skin. Oh, and one stone will last your teen guy for a very long time–like a year, really. No kidding on this.
Best Smelling Soap for Men
Here's a body soap that's exfoliating and smells fantastic. It has some sort of blend of ingredients that's unique to the brand making it a super popular pick in the soap department. Bonus, it's a huge bar of soap that will last you quick some time.
This exfoliating soap is blended with rosemary, cedar wood, and orange oils to make it another super popular pick for men's soap. Men use it for exfoliating, shaving, as a body wash, too.
This charcoal soap is great for teen guys who suffer from bacne. It can be used on the face as well as the body and it has a scent of tea tree and peppermint.
This body wash is a popular one that fights off bacteria to control odor. It has a minty sort of smell that really gives a fresh and clean feel. There are a lot of body wash type products, but this one is just a bit more of an upgrade from the others.
If you're teen guy likes the charcoal versions, this one is a great option. It contains tea tree oil, aloe vera and activated charcoal to deep clean the skin while keeping it hydrated. It also has a great scent, too!
Best Lip Balm for Teen Guys
Every teen guy needs a tube of Jack Black lip balm and that is why I had to include it in my most brilliant grooming products for teen boys. It doesn't leave a shine and it's super hydrating. It comes in different scents and is great not only for teen guys, but everyone else will love it, too. This is the perfect idea for a stocking stuffer, too!
>>65 Awesome Stocking Stuffers for a Teen Guy<<
Best Acne Products for Teens
There are so many acne products for teen boys that it's sometimes hard to figure out what to buy and especially which acne product will work best for your teen. Here are some of the best selling acne products for teens out there.
I've found that tea tree oil is one of the most effective products available for fighting acne. However, straight up tea tree oil is just too strong on its own, so finding a product that offers just the right strength of tea tree oil along with other acne fighting ingredients is one you'll want your teen to try.
This acne product is a one step treatment for acne. It contains benzoyl peroxide that fights acne and has other oils and ingredients that make it soothing and gentle on the skin. However, it does leave the skin dry so it isn't the best option for those with sensitive skin.
This stuff is fantastic! It's an exfoliant for blackheads and large pores that exfoliates dead skin, cleans the pores, and helps to improve skin texture. It's highly praised by users and is a great exfoliant for anyone looking to improve their skin.
If your teen guy has sensitive skin and is prone to redness like mine, here's a cleanser that calms the redness and soothes the skin.
Best Hair Products for Guys

This hair product for guys is great because just about any guy can use it. If your hair is thin, it helps to add extra texture. If your teen guy's hair is thick, it helps tame the hair and keep it in shape.
Grab this styling cream to condition your teen guy's hair without the residue. Its lightweight formula helps style the hair without weighing it down.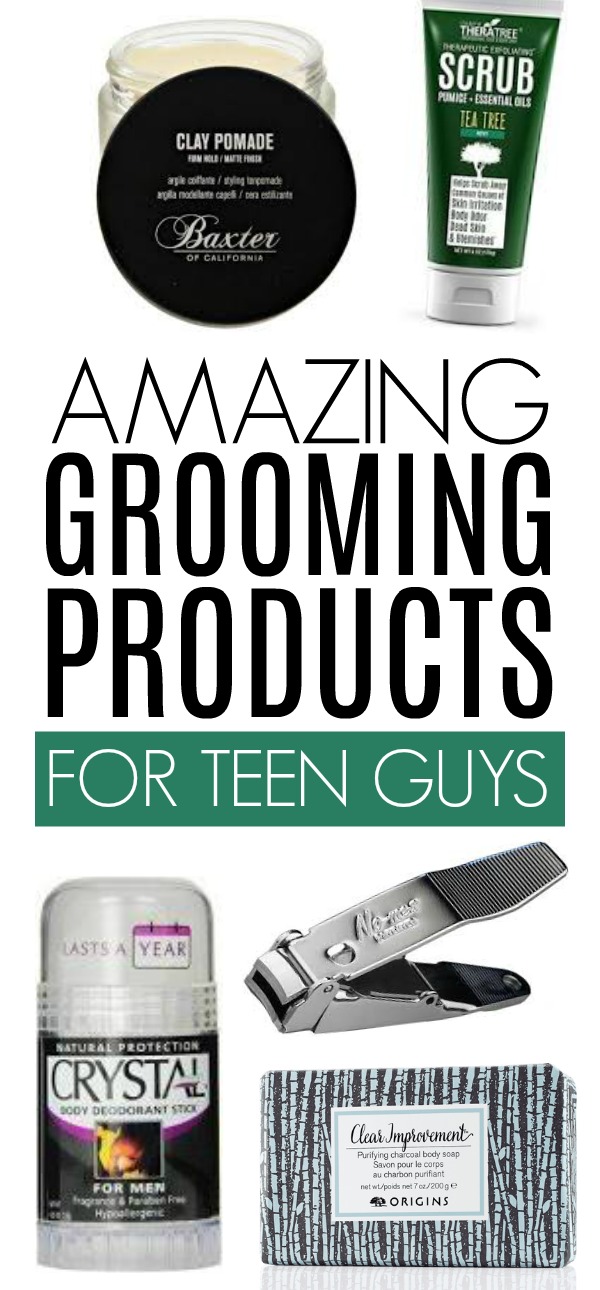 Other Topics You May Also Enjoy
65 AWESOME Stocking Stuffers for a Teen Guy
Our BEST Board Games for a Teen Boy