This post may contain affiliate links. Please see my full disclosure policy for details.
Board Games for Teen Boys : Here's a fabulous list of the best board games for teen boys. We've included both the classics and a few of the newest board games that are becoming super popular, too.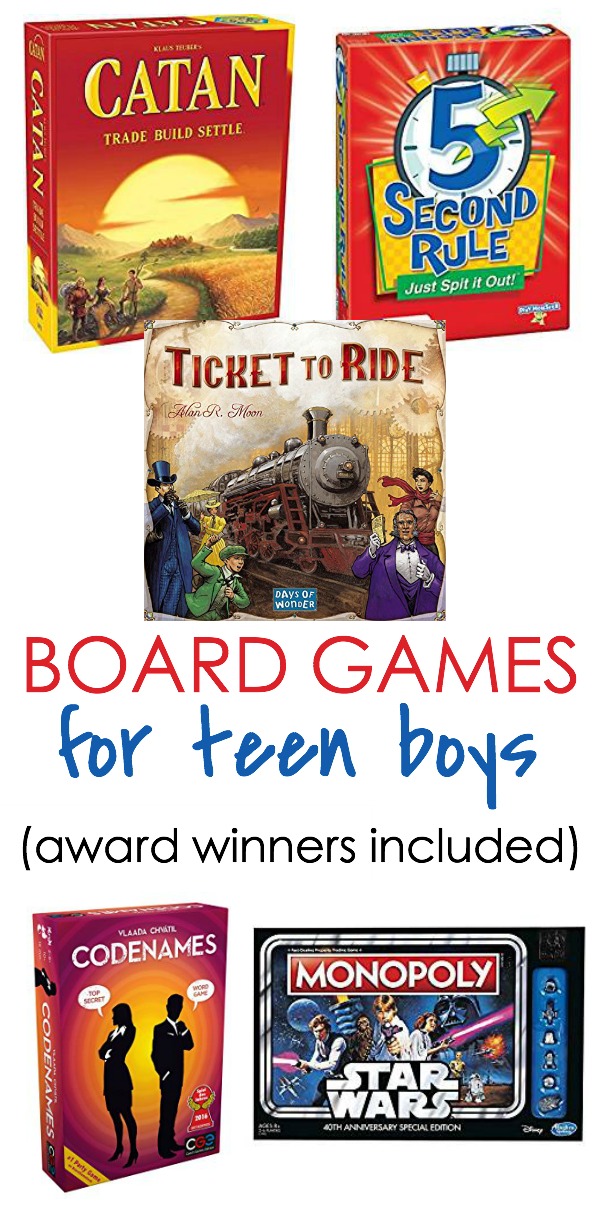 We've always loved playing board games at our house, and every year at Christmas, we like to add some new game to our collection. As the boys have grown older, our board game selection has certainly changed. We've long outgrown Chutes N' Ladders and Candy Land. Now our boys are much more competitive and they've gotten way better strategizing to win those board games that are much more complicated to play, too.
As I'm beginning to think about what game to add to our family Christmas list this year, I thought I would share just a few of the all-time best board games for teen boys that maybe your teen guy would enjoy.
65 Awesome Stocking Stuffers for a Teen Guy
Best Board Games for Teen Boys
The Settlers of Catan is an international best selling board game that has been awarded all sorts of honors, such as "Game of the Century" and "Game of the Year." In fact, many players claim it's an addiction and that once you play it, you'll never enjoy another game quite as much as this one.
Codenames is a new one for me. It's basically a game of clues where one person gives the clues and the rest of their team tries to make logical guesses. So there are 2 "spymasters" who know the secret identities of 25 agents. However, the rest of their team only knows their codenames. Both teams then compete to see who can make contact with all of their agents first.
Ticket to Ride is an all-time favorite at our house and I think it's one of the best board games for teen boys. This one is a cross-country adventure where players collect cards of various types of train cars in order to make connections across the railroad between designated cities.
7 Favorite Card Games Kids Love to Play
Pandemic Have you heard about this one? I haven't played it yet, but since it's super popular, I thought I'd include it, too. Here's how the game is described: "Four diseases have broken out in the world and it is up to a team of specialists in various fields to find cures for these diseases before mankind is wiped out. Players must work together playing to their characters' strengths and planning their strategy of eradication before the diseases overwhelm the world with ever-increasing outbreaks. For example the Operation Specialist can build research stations which are needed to find cures for the diseases. The Scientist needs only 4 cards of a particular disease to cure it instead of the normal 5. But the diseases are out breaking fast and time is running out: the team must try to stem the tide of infection in diseased areas while also towards cures. A truly cooperative game where you all win or you all lose." Make sure to check this one out because it's highly rated as best board games for groups, too.
5 Second Rule makes our list for the best board games for teen boys because it's just such an easy one. There's not much explaining on this one and it's fast paced so you don't get bored with it. The premise of the game is straightforward and easy. I mean how hard can it be to name 3 things on a certain topic? However, with only 5 seconds, the game becomes super fast paced and super fun for everyone playing.
Monopoly not only makes our list of board games for teen boys because it's an all-time classic, but also because there are so many version. My teen boys love a good game of the classic Monopoly, but they like other versions, like the one for Star Wars fans and the Ultimate Banking Edition, too.
Other Topics You May Enjoy