This post may contain affiliate links. Please see my full disclosure policy for details.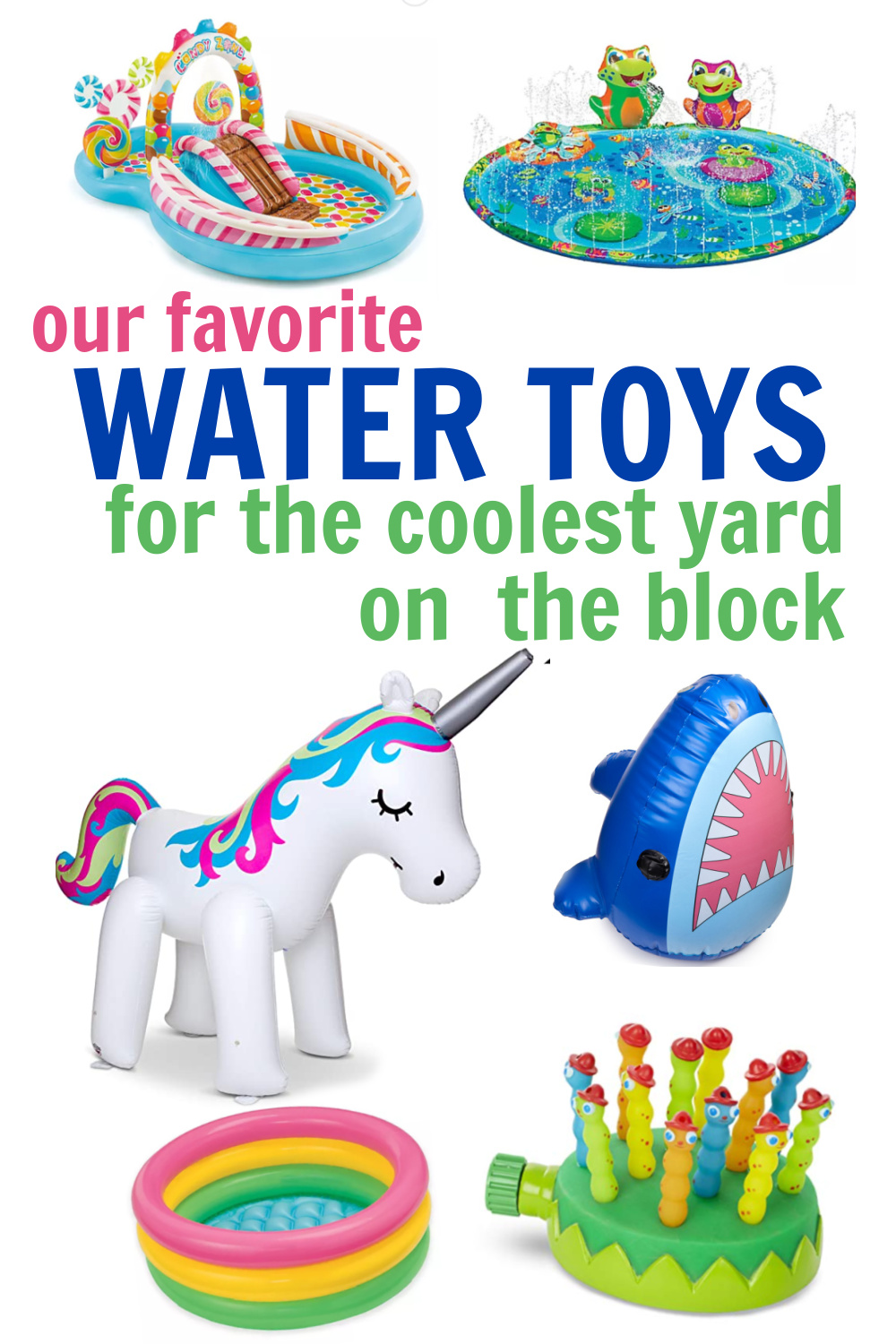 It's hot and humid where we live in the summer. That's why we love any sort of excuse to go swimming or splash around in a lake somewhere. Since we don't have a large pool, we find other ways to get wet while outside. Here are some of the best backyard water toys you'll find these year. They're great ideas to keep cool all summer long.
>>Check out our Best Beach Essentials, too!<<
Best Outdoor Water Toys
Best Outdoor Water Toys : Need ideas for family fun in the sun this summer? Check out our best water toys for kids. Great ideas for birthday gifts and summer block parties, too!
Ginormous Unicorn Yard Sprinkler -Who wouldn't love a UNICORN SPRINKLER in their own backyard? This super large inflatable sprinkler would make your yard the coolest to play in for the entire neighborhood this summer. It stands over 6 feet tall! -you're welcome.
Nothing cools us off on a hot summer day like a kiddie pool. They come in all sorts of fun colors and shapes. Some of them include super cool extras, like a water sprayer and a slide.
Intex Inflatable Pool – Everyone needs a little inflatable pool for the backyard and this one is colorful, super cute and fun. It has the 3 inflatable tubes with a softer inflatable floor.
Little Tikes Wet & Dry First Slide with Slip Mat – I love this toddler slide with the slip mat. Simply attach your garden hose to spray the water, and it's hours of fun in the sun.
Slip N Slide Hydroplane Double with 2 Slide Boogies – The slip n' slide has come a long way since my childhood summers. This one has everything you need to keep the kids entertained. It includes 2 inflatable slide boogies for super easy sliding. Plus, there's an extra large splash pool at the end for more fun.
Melissa & Doug Sunny Patch Splash Patrol Sprinkler Toy – Who doesn't love to cool off with a run in the water sprinkler? This sprinkler toy makes the experience even more fun. It features 12 Splash Patrol characters that squirt water and is a great choice for the whole family, too.
3D Frog Sprinkle and Splash Play Mat -This inflatable sprinkler mat is the perfect fun for small kids to cool off this summer. On some of the hot summer days we have here in the South, I think I'd love to have this one for myself!
Other Topics You May Enjoy