This post may contain affiliate links. Please see my full disclosure policy for details.

This shop has been compensated by Collective Bias, Inc. and its advertiser. All opinions are mine alone. #LetsMakeSmores #CollectiveBias #sponsored
We're kicking off summer this week with a S'Mores Bar! It's a fabulous way to celebrate the sweet treats of summer and a great excuse to head outdoors.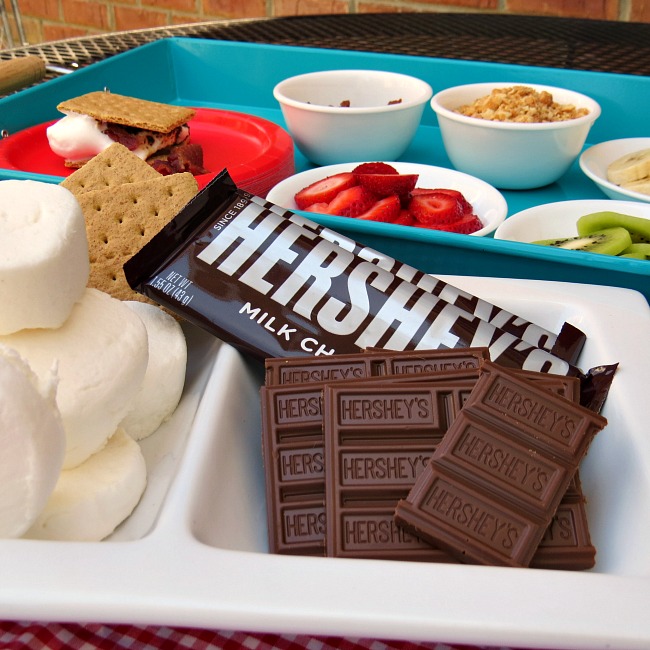 Celebrate Summer With a S'Mores Bar!
Let's make S'Mores tonight! It's super easy and the perfect way to end a summer cookout or even a weeknight meal.
Creating your own S'Mores Bar is a super fun way to entertain guests in your own backyard. Just find a colorful table cloth and cover your picnic table for decoration, grab a few small serving trays, paper plates and napkins, and create an inviting space where your family and friends can gather to make their own S'Mores treat.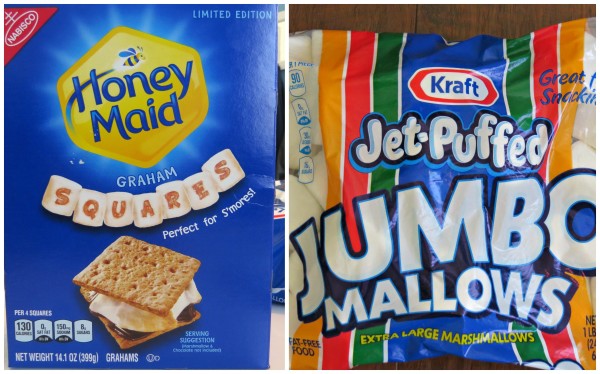 Of course, we start with the classic S'Mores ingredients everyone loves:
Hershey's Milk Chocolate bars
Honey Maid Graham Cracker Squares
Kraft's Jet Puffed Marshmallows
Then, simply add a few extras to serve as toppings so that your family and friends can experiment to create their own S'Mores treat.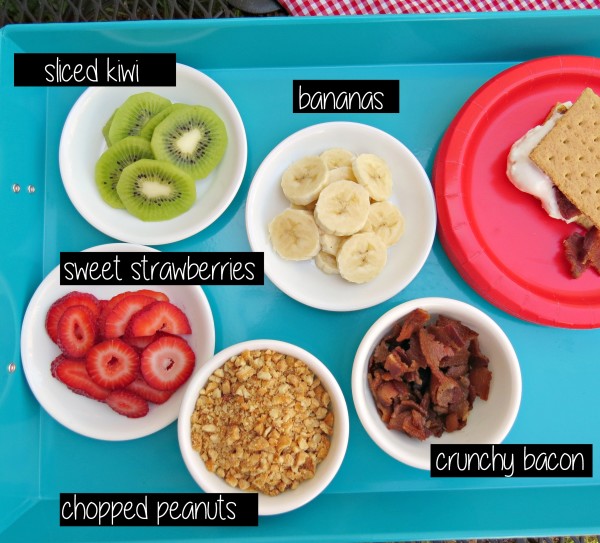 Here are our favorite S'Mores toppings:
Bananas
Strawberries
Kiwi
Salted Peanuts
Extra Crisp Bacon
I grabbed everything I needed to build our S'Mores bar at Walmart. They had a fabulous display featuring Kraft's Jet Puffed Marshmallows, Hershey's Milk Chocolate bars, and the Honey Maid Graham Crackers right at the front of the store, so all I had to do was grab a pack of each and any toppings I wanted.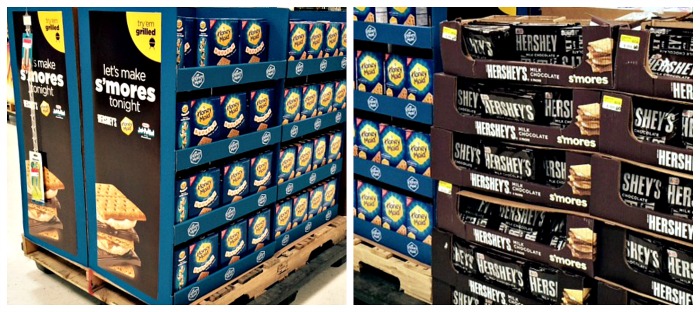 Even better, Walmart has the Honey Maid Graham Cracker Squares that are the perfect size for building your S'Mores, so I was super excited to grab a box of those, too. The squares make prep time even easier. When someone wants to build a S'Mores, they can just grab one of the squares from the box and get started. No more broken graham crackers- hooray!
Everyone had a great time creating their own S'Mores recipe. For me, the S'Mores Bacon Bites was my creation.
Who knew bacon and marshmallow could taste so heavenly?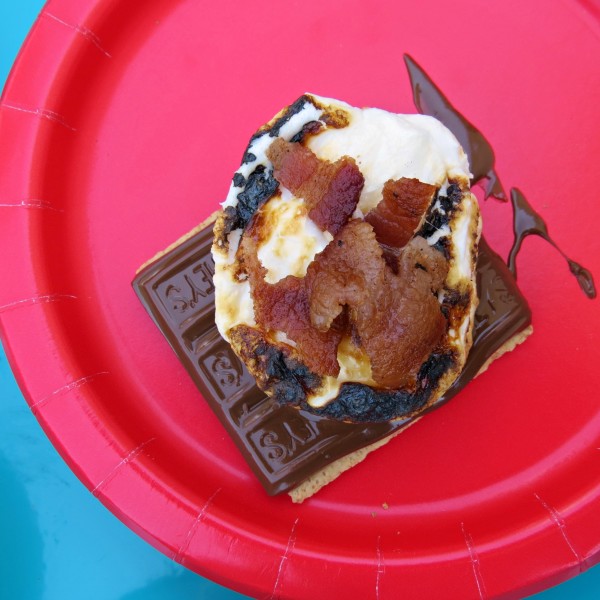 Sweet N' Salty S'Mores Recipe
After taste testing plenty of varieties, my husband and I decided a Sweet n' Salty S'Mores was the tastiest. Here's how to make your own.
1. Start with your basic graham cracker square and a square of the chocolate bar.
2. Roast your marshmallow we like ours charred quite a bit- and slip it on top of the chocolate.
Here's a tip: If you don't have a fire pit for roasting your marshmallows, just heat them over a grill or in the oven. I've even wrapped mine in tin foil and made S'Mores from the heat of the sun.
3. Top the marshmallow with a salty treat, like crumbled bacon, chopped salted peanuts, or crushed salted pretzels. Any favorite salty treat should do.
4. Add a graham cracker square to the top and you have one delicious S'Mores creation- enjoy!
What about you?
What's your favorite S'Mores topping? Share your ideas with us!