This post may contain affiliate links. Please see my full disclosure policy for details.
If you love cream cheese desserts like we do, then check out our all-time favorite recipes. These cream cheese desserts are perfect to serve at family gatherings and celebrations. They are all delicious, too!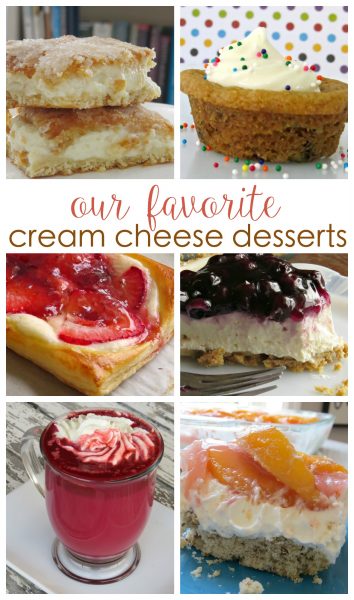 We love cream cheese desserts at the Smith house. There's nothing better than a thick layer of some sort of creamy filling in a dessert or pastry, and these cream cheese desserts are some of our all-time favorites. That's why I serve these often. I hope you'll find a new favorite, too.
Cream Cheese Desserts
Lemon Cream Cheese Bars – I love how super easy these are to make and how beautifully they baked to a nice golden with a sweet sugary crust.
Strawberry and Cream Cheese Danish – Made with frozen puff pastry sheets, this one is super easy to make after dinner or just when you're in the mood to whip up a special dessert.
Cream Cheese Cookie Cups -With just a few ingredients, these Cream Cheese Cookie Cups are super easy to whip up and serve after dinner tonight. Great for birthday parties, too.
Blueberry Cream Cheese Pie – This recipe is super easy and requires no baking. It's rich and creamy with just the slightest hint of tartness in the center. And with the blueberries, it's a nice balance between fruity tartness and creamy sweet.
Peach Delight – Made in a 9 x 13 baking dish, it's layered with fresh peaches, whipped topping, and cream cheese. This one is always popular at our house.
Toffee Apple Cheesecake – Blended with apple pie filling and a little bit of toffee crunch, it's a dessert with just the right mix of apple spice and toffee.
Red Velvet Hot Chocolate – This Red Velvet Hot Chocolate recipe includes a cream cheese whipped topping that's perfect to serve during the holidays.
Don't Miss These WOW Worthy Cream Cheese Desserts! Click To Tweet

Other Recipes You May Enjoy