This post may contain affiliate links. Please see my full disclosure policy for details.
Looking for something extra to spice up your cheesecake recipe? Here's a quick and easy way to create one sweet and creamy cheesecake with a little extra crunch.
The Toffee Apple Cheesecake is a crowd pleasing delight.
Blended with apple pie filling and a little bit of toffee crunch, it's a dessert with just the right mix of apple spice and toffee. The toffee apple spice flavors goes great with the creaminess of cheesecake to add just a bit more interest for the perfect cheesecake bite.

Toffee Apple Cheesecake Recipe
Although most of us at the Smith House loves just about every kind of sweet treat, my youngest son does not. He's not one for candy and he doesn't like anything with crazy textures, and especially, nuts.
But he does love cheesecake with a graham cracker crust. Through the years, I've tried tweaking the cheesecake with little extras, but since he's not one for any kind of cherry toppings or sauces, I try not to go too far from the original cheesecake and keep it as simple as I can.
However, I do love apples. And since both my husband and I have a love affair with anything toffee, the toffee apple cheesecake is one I love to bake.
Surprisingly, my youngest son loves this one. I guess it's because it's still creamy, and even though there is a bit of crunch from the toffee bits, it's not enough to take away from the cheesecake texture he loves so much. He also loves the crust of this one that I make using gingersnaps rather than graham cracker crumbs. The gingersnaps go well with the apple, giving it a fall flavor that reminds me of another favorite–easy skillet apple pie.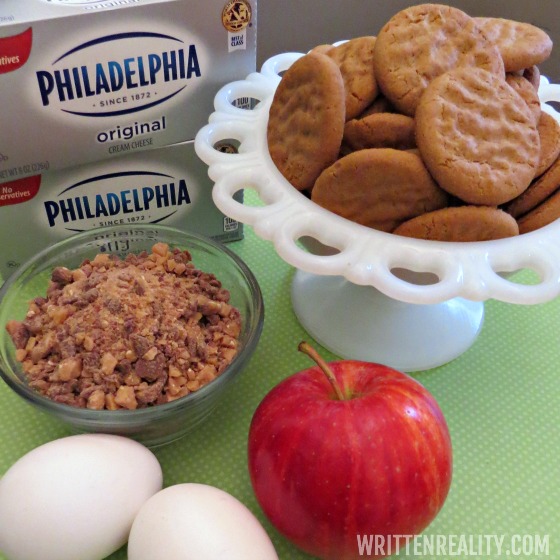 Other Topics You May Enjoy
Sweet Potato Pie with Marshmallow Meringue
How to Bake a Perfect Pie Crust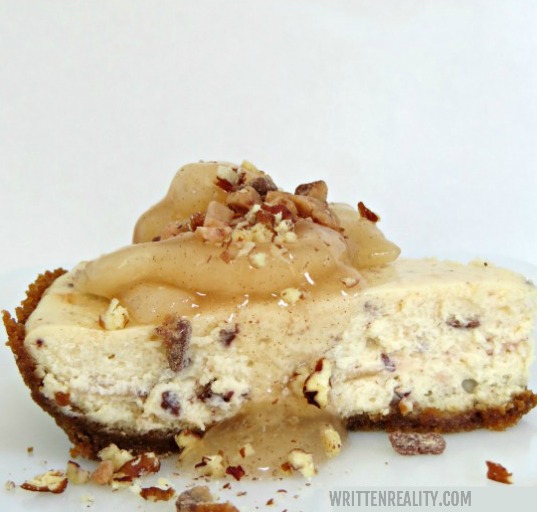 Toffee Apple Cheesecake
2014-10-13 10:48:36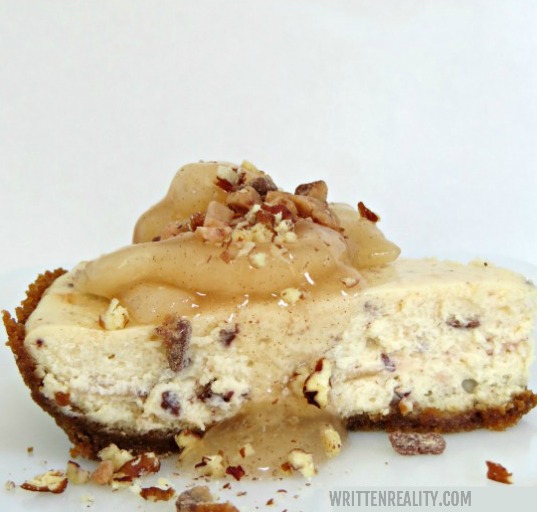 Ingredients
1 cup gingersnaps, crushed
3 Tablespoons butter, melted
1/2 cup + 2 Tablespoons sugar, divided
2 pks. (8 oz. each) cream cheese, softened
2 tsp vanilla
1/2 cup sour cream
2 eggs
1 can apple pie filling
1 bag of toffee bits
chopped pecans, for topping
Instructions
Heat oven to 325 degrees.
Blend crushed ginger snaps with 2 Tbsp. sugar and butter,press into bottom of 9 inch pie plate, and set aside.
Beat cream cheese with remaining sugar and vanilla until well blended.
Add sour cream.
After sour cream is well blended, begin adding in eggs one at a time, and beating just until blended into the mix.
Stir in 1/2 cup of apple pie filling and 1/4 cup of toffee bits.
Pour into crust and bake 35 minutes or until center is almost set.
Cool then refrigerate for at least 4 hours.
Top each serving with remaining apple pie filling, toffee bits, and pecans.
Written Reality https://writtenreality.com/