This post may contain affiliate links. Please see my full disclosure policy for details.
Now that you have your cardboard ring ready for your Reversible Wreath, it's time to get creative and have fun. This is the step where you can experiment to create your own pattern–depending on the materials you have and the season or holiday you want to celebrate.
DIY Wreath For All Occasions STEP TWO
For this step, you'll need the clothespins and the Washi Masking Tape
. I love all the wonderful patterns and colors available, and how easy the tape is to use. The tape is flexible and easily peels on and off. So don't worry too much about getting it right the first time.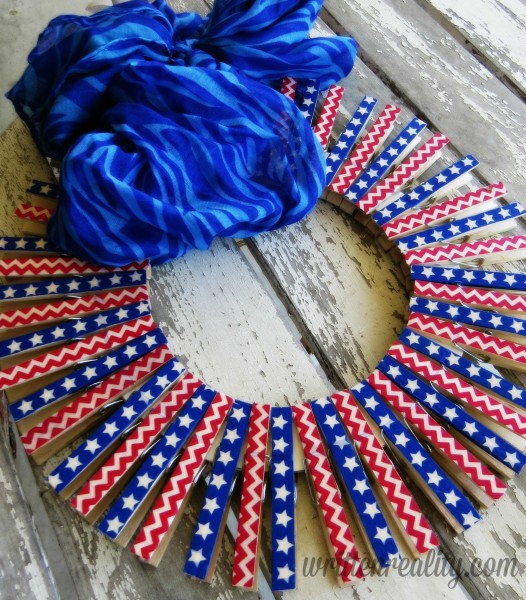 Step Two: Create Your Pattern With Clothespins
Place the clothespins on the ring and spread them out until you are satisfied with its shape. Then, one by one, remove a clothespin and add the Washi Tape, so that you keep up with your pattern as you go.
This step takes the longest, but it's really a simple one. I actually watched TV while doing it.
I like to line the tape up against the edge of the clothespin where the metal fastener juts out slightly. That way, I can easily run scissors down the other side and snip the ends for a perfect fit.
Remember, this wreath will be reversible. So you only need to cover one side–for now.
Using your fingernail, smooth out the tape and make sure it's securely sealed on top and along the edges.
Ready to continue?
Let's move on to STEP THREE!