This post may contain affiliate links. Please see my full disclosure policy for details.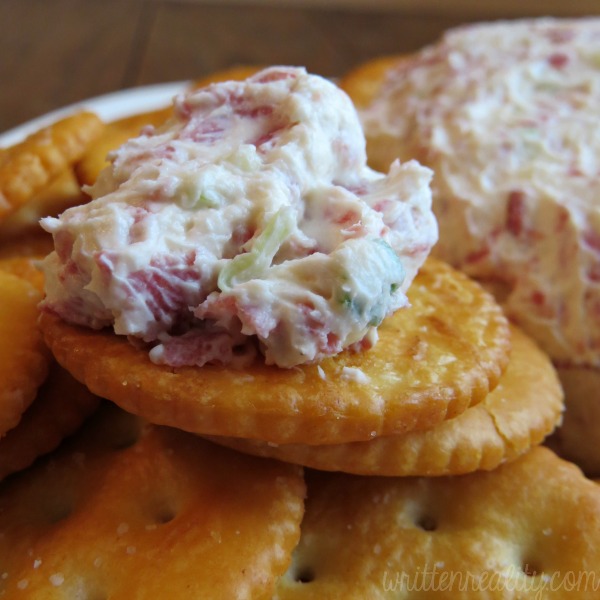 I love cream cheese appetizers because they're so easy to throw together. That's why I love this cream cheese recipe with dried beef. For this one, I just mix it and store in the fridge until I'm ready to serve. It's one I've made for years and it's always a crowd pleaser that goes great with all sorts of other crackers and snacks.
I especially love that it's super easy. It's a quick appetizer idea that I've used as a go-to favorite for a very long time. Since someone usually requests it during family celebrations, I always try to keep the ingredients on hand. Fortunately, it doesn't take very many to make it.
This Dried Beef Ball recipe goes great with any type of cracker and is a crowd pleaser, too. It's a cream cheese appetizer idea that is perfect for any party.

This dried beef ball recipe is a great one for upcoming holiday parties and any other family and friends events. So the next time you are at the grocery store, make sure to pick up these ingredients to make it. It's so good and your family and friends will thank you for it, too. Enjoy!
How To Make Dried Beef Ball
I always like to take my cream cheese out of the refrigerator to allow the it to soften to room temperature. That way it's way easier to mix with everything else. So take the cream cheese out first and wait a little bit for it to soften before going on with the recipe.
It really is quite simple. I just chop and mix everything together.
I do like to rinse one jar of the dried beef first. It's quite salty, so I find that if I rinse one of the jars of dried beef a bit, it helps to cut down on the saltiness.
I then chop up the dried beef and the green onions, mix everything together, including the seasonings, and form the whole thing into a ball.
I always serve mine with a nice firm cracker. It doesn't matter which one, just something that will hold up when you spread on the mixture.
You can find the entire step-by-step printable recipe at the bottom of this post.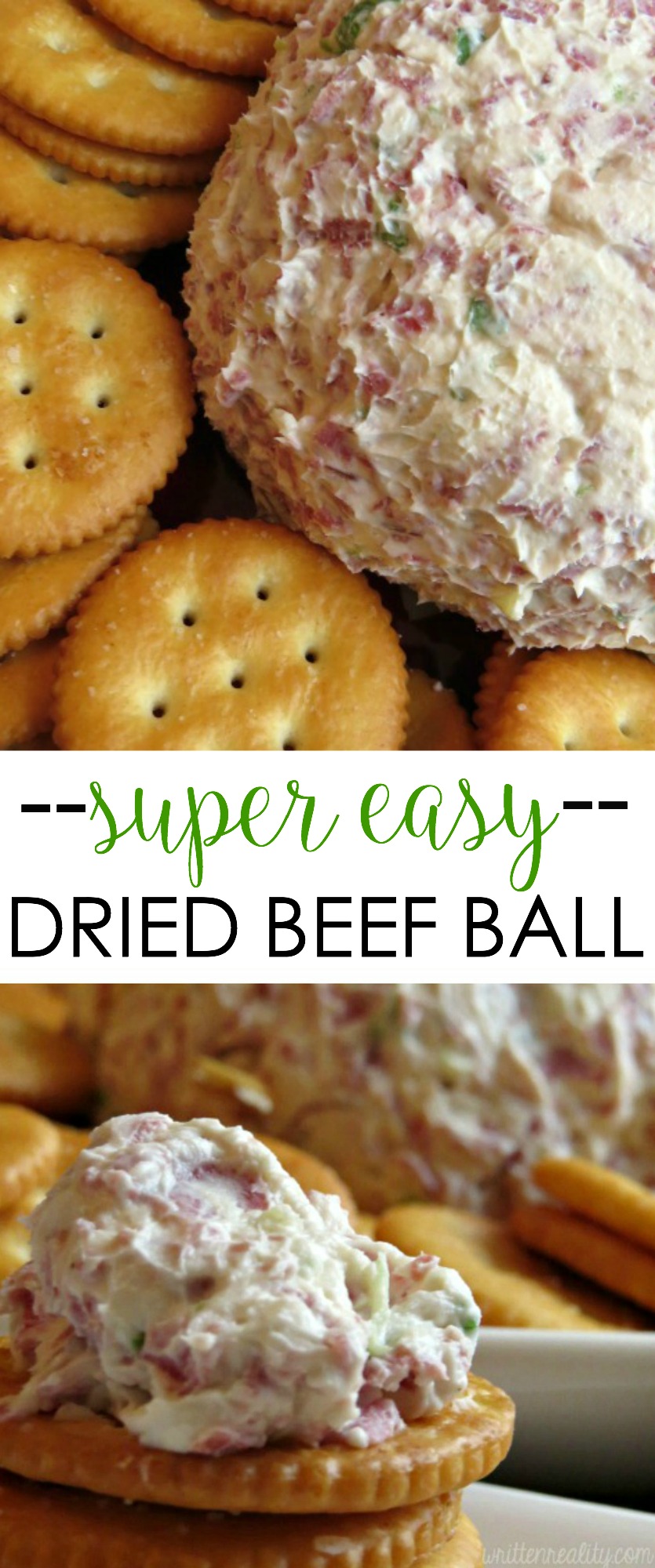 Many people who make this one like to sort of roll the cheese ball, once it's mixed, in more of the dried chipped beef. But I think it takes away from the rest of the flavors, so I do cut back on my chopped dried beef for this one.
I chop everything, add it to the mix, and I'm done.
Here's a little tip: Once it's mixed well, I transfer it over to a piece of plastic wrap and mold it to form the cheese ball. It keeps me from making a huge mess and makes forming the cheese ball much easier, too.
As I mentioned earlier, the dried beef ball and any cream cheese appetizer usually serves well with any sort of hearty cracker. This time, I used 2 sleeves of butter crackers and it filled up the plate. The butter flavor from the cracker goes well with the saltiness and cream cheese.
This Dried Beef Ball appetizer is a crowd-pleasing favorite! Click To Tweet

More Great Appetizers and Finger Food Ideas
Best Ever Bacon Wrapped Jalapeno Poppers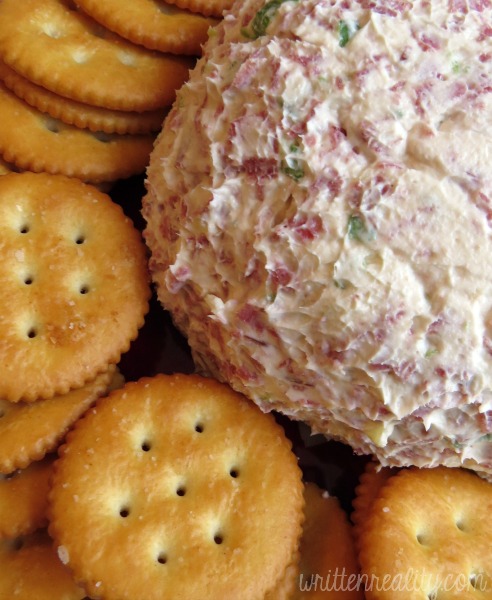 Dried Beef Ball
2014-12-30 13:05:31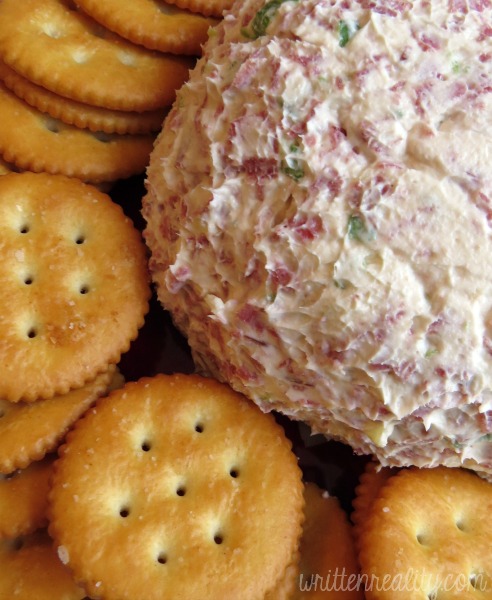 Ingredients
2- 8 oz. pkgs. cream cheese
3 green onions, chopped, stalks and all
1 1/2 jars chipped dried beef
1/2 tsp. garlic salt
1 tsp. Accent
1 tsp. Worcestershire sauce
Instructions
For best results, allow the cream cheese to soften to room temperature.
Rinse one jar of the dried beef to cut down on the saltiness.
Mix all ingredients.
Form into a ball.
Serve with crackers.
Written Reality https://writtenreality.com/