This post may contain affiliate links. Please see my full disclosure policy for details.
Sponsored post written by me on behalf of Smithfield® Marinated Pork at Kroger. The opinions and text are all mine.
Are you a busy mom looking for easy dinner ideas with real flavor, real fast? Try this easy pork tenderloin recipe for dinner tonight. It's #RealFlavorRealFast that's perfect for family dinner this fall.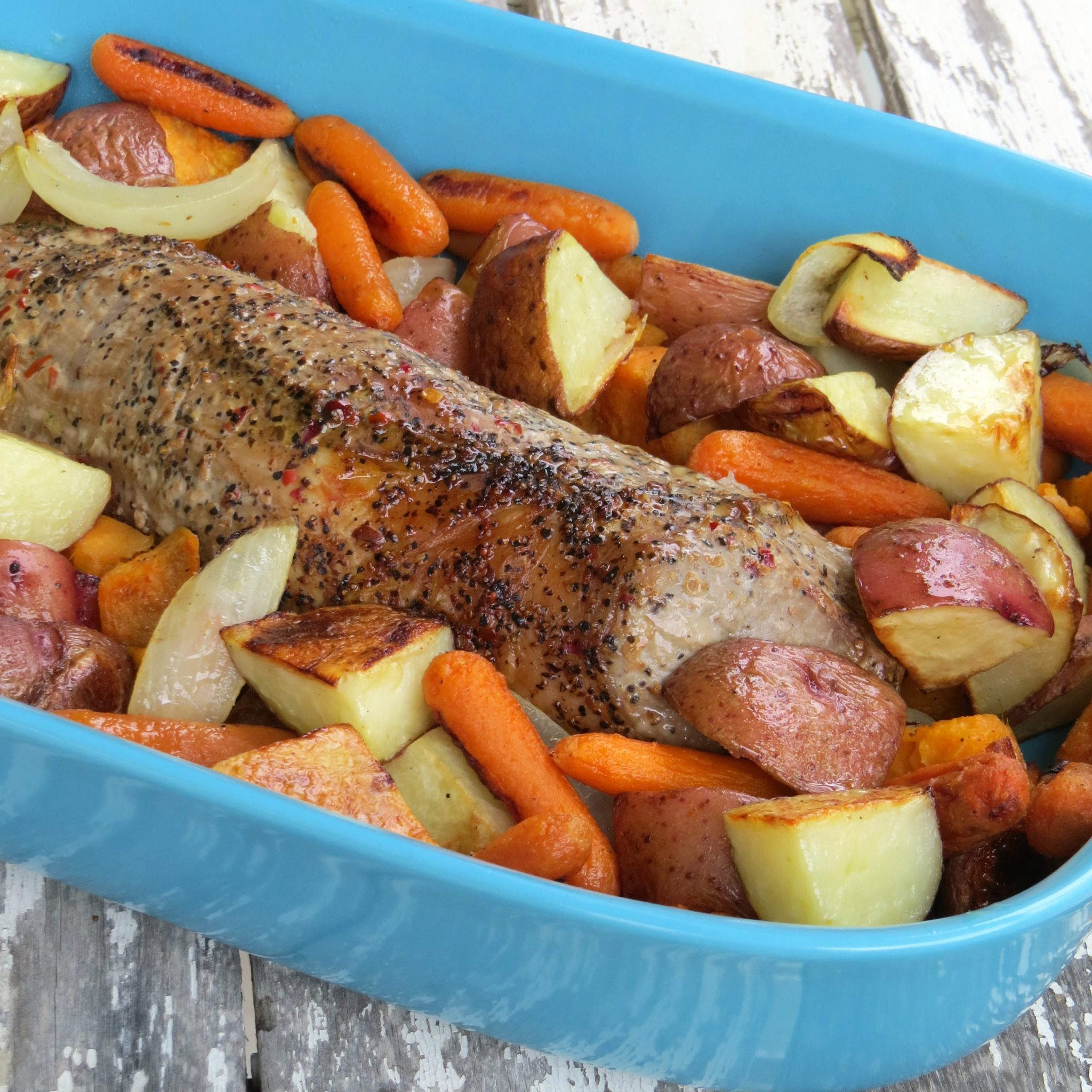 During the fall season when our house becomes super busy with all sorts of school events and other activities, I start trying to think up easy meals for family dinner that are hearty and quick. I'm always looking for simple meals that I can throw together without much prep work, but I also want to serve something that's filled with flavor I know my family will love. That way, on those busy week nights when we do finally gather together around the dinner table, we can enjoy catching up with one another while actually enjoying a delicious meal I want to serve.
That's why I love this easy marinated pork tenderloin recipe with root vegetables. It's made using a Smithfield Marinated Fresh Pork Tenderloin from Kroger that is 100% fresh pork and filled with delicious flavor. I love that they can be easily roasted, sautéed, or slow cooked without any extra prep work. They're already marinated and ready for roasting. Even better, Smithfield at Kroger offers several varieties, making dinner possibilities endless! Just choose your family's favorite flavor.
Smithfield Roasted Garlic & Herb
Smithfield Roasted Garlic & Cracked Black Pepper
Smithfield Sweet Teriyaki
Smithfield Southwest Style Peppercorn
Smithfield Slow Smoked Mesquite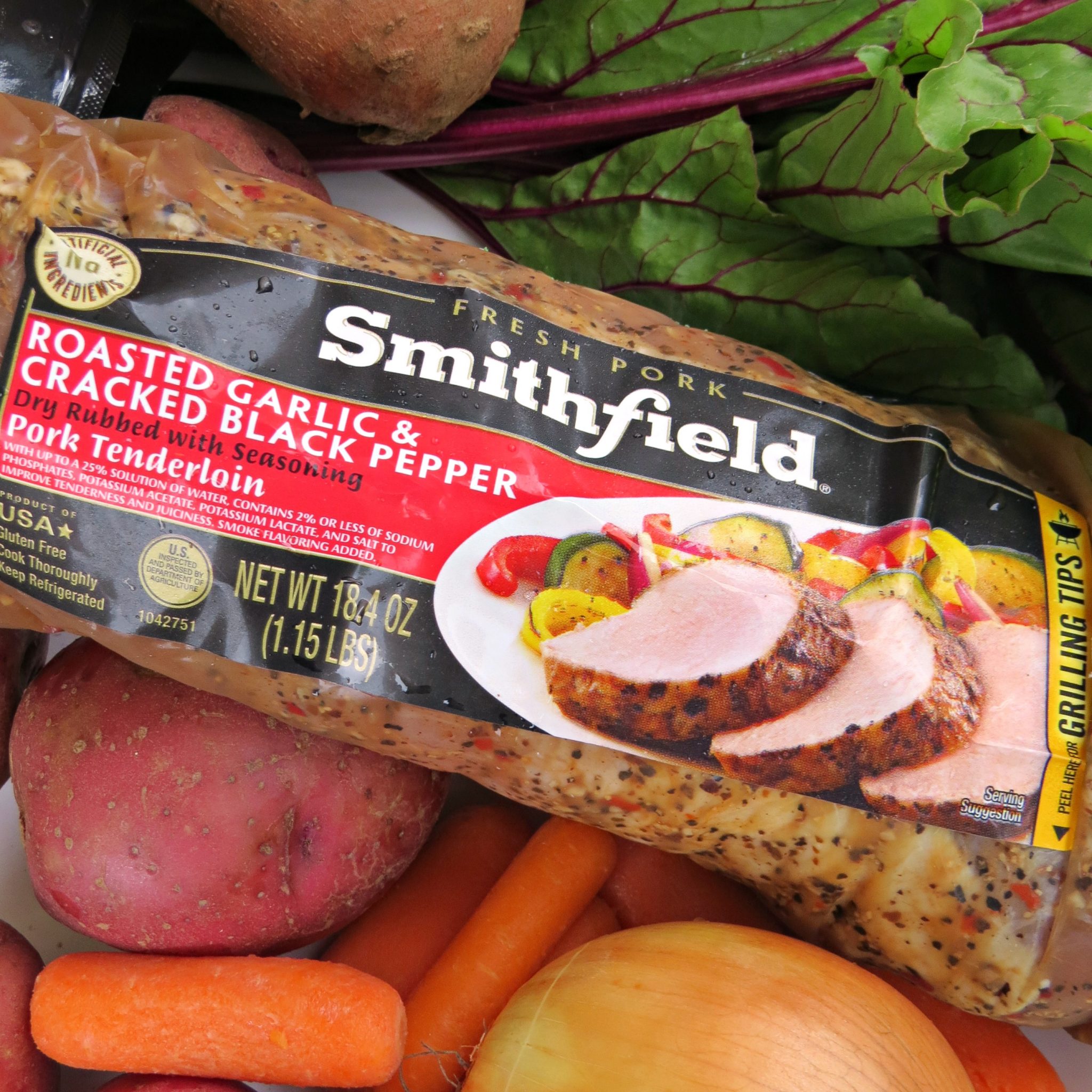 The pork is absolutely delicious served with all sorts of sides and vegetables, but I love to serve it with root vegetables for a fabulous meal in the fall. Let me just say, the Roasted Garlic and Cracked Black Pepper Tenderloin smells absolutely wonderful while roasting in the oven. As soon as it started roasting, my husband joined me in the kitchen and stood guard. I didn't think he was going to be able to wait for it, even though it only took 30 minutes to make!
If you're looking for an easy pork tenderloin recipe, this is a must-try for dinner this fall. It makes preparing dinner so much faster and the marinated tenderloin is one you'll want to serve with all sorts of sides again and again. Here's how I like to serve mine.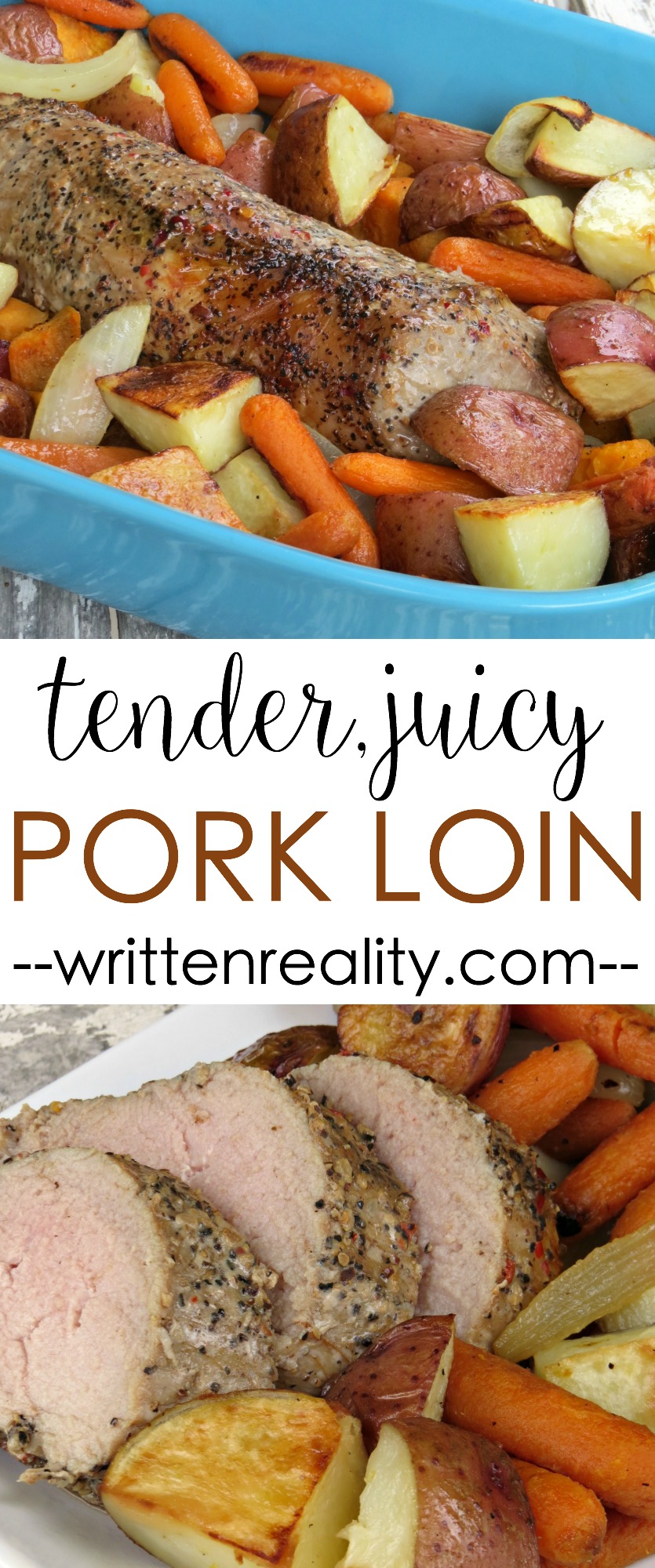 Marinated Pork Tenderloin with Root Vegetables
Ingredients
1 Smithfield Marinated Roasted Garlic & Crack Black Pepper Pork Tenderloin
1 pound fresh baby carrots
2 cups peeled and cubed sweet potatoes
2 cups cubed red potatoes
1 large onion, cut into wedges
2 Tablespoons, olive oil
Salt and pepper, to taste
Directions
Preheat the oven to 425 degrees.
In a large bowl, toss the vegetables in olive oil and salt and pepper then spread out evenly on a large baking sheet.
Place the pork tenderloin on a roasting rack in a shallow roasting pan.
Place both pans in the oven on separate racks and bake for 25 – 30 minutes, swapping the pans on opposite racks halfway through cooking time.
The pork tenderloin is ready when the internal temperature reaches 150 degrees and the vegetables are ready when tender. Enjoy!
More Easy Pork Tenderloin Recipes
If you're looking for even more "real flavor real fast" recipes, then be sure to check out some of the other Smithfield marinated fresh pork recipes. Their marinated pork is an easy meal solution for busy week nights and is the perfect idea for serving at tailgating parties and other celebrations this fall.
The recipes even offer leftover options to transform tonight's meal into a delicious new dish tomorrow. It's real flavor real fast that's perfect for every family gathering this fall.
What about you?
What is your favorite Smithfield Marinated Fresh Pork product? Share your comments and easy meal ideas with us!
Don't forget to grab your favorite @SmithfieldBrand flavor at your local Kroger!