This post may contain affiliate links. Please see my full disclosure policy for details.
I've tried several ways to spruce up my flowerpots this season. And I've written a few posts describing the process.
Check out Flowerpots Do Over to find out more about these DIY ideas.
Here are a few other ways I've tried to take my old boring flowerpots from frumpy to fabulous:
Flowerpots Do Over with Stripes, Polka Dots, and a Monogram
Stripes of Fun
This green flowerpot had seen its better days. Though still trying to hang on to its original garden green, the paint was chipping away, and it just looked–well, just sad.
So I painted the entire pot in white, allowed it to dry for several hours, then grabbed some paint tape and made a few stripes.
I used Rust-Oleum Gloss Sail Blue
because it's such a bright color and looks great with the white railing along my front porch.
For this project, using contrasting colors will work great, but subtle colors could look well in an outdoor space where its shady to give a more calming and relaxing feel in the shade.
What about a few polka dots?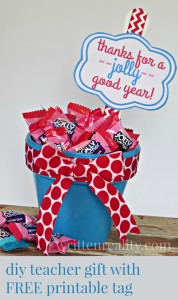 I love everything polka dotted. So when I see polka dotted materials on sale, I usually grab them. That's how this project happened.
I needed some ideas for Teacher Appreciation Week , so I grabbed some of my go-to supplies and went to work with it.
So this flowerpot do over is how I transformed a small terra cotta pot into a fun gift of thanks!
Click Here →for the WHOLE STORY and the HOW-TO
Monograms are a Southern Favorite
Where I come from, monograms go with anything! Here in the South, we love to monogram everything from bed sheets to hand soap dispensers. So a monogrammed flowerpot is a great way to add that personal touch.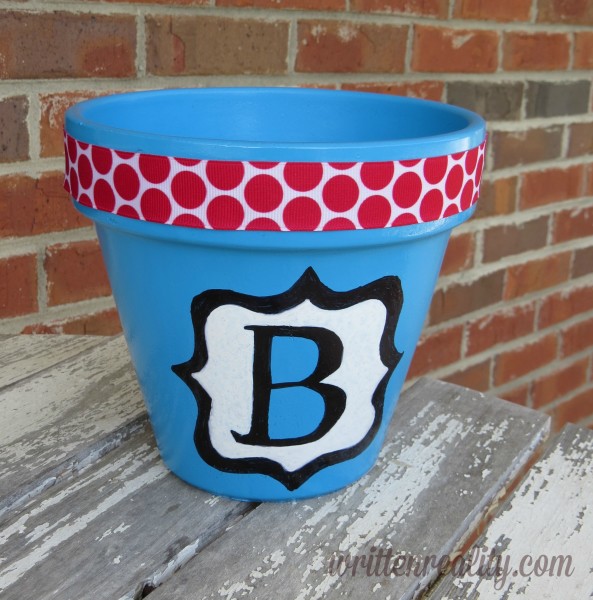 Though this took a little more time to finish, it's really not that difficult. For this one, I used Rust-Oleum Paint in Maui Blue
–isn't that an awesome color?!–and after it dried, I painted the monogram using a stencil I made from card stock and a font from the Internet.
I printed the letter, taped it to the pot, and lightly traced around it with a pencil.
After removing my handmade stencil, I painted it in using black for the border and white to set off the bold lettering.
I then glued a bright ribbon–yep, again just use what you have on hand–around the top rim and it's beautiful.
For More Flowerpot Fun, check out these great posts: