This post may contain affiliate links. Please see my full disclosure policy for details.
Cool Gift Ideas for Mom : If you're looking for a unique gift idea for Mom, then check out these fabulous ideas. Here are some fun gifts she'll love.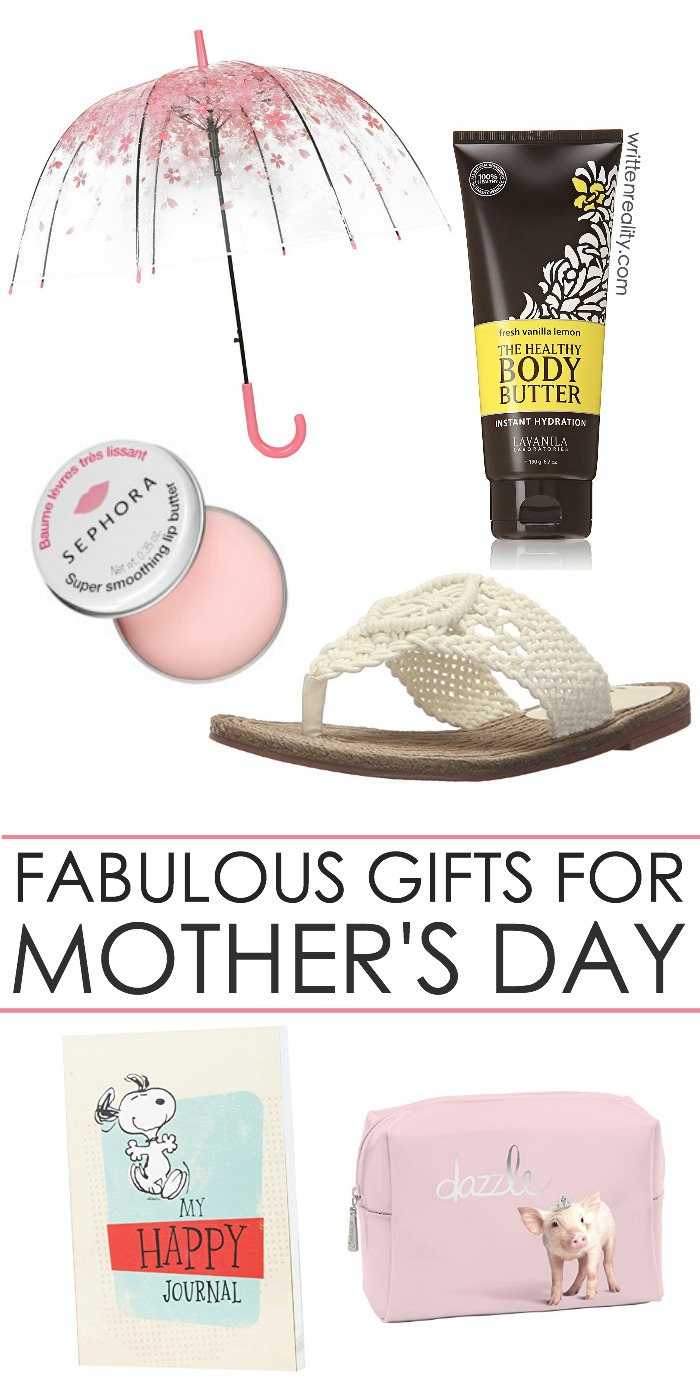 Know a mom who needs a little surprise this week but not sure what to buy her? Sometimes, buying for the moms we love isn't the easiest. Moms can be the most giving of all of us, but they can often be the hardest to figure out what to give back to them in return. So I've come up with a few fun gift ideas for Mom that I know any mom would love receiving.
Cool Gift Ideas for Mom
I've tried to make this list of gift ideas easy for reading by adding a few categories. Just scroll down to check out my latest gift ideas for mom and get to brainstorming. Maybe these ideas will help spark just the perfect idea for the moms in your life you love.
for the mom who loves the sun. . .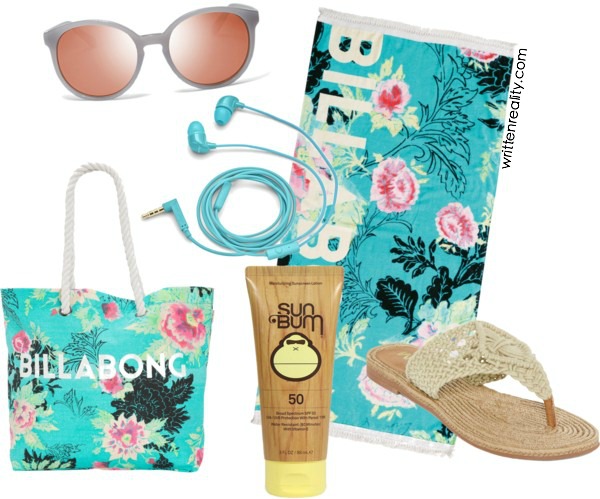 Mia Girl Nefeli Macrame Flip Flops
These flip flops are super cute and come in several colors. They would be perfect for a day at the beach or to wear with a fun sundress, too.
Who wouldn't love a sturdy beach tote? It's the perfect carry along for a day on the beach or any vacation destination.
How about a new pair of sunglasses? I wear my sunglasses every season, and I'm always on the lookout for new ones. A new pair of gorgeous sunglasses is a great gift for anyone and I'm sure Mom would love a pair, too.
Whether it's listening to our favorite tunes or an audiobook on our tablet, earbuds are always needed on every vacation. Grab a pair of these happy plugs earbuds in a fun color, like bright red, yellow, or blue.
Sun Bum SPF 50 Moisturizing Sunscreen Lotion
Don't forget the sunscreen! Keep mom's skin protected with a good sunscreen lotion. It's always a great addition when you're packing a bag for a day outside.
I am in love with this beach towel–and I especially love how it coordinates perfectly with the essential beach tote, too. Those 2 beach essentials would make great gift ideas for mom as a matching set.
for the mom who loves to travel. . .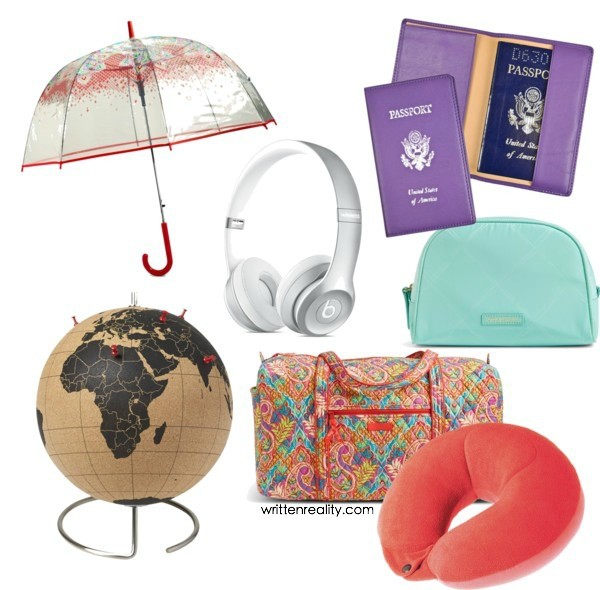 Here's a favorite find from the Vera Bradley collection. It's large enough to keep all sorts of necessities and will keep Mom looking stylish and fun when she's traveling, too.
I love the mint color of this stylish cosmetic bag. It also comes in other fun colors, like blossom pink and sky blue.
So I love the bubble umbrellas. And there are plenty of fun patterns and colors to choose from, too.
Go Travel Bean Sleeper Travel Pillow
Sometimes travel can take awhile, so for those long flights or road trips, a comfy travel pillow will help support Mom's neck for extra sleeping support.
Beats Solo2 Wireless On-Ear Headphone
These wireless headphones come in a fun finish in great colors, like gold, space gray, and rose-gold, too.
Royce Leather Passport Holder and Travel Document Organizer
I am totally in love with this cork globe. It's the perfect gift for a mom who loves to travel. That way, she can add a tack to show where she's been or even where she plans to go.
for the mom who needs a little pampering. . .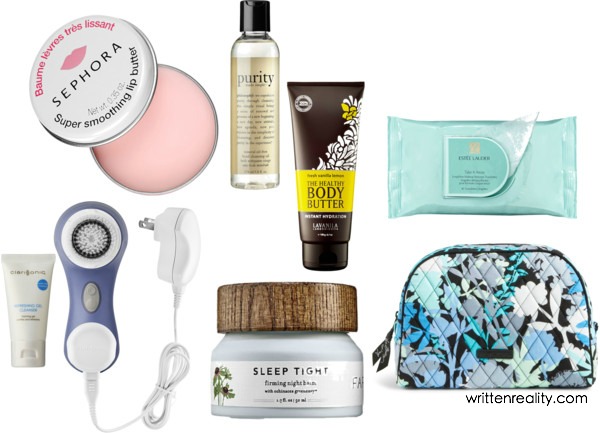 Every mom needs a good lip balm.
Clarisonic Mia1 Skin Cleansing System
I love this cleansing system. It's a great gift idea for any mom who needs a little pampering to keep her skin feeling wonderful.
Sleep Tight Firming Night Balm
Let's face it. Moms are usually the most sleep deprived of all of us. So here's a great night balm treatment to firm up the skin while she finally catches a few Zzzzzs.
Estée Lauder Take it Away LongWear Makeup Remover Towelettes
These are great for those busy moms who seem to always be on the go. These towelettes are portable and a quick way to remove makeup to keep Mom's skin clean and refreshed.
Purity Made Simple™ Mineral Oil-Free Facial Cleansing Oil
Here's a great cleanser. It's a mineral oil-free facial cleansing oil that is made to comfortably cleanse and nurture Mom's skin.
LAVANILA The Healthy Body Butter
I love body butter. It's a great way to keep skin feeling silky smooth and every mom needs a bottle in her collection.
Grab a fun cosmetic bag and throw in a few of these pampering items for a great gift any mom would love.
for the mom who loves to write things. . .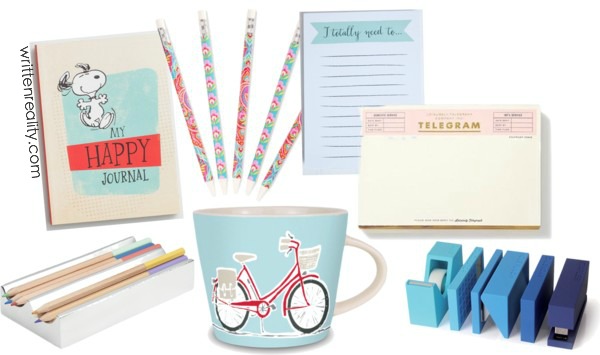 What about a fun coffee mug? It's a fun way for Mom to start her morning or sip her favorite warm beverage while she's journaling or enjoying a little alone time.
Peanuts Happy Notebook Journal
This journal makes me happy just looking at it. It's a super fun way to jot down thoughts, stories, or any kind of inspiration.
How cute is this notepad? It would make the perfect filler for a mom who loves writing. Just add it to a basket of goodies or attach a pretty pen set as a special surprise.
I Totally Need To Necessary Notepad
Here's another fun notepad for jotting down Mom's to-do list or other reminders.
Vera Bradley Mechanical Pencil Set
Just like all other Vera Bradley items, these pencils come in a variety of colors and fun patterns.
Other Topics You May Enjoy